Tuesday's action by the SEC in amending Regulation Short Sales (RegSHO) listed 19 banks and financial companies for which naked shorting was effectively banned for 30 days. Such a limit was long overdue but why limit the restriction to just 19 companies and just 30 days?  
Naked short selling (selling shares short that are not first borrowed, which is required to execute a legal short) is endemic and the SEC has turned a blind eye to it since the agency was created. This recent action is a knee-jerk reaction but a clear example of too little way too late.  The question is will they have the stomach to do what it necessary and give all stocks the same naked short protection? But like anything else, the devil is in the detail.
As you can see from the chart below, the ban and rally created one mother of a short squeeze this week with the 17 companies trading on the NYSE rallying nearly 20% in just three days. However, since May 1, 2008 this group is still down 24.8%. (Before this past week's rocket ride, the group was down 37.2%.)
Not surprisingly given the government bailout plan announced this week, Fannie Mae (FNM) and Freddie Mac (FRE) enjoyed the biggest lift jumping 89.5% and 74.5% between July 15 and July 18. But as of the July 18 close, they were still down 61% and 72% in the last four months (since March 20). 
In their monthly Short Interest Report on July 16, Bespoke Investment Group updated their short interest numbers showing that short interest as a percentage of the float continued to increase during the second half of June with the average short interest hitting 6% for the S&P 500. Over the last year, short interest has increased 48% for the 500 stocks. Bespoke also found that the 10 percent of stocks in the S&P 1500 with the highest short interest (150 stocks) gained 15.1% in the two day period ending July 17, 2008 compared to just 2.2% for the 150 stocks with the lowest short interest. Now that's a short squeeze rally!
click to enlarge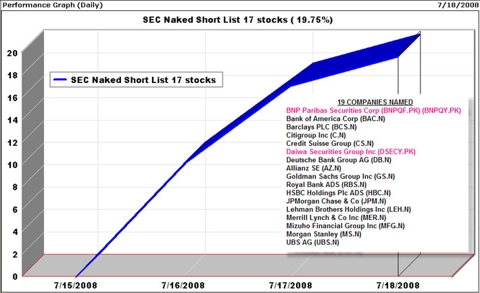 Figure 2 – Chart showing three-day stock performance for 17 of the 19 stocks that the SEC identified in its naked-short prohibition order amendment to the Regulation Short Sale (RegSHO) rules Tuesday. Two of the companies trade on the pink sheets so we graphed the other 17 that trade on the NYSE. As a group, these stocks jumped nearly 20% in the recent three-day period! Chart by VectorVest.com.
We checked Buyins.net, a website that tracks naked short selling statistics that became available as the result of RegSHO that became law on January 1, 2005. Buyins.net has to contend with a regular barrage of hack attacks presumably from short sellers who don't like what they are doing.
We looked at their list of stocks that are fail to delivers [FTDs] (stocks shorted without first having to borrow the same number of shares, which is what you and I have to do before executing a short sale).
At the top of the list is Medis Technologies (OTC:MDTL), which has remained on the SEC's fail to deliver threshold list for 742 days. In other words, it has been the target of naked short attacks and these shorts have not had to deliver shares that they have shorted for a total of 742 days! We counted a total of 244 stocks that have stocks that are classified as fail to delivers in excess of the maximum supposedly allowed by the SEC of 13 days.
Brokers, market makers and some other big players have found ways around this inconvenient rule. Brokers and money-makers should have some time to deliver borrows, but 742 days?!  There is something seriously wrong in stock regulation/enforcement land and as long as it is allowed to continue, stock markets will experience increased short-driven volatility.
Disclosure: None