The big question facing pharmaceutical investors is: Is there life and, more importantly, revenue for big pharmaceutical companies after their blockbuster drugs go over the patent cliff? One way to answer this question is to take a look at a big pharma company that has been over the cliff and survived.
Johnson & Johnson (NYSE:JNJ) saw the patents for its antibiotic, Levaquin (Floxin), and its ADHD/ADD drug, Concerta, expire in 2011. The company has also lost the patent for another psychiatric drug, Risperdal. The results of this trip over the cliff were not very pretty; in the second quarter of 2012, sales for Levaquin in the United States had fallen by 95.3%. Worldwide sales for Levaquin fell by 89.4%. Sales for Concerta fell by 37.6% in the United States alone. Sales for Risperdal fell by 16.7%.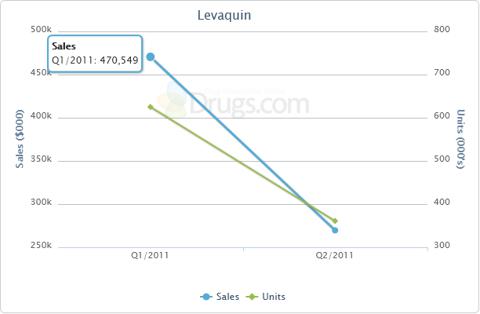 All this added up to a drop in income growth for Johnson & Johnson of 27.5% even with a sales growth of 5.6%. The interesting thing is that Johnson & Johnson was able to maintain a net profit margin of 13.47% and an earnings per share ratio of 3.14%. So, Johnson & Johnson has been able to survive even though its income has taken a very nasty hit.
So how has all this affected Johnson & Johnson's share price? Interestingly enough, it has been rising over the summer on the basis of the sales growth and talk of new drugs.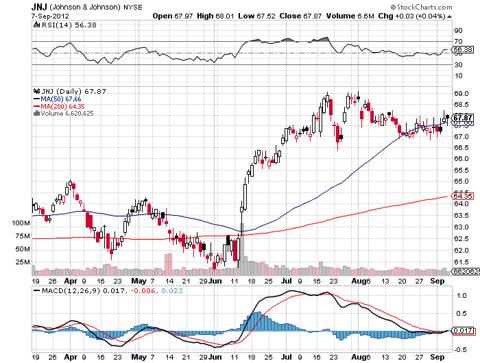 As you can see, Johnson & Johnson has been able to gain nearly six dollars a share since April. The increase is even higher when you figure in the big drop in June. Johnson & Johnson has been able to increase its share price in the face of the patent cliff and ongoing losses.
Like AstraZeneca (NYSE:AZN), Novartis AG (NYSE:NVS), Eli Lilly (NYSE:LLY), and Abbott Laboratories (NYSE:ABT), J&J has seen rising share value in spite of the patent cliff. Part of the appeal for this stock might be that the company has already taken the losses. It has faced patent expiration and survived and managed to deliver sales increases. Yet the underlying numbers seem to contradict that rosy assessment.
Xarelto Still in FDA Limbo
Johnson & Johnson has some interesting new drugs in its pipeline that might be money makers. The company has given the Food and Drug Administration (FDA) additional information about the blood clot preventer, Xarelto, in an attempt to increase its use. Currently, the drug can only be used on people that have had knee or hip replacement surgery or some kinds of heart surgery. J&J is asking the FDA to let it market Xarelto as a heart attack and stroke preventer similar to Bristol-Myers Squibb's (NYSE:BMY) Plavix. The FDA turned down the last application for expanded Xarelto use in June.
Xarelto would compete with Boehringer Ingelheim's Pradaxa and various generic warfarin products. It is unclear how big the market for Xarelto would be because generic warfarin is extremely cheap when compared to Xarelto, which can cost up to $250 a month. Johnson & Johnson is not the only company seeking to cash in on blood clot prevention; Bristol-Myers and Pfizer (NYSE:PFE) had their new blood clot drug, Eliquis, rejected by the FDA in June as well. Like Johnson & Johnson, those companies will have to present new data to get their drug approved.
So it is questionable if Xarelto can ever become the kind of blockbuster that Plavix used to be. Plavix's sales fell by 42.34% in the United States after it went over the patent cliff earlier this year.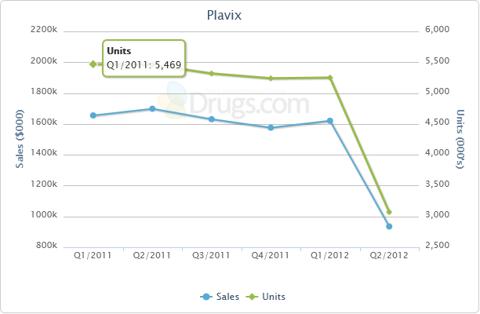 New TB Drug on Fast Track
Johnson & Johnson received permission to market its new tuberculosis treatment, bedaquiline, in the European Union on August 31. This drug is designed to treat tuberculosis that is resistant to multiple antibiotic treatments. The FDA has sped up the review process for bedaquiline to six months from the normal ten months. The agency took that step because there is no drug on the market that can do what bedaquiline can.
There is a large potential market for tuberculosis overseas. The World Health Organization (WHO) estimates that 8.8 million people contracted TB in 2010, and 1.4 million people died from the disease. The WHO found that multi-drug resistant tuberculosis was present in every country it surveyed. Tuberculosis treatment may be a growth industry because the TB death rate dropped by 40% between 1990 and 2010.
Since over 95% of cases occur in developing countries, the profits from bedaquiline are questionable. The largest number of cases occurs in Asia, but the rate of the disease in more prosperous countries like China is dropping. That means that it is doubtful that bedaquiline will help reverse Johnson & Johnson's revenue losses.
Judging by these figures, it is hard to see what the basis for the market's love affair with Johnson & Johnson is. The company has lost a lot of revenue, and it seems to have no way to reverse those losses. Johnson & Johnson is overpriced and definitely not a value stock because it has not been able to make up for the revenue that went over the patent cliff.
Disclosure: I have no positions in any stocks mentioned, and no plans to initiate any positions within the next 72 hours. I wrote this article myself, and it expresses my own opinions. I am not receiving compensation for it (other than from Seeking Alpha). I have no business relationship with any company whose stock is mentioned in this article.