What is up with pharma stocks these days? They seem to be going up in value across the board, despite all the losses big pharma is facing because of the patent cliff. Companies like Johnson & Johnson (NYSE:JNJ), AstraZeneca (NYSE:AZN), and Eli Lilly (NYSE:LLY) have posted gains despite patent expiration. Sanofi (NYSE:SNY) seems typical of the sector; it hit a 52-week high on Friday, September 7th. It rose to $42.39 by the close of business on that day. As you can see, Sanofi has risen by nearly $10 since June.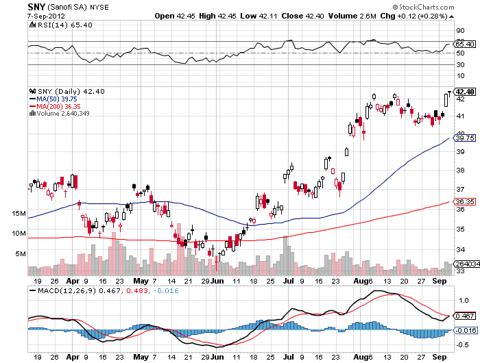 Sanofi has done so well that the online hype machine is now touting it as a buy, but is it? Does this stock have any real value behind it, or is this just another case of pharmaceutical bull optimism? It sure looks like it: Sanofi had only six of the top 100 pharmaceuticals sold in the U.S. in the second quarter of 2012. It did not have a single entry in the top 20.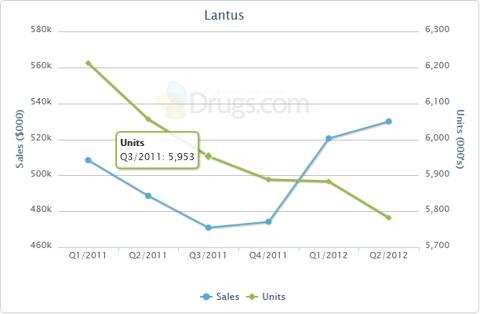 Lantus Sales Growing
Sanofi's best seller is the insulin product Lantus, which was No. 24 on the list. Sanofi made a little more money on Lantus, but the overall volume of sales were actually down slightly. Lantus sales were down 1.72%, even though profits from the sales went up by 1.81%. Sanofi seems to be making a little more money by selling fewer drugs.
Sales for Lantus's sister drug Lantus Solostar, which came in at No. 26, are increasing. Sanofi's proceeds from Lantus Solostar sales were 7.28% higher in the second quarter of 2012. Actual sales were about 4.82% higher, but the increase in sales seems to be slowing. Sales grew by 7.32% in the first quarter of 2012.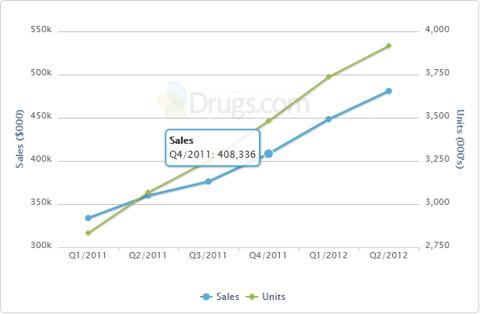 Lantus Solostar Sales
Diabetes Epidemic an Opportunity for Sanofi
The interesting thing is that the market may actually be onto something here, because Sanofi's customer base for Lantus and Lantus Solostar seems to be expanding. As you probably know, insulin products like Lantus are used to treat diabetes. You may also know that diabetes has reached epidemic proportions in the U.S. because of Americans' lousy eating habits.
The American Diabetes Association (ADA) now estimates that 25.8 million Americans, or 8.3% of the population of the U.S., now has diabetes. The interesting thing is that seven million of those people don't even realize that they have diabetes because it hasn't been diagnosed yet. If that wasn't bad enough, the ADA thinks that as many as 79 million people have prediabetes, which means that they might develop Type II diabetes. The ADA's National Fact Diabetes Sheet stated that 1.9 million cases of diabetes were diagnosed in 2010.
No Generic Lantus
So there are a lot of potential customers for Lantus and Lantus Solostar out there. Sanofi seems to be the pharmaceutical company in the right place at the right time with the right products. The real interesting thing from the standpoint of value investors is that there is no generic version of Lantus on the market, even though the drug went over the patent cliff back in 2010. So far, no generic Lantus has been approved for use in the U.S.
The reason for this appears to be that Lantus is a biologic drug, which is hard to duplicate. Generic biologics are not supposed to be manufactured in the U.S., although Teva Pharmaceutical Industries (NYSE:TEVA) has gotten the Food and Drug Administration's (FDA) approval for at least a biologic drug, a version of Amgen's (NASDAQ:AMGN) Neuopogen. That means it will be a while before a generic Lantus appears on the market. There may also be some other patents that protect Sanofi's Lantus patent.
What this means for investors is that Sanofi has a treatment for a fast growing disease that will be hard to make a generic version of. The company has at least two proven drugs with growth potential that might not be duplicated any time soon. That sounds like Warren Buffett's definition of a moat, doesn't it?
Lemtrada May or May not be Coming
So it looks like Sanofi is more than just trader's hype; it has some interesting growth potential. Yet does the company have anything besides its diabetes drugs? Well, it has something called Lemtrada, which is supposed to be a treatment for multiple sclerosis (MS).
The interesting thing about Lemtrada is that it is not a new drug. It's a cancer drug called Campath, which has actually been on the market for some time. Sanofi's Genzyme unit has reportedly pulled Campath off the market in the anticipation of the approval of Lemtrada as an MS treatment. The speculation is that this indicates that Sanofi's executives think that regulators will approve the use of Lemtrada for MS.
The problem is that the FDA has thrown out Genzyme's application for the approval of Lemtrada as an MS treatment. The FDA's counterpart on the other side of the Atlantic, the European Medicines Agency, has apparently accepted the application, but has not approved it. This means that there is no guarantee that Lemtrada, for which some analysts have predicted a $400 million market, will get approved.
With or without Lemtrada, Sanofi looks like an interesting buy because of its diabetes drugs. The company is in a strong position that might get better because of Americans' inability to control their cravings for sweets.
Disclosure: I have no positions in any stocks mentioned, and no plans to initiate any positions within the next 72 hours. I wrote this article myself, and it expresses my own opinions. I am not receiving compensation for it (other than from Seeking Alpha). I have no business relationship with any company whose stock is mentioned in this article.