Odyssey Marine (NASDAQ:OMEX) is a deep sea salvage company with a focus on recovering high value cargos. They have located the torpedoed freighter SS Gairsoppa with 3+ million ounces of silver ingots aboard west of Ireland and have recovered about 1.4 million ounces. Successful recovery of the remaining silver, plus 600,000 ounces from the second nearby sunken freighter SS Mantola should boost the stock price.
Odyssey Marine has about 74 million shares outstanding, with 14 million sold short, and is lightly traded with under 550,000 shares traded daily, on average.
The silver salvage from the SS Gairsoppa is being conducted by the Seabed Explorer. She has returned to port on average about every 25 days, and so is due again this week (Sep 10-14).
The announcement concerning how much additional silver has been recovered should move the stock price one way or the other. However, Odyssey Marine has stated they will make no announcements until they are ready to transport the recovered silver to the refiner. The refiner processes about 3.5 tons of this silver per week, and has a six week supply remaining, so there is no rush to provide them additional silver ingots.
The port of entry is a giveaway as to whether an announcement will be made soon. Avonmouth at Bristol, UK, is apparently the port nearest the refiner, and if Seabed Explorer lands there, you can expect an announcement concerning the recovered silver.
Wharves near Cork and Cobh, Ireland, have been used for provisioning and crew changes. No announcement can be expected should this be the upcoming port of call. Cork is closer to the salvage site.
OMEX operates two ships, Odyssey Explorer and Dorado Discovery. They currently charter Seabed Explorer and chartered the Russian ship Yuzhmorgeologiya last year to locate SS Gairsoppa.
The web site Marine Traffic monitors ship movements and will send an advisory email when a ship listed in your My Fleet nears port. You can also monitor ship traffic at Port of Cork and Bristol Port, the next most likely Seabed Explorer ports. Odyssey Explorer frequently uses Falmouth, UK. Dorado Discovery is undergoing overhaul in Ensenada, Mexico.
Time may be running out for the OMEX short sellers to "run the stops" set below about $3.45 . Whenever the stock reaches $3.50, strong buying emerges. These stop loss orders will be triggered if a disappointing silver recovery is announced and the stock may then fall heavily. If serious buying continues above $3.50, however, with additional silver recovery the shorts are trapped, and should provide significant future demand.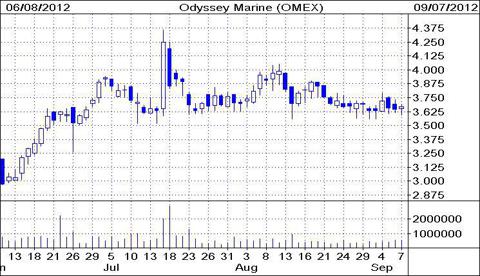 Adverse winter weather will probably permit salvage activity no later than the end of September. We will surely hear an announcement concerning recovered silver then.
Disclosure: I am long OMEX. I wrote this article myself, and it expresses my own opinions. I am not receiving compensation for it (other than from Seeking Alpha). I have no business relationship with any company whose stock is mentioned in this article.