Once an investor is convinced of the many benefits of adding gold to an investment portfolio, he is faced with the epic choice between gold bullion and gold mining companies. Below are just a few of the many considerations an investor must make:
Why gold bullion?
Raw exposure to the commodity price
Nobody's liability
Not exposed to management ineptitude
Why gold stocks?
Exposure to reserves in ground plus reserves extracted
Leveraged exposure
Positive (often) differential between bullion price and cost of extraction
Cash flow from operations, regardless of changes in bullion price
Dividends (some stocks, such as Gold Fields International (NYSE:GFI))
More recently, however, relative price appreciation has taken center stage in the gold bullion vs gold miners debate. The graph below shows the gold bullion-to-gold stocks ratio (using SPDR Gold Trust (NYSEARCA:GLD) and Market Vectors Gold Miners ETF (NYSEARCA:GDX) as proxies) over the past several years. What we observe is a secular rise in the price of bullion relative to the price of gold stocks:
image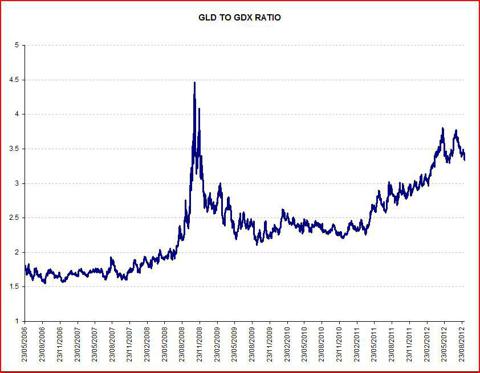 Shown differently, below you can see the relative appreciation of each asset. Bullion has risen about 205% while gold stocks have remained relatively flat. Therefore, the rise in the GDR-to-GDX ratio is predominantly due to the rise in bullion prices.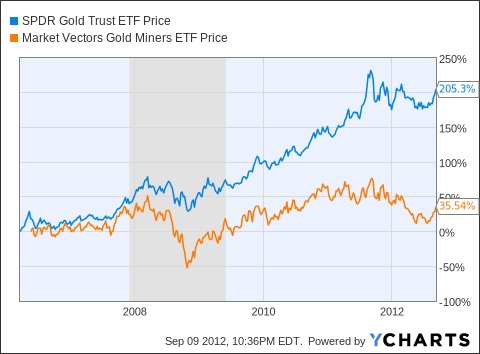 So why have gold stocks scraped along the asphalt while bullion shot to the stars?
The first answer is dilution:
Assets owned by gold miners have, at the same time as gold, risen in price - thereby justifying a higher stock price, all things equal - and gold miners have flooded the market with additional shares. The chart below shows the growth in shares outstanding for the top 5 holdings within GDX (these holdings make up about 49% of GDX assets). As you can see, some of these companies have doubled, tripled, quadrupled the shares floated on the exchanges. Consequently, this share dilution has decimated the per-share value of mining companies. Furthermore, investors have lost trust with management at gold mining companies in general and many investors are unwilling to touch gold stocks for fear of future dilution.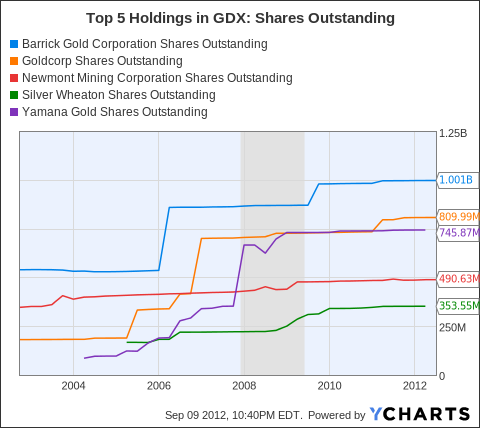 ABX Shares Outstanding data by YCharts
The second reason is cost:
Mining gold to bring to market is an extremely energy-intensive process. Simply put, the higher the cost of energy, the higher the cost of production. As production costs rise, profit margins and cash flows shrink.
As you can see in the chart below, years of rising energy prices have put tremendous pressure on the cost of running a gold mining company. This has worked to suppress gold stock prices.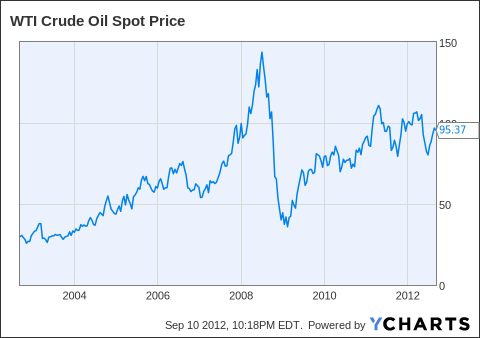 WTI Crude Oil Spot Price data by YCharts
In summary, while there may be some truth to the value in gold miners, I would argue that the gap may not be as wide as many believe. If you are an investor looking to own gold, think twice before jumping into the gold mining stocks.
Data Source: YCharts, Yahoo! Finance. This is not advice. While the author makes every effort to provide high quality information, the information is not guaranteed to be accurate and should not be relied on. Investing involves risk and you could lose all your money. Consult a professional advisor before making any investing decisions.
Disclosure: I have no positions in any stocks mentioned, and no plans to initiate any positions within the next 72 hours. I wrote this article myself, and it expresses my own opinions. I am not receiving compensation for it (other than from Seeking Alpha). I have no business relationship with any company whose stock is mentioned in this article.