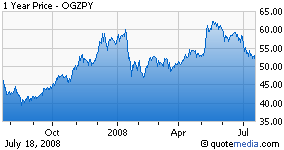 The largest weighting in the McDep Energy Portfolio, buy-recommended Gazprom (OTCPK:OGZPY) sells its world leading natural gas volume for less than one-fifth the oil equivalent price. At an unlevered weighting of 9.6% in the illustrative portfolio, the company supplies 9.6% of our suggested 17% weighting in Russia and 8% of the 11% weighting in Rest of World Natural Gas.
Disclosed on June 30, final results according to international accounting standards recorded natural gas sales of 55 billion cubic feet daily in 2007, coincidentally the same as total marketed production in the U.S. by all companies. Average price may reach $4 a thousand cubic feet in the Next Twelve Months, less than a third of current futures prices and less than a fifth of the natural gas equivalent of oil at about $23.
Reported by Bloomberg among other sources, Russia plans to allow prices to domestic industrial users to reach European levels of profitability in three years while keeping caps on household prices for the time being. Chief Executive Alexei Miller eyes a trillion dollar capitalization for Gazprom by 2015, which would be a triple in stock price for a compound annual rate of 17% a year, assuming no dilution in shares outstanding. By the McDep Ratio, the stock has unlevered appreciation potential of 45% to be realized perhaps in 12 -24 months. Energy investors are subject to political risk in Russia as well as every country in the world.
Originally published on July 1, 2008.