In August of 2011, Prime Minister Naoto Kan stepped down from power to resolve gridlock over the budget of the Japanese government. On September 7, 2012, current Finance Minister Jan Azumi made headlines after warning the opposition party that the Japanese government could run out of money by the end of November if it does not help resolve the latest deadlock over the budget (see "Japan government could run out of money by end-Nov - finance minister" in Reuters). So far, this Japan-style "fiscal cliff" has forced the suspension of "administrative spending and payouts to local governments that were planned for September-November." Further postponements of payments will occur in October to avert a government shutdown if the budget remains unresolved.
It seems that no one expects Japan to tumble over the edge. Just as last year's budget duels did not deter the Japanese yen (NYSEARCA:FXY) from strengthening to historic levels against the U.S. dollar, this year's dire warnings have also been met with increasing interest in buying yen at historic levels similar to last year. The USD/JPY currency pair is teetering on critical support at 78 at the time of writing as currency markets worry more about what kind of monetary easing the Federal Reserve may create in its policy statement this Thursday, September 12.
images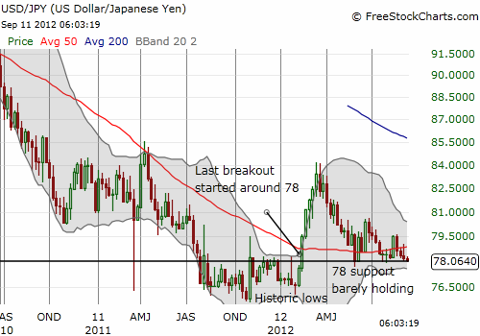 USD/JPY teeters on the edge of support at the 78 level
Source: FreeStockCharts.com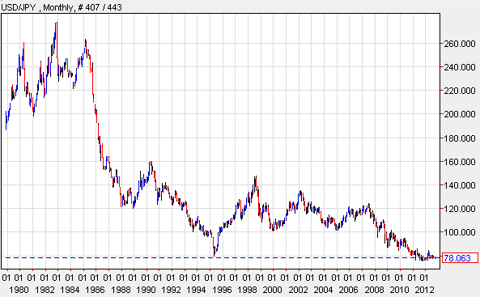 78 was the previous (BRIEF) all-time low on USD/JPY from the mid-1990s
Source: Dailyfx.com forex charts
When I wrote the "Federal Reserve Minutes Renew Pressure On Japanese Yen", the USD/JPY currency pair had just confirmed the end of a nascent rally by plunging from 79.3 to as low as 78.25 in one day. The pressure from there has only ever so slowly accumulated, but at this point, I cannot see how the 78 level holds unless the Japanese finance authorities step in to intervene AHEAD of the Federal Reserve. As I have noted before, I am guessing the Japanese are desperately eager for the Fed to get its easing out of the way, so that they can intervene on behalf of the yen without having to worry about the Fed undermining their hard work. To-date, the Federal Reserve has been much more effective in intervening on behalf of a weaker U.S. dollar (NYSEARCA:UUP) than the Japanese finance authorities have been at weakening the Japanese yen.
Be careful out there!
Disclosure: I have no positions in any stocks mentioned, and no plans to initiate any positions within the next 72 hours. I wrote this article myself, and it expresses my own opinions. I am not receiving compensation for it (other than from Seeking Alpha). I have no business relationship with any company whose stock is mentioned in this article.