In the recent piece penned by Dana Blankenhorn, "ARM Holdings Is Still Eating Intel's Lunch", the author asserts that ARM Holdings (NASDAQ:ARMH) is the main reason that Intel warned on Friday. In the conclusion of the article, the author issues the following challenge,
"It's not a good place to be, and INTC (NASDAQ:INTC) bulls need to explain how things are going to change. Or they might change horses"
Well, Mr. Blankenhorn, I accept your challenge.
Myth #1: Selling IP Is Better Than Selling Chips
The first point made in the aforementioned article is that Intel and ARM's methodologies are vastly different and that ARM's is better for business.
To recap, ARM designs micro-processor cores, licenses/sells these designs to third party system-on-chip designers who then build a complete solution based on these cores, and then these solutions are sent out to a dedicated foundry such as Taiwan Semiconductor Manufacturing Corporation (NYSE:TSM) to be built. From there, the chips are sold by the system-on-chip vendor to the device manufacturers.
Intel, on the other hand, designs its own micro-processor cores, designs the system-on-chip around the cores, and then builds the chips in-house. What takes three companies to produce in the ARM ecosystem takes only one in the Intel ecosystem.
Now, the next point that the author brings up is quite curious,
"...the problem [with Intel's approach] is not just the design. It's not just that the ARM design can be tweaked in ways that Intel's designs can't be. It's that, because ARM is just a design, people designing products around their requirements before the chips are made, order just how many they want, and just whom they want, and getting better control of the final product with faster time to market"
Now, wait just a minute: The phone vendors aren't designing the chips! The third-party ARM licensees such as Qualcomm (NASDAQ:QCOM) and Nvidia (NASDAQ:NVDA) are designing the system-on-chip solutions based on ARM cores and then selling these pre-packaged solutions to the device manufacturers. There is no level of customization that, say, LG could get from Nvidia that it could not get from Intel simply by virtue of the fact that Nvidia pays ARM a license fee for ARM's core design and Intel designed its own core in-house. Intel just cuts out the middle man.
Myth #2: ARM's Growth Rate Makes It A Better Investment
In the aforementioned article, the author makes the following point:
"...investments in small companies need to be part of every portfolio. A small company growing fast can be more powerful to your own bottom line than a big company growing slowly. In the speed of both its top-line and bottom-line growth ARMH is doing better than INTC, and has been for some time."
I agree. Investments in small-cap companies are great for super-charging returns. And I further agree that yes, ARM's top and bottom line growth rates are superior to Intel's. But ARM is a small cap company with a big cap price! In fact, at a market capitalization of $12B, a price-to-sales ratio of 14.28, and a price-to-earnings ratio of 54, it is one of the most expensive semiconductor stocks on the market, and the most recent year-over-year growth in the most recent quarter of 15% is absolutely not good enough to justify such an astronomical valuation.
But even so, forgetting that ARM is incredibly overvalued, it is as unreasonable to expect Intel's growth rate to be anywhere near ARM's as it would be to expect Johnson and Johnson's (NYSE:JNJ) top line growth to be anywhere close to a small-cap biopharma's. If Intel were to hypothetically dominate the smartphone market, this would add relatively little top line growth compared to its top line. This is a mature company that we're talking about here. Intel has fingers in a lot of different areas, and anything more than modest growth at this stage is unreasonable to expect.
I get that the ARM ecosystem will permeate into notebooks, desktops, and maybe even servers. This is a very real possibility, and I'd be worried if I were Intel. But say ARM doubles its licensing revenue and EPS by getting its designs into these new markets. Then ARMH will still be more expensive than the actual system-on-chip vendors who are raking in the real revenue by selling chips to the device vendors.
The best way to play the ARM expansion is to buy the companies who build full designs based on the ARM core and then sell the chips to the device vendors. Nvidia, Qualcomm, Marvell (NASDAQ:MRVL), and Texas Instruments (NYSE:TXN) are the real winners of any future growth in the ARM ecosystem. These companies have much higher revenues and net income than ARM. And the valuations are actually quite reasonable: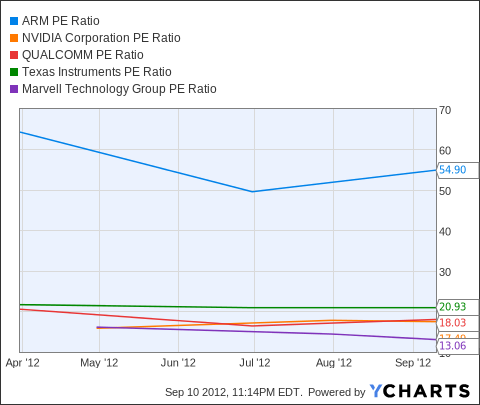 ARMH PE Ratio data by YCharts
Conclusion
Yes, Intel has to worry about the ARM ecosystem. But it's not competing with ARM itself. It is competing with Qualcomm, Nvidia, Texas Instruments, and Marvell for spots in the latest smartphone and tablet devices. But Intel's fully vertically integrated business model isn't a crutch here; it's a way to cut out the middle man and increase profit margins.
Disclosure: I am long INTC, MRVL, NVDA. I wrote this article myself, and it expresses my own opinions. I am not receiving compensation for it (other than from Seeking Alpha). I have no business relationship with any company whose stock is mentioned in this article.
Additional disclosure: I may initiate a long position in QCOM over the next 72 hours.