Originally recommended on April 30/07 (IWB #2717) at $38.75. Closed Friday at $45.90 (prices in U.S. dollars).
Last month, fertilizer producer and food processor Bunge Ltd. (NYSE:BG) announced it has reached an agreement to buy Corn Products (CPO) for $4.4 billion, the equivalent of $56 a share. However, the payment won't be made in cash but rather in Bunge shares.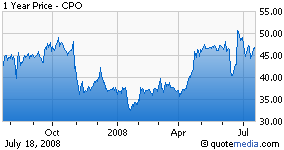 If Bunge trades between $108.90 and $133.10, CPO shareholders will get the equivalent of $56 in Bunge stock. But if it is outside that range at the closing, they'll receive a minimum of 0.4207 and a maximum of 0.5142 of a Bunge share. Bunge, which trades on the NYSE as BG, closed on Friday at $98.79. This explains why CPO stock is trading well below the takeover price at present.
In these circumstances, there is no way of knowing what we'll finally receive when the deal closes. Therefore, I think this is a case of a bird in the hand. Let's ring the till on this one and walk away with our profits.
I'll keep an eye on Bunge once the deal is completed and the agriculture stocks have settled back a little.
Action now: Sell.
Disclosure: None