The biggest day of the year is here. No, it's not the start of the NFL season. It's not the first day of school. It's not even the two-day Fed meeting where most think QE3 is possible. It's none of those. It's something bigger, or so many will tell you. It is the announcement of Apple's (NASDAQ:AAPL) new iPhone, the iPhone 5. After Apple sold more than 72 million iPhones in the first half of the fiscal 2012, everyone's eyes turned to this phone launch, expected to be the biggest and greatest phone release in history. Sorry Research in Motion (RIMM) fans, the BB10 launch will not come anywhere near this. When I Googled "iPhone 5" on Monday afternoon, I got nearly 2.3 billion results (likewise BB10 got just 1.3 billion). To tell you how much coverage this release is getting, the biggest news story in sports this summer and over the past year, Tim Tebow, has less than 48 million Google results. This is truly going to be a spectacular worldwide event.
It is going to be a huge launch, that is a fact. Some are predicting that over the course of its selling life, this new phone could sell 250 million units. That could mean approximately $160 billion in revenues for Apple, a truly stunning amount. Also, since the iPhone has the highest gross margin of Apple's four main products, that's a lot of gross margin, and a lot going to the bottom line as well.
Now we all know that Apple's fiscal Q4, fiscal Q1 of 2013, and every other quarter tend to rely on how the iPhone does. Over the past seven quarters, iPhone revenues have averaged about 47.35% of the overall total for Apple revenues. As we saw in Apple's fiscal Q4 last year, and fiscal Q2 this year, if iPhone sales come in short, Apple has a hard time meeting revenue or earnings estimates. In both cases, analysts underestimated the slowdown in sales as consumers waited for the new device to come out.
That slowdown will have to be dealt with in Q4 as well, even though the phone will be released during fiscal Q4. Since the phone isn't expected to officially go on sale until Friday, September 21st (approximately), that means about 90% of the quarter will be finished when the phone finally hits the market.
So let's start crunching some numbers. In fiscal Q1, Apple sold approximately 378,000 iPhones per day, over 37 million throughout the 14-week, 98-day period. Now, in fiscal Q2 Apple sold over 35 million, but the average per day ticked up to a little more than 385,000, because the quarter had seven less days. In fiscal Q3, which was an equal 91-day period to Q2, Apple sold over 26 million iPhones. That equals about 286,000 iPhones per day, a drop of 25.8% from Q2.
Now, if we get the same rate of slowdown in Q3, the first 82 days (up to and including September 20th) would average about 212,000 iPhone sales per day. That implies about 17.4 million units would be sold before the launch of the new one. Now, the chart below shows how many iPhones would be sold pre-launch, depending on the average number sold per day. Obviously, the lower the average, the lower amount sold. The y-axis would be the actual total.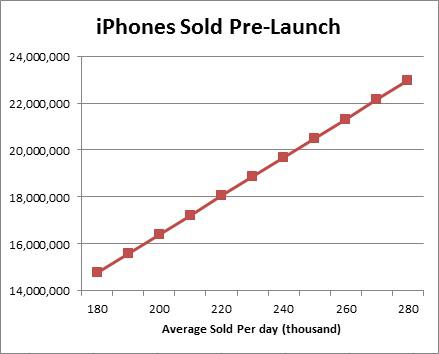 So if Apple sees a 10% decrease in the average sold per day from Q2 levels, that would imply about 21 million iPhones sold before the new phone launch. If Apple sees a 30% decrease, you are looking at about 16.4 million units sold. I personally think that 10-30% range is where things should end up, so the midpoint means about 19 million iPhones sold before the launch of the new phone.
So let's assume that the new phone goes on sale September 21. That should leave 8 selling days before the end of the fiscal year. How much can Apple sell in 8 days? Well, when they released the 4S last year, they sold more than 4 million iPhones in just under three selling days. Analysts seem to be fixed on a range of 6 million to 13 million, but it appears the general idea is for about 8 million to 9 million. Overall, it appears that a general range for total iPhone sales in the quarter is from 24 million to 30 million at this point, meaning that the midpoint is about 27 million.
Using some numbers I used in my last article (15 million iPads, 5 million Macs, 5.6 million iPods), 27 million iPhone sales would lead to approximately $35.9 billion in Q4 revenues. That is $1 billion more than the current analyst average of $34.9 billion.
So where does that leave the stock? Well, we saw last week that Nokia (NYSE:NOK) shares plummeted when they released their newest phones. Shares dropped from nearly $3 to almost $2.25, although they have recovered about half of those losses since then. Likewise, we have seen Research in Motion shares continually drop as that company heads towards the launch of the BlackBerry 10 phones. RIM hit a new low after its latest quarterly report, when the company set a calendar Q1 of 2013 date for launch. That was seen as a disappointment, and shares continued to fall.
I do not expect Apple shares to drop on the new phone release, but as you've heard probably a thousand times out there, some may use it as a reason to sell. Does the "buy the rumor, sell the news" rule apply here? Well, take a look at the following chart, showing Apple price history around iPhone announcements.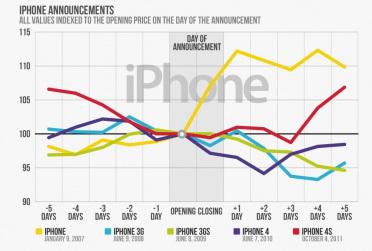 Source: Mashable.
When Apple launched the initial iPhone, shares rocketed higher. Since then, there has been a general decline after the announcement, but after a few days, shares ticked back up. Now, after hitting a new all-time high on Monday, Apple shares fell back a bit, dropping nearly $18 on the day to close under $663.
Now before I discuss what I think could happen, remember that there is one non-Apple even that could drastically change things. That is the Fed meeting which ends Thursday. Markets are expecting at least some form of QE3, so whatever move Apple makes Wednesday could either be magnified on Thursday, or completely reversed.
Obviously, there are three scenarios going into the announcement. First, Apple shares decline a bit more into Wednesday, to the say $640 to $650 range. If that occurs, I think that further downside after the announcement is limited, but slightly possible. I think that the lowest Apple could go is to a range of $600 to $625. But that is a worst case scenario, and it includes no QE3, which would really disappoint the markets. The second scenario is if shares rally into the announcement, back to that $680 level, or even making a run at $700. In that case, there is obviously more room for the downside. That means that if you got in around Monday's close, you'd probably be flat after the announcement with a post-announcement decline. The third scenario is that Apple goes into the announcement around where we are now. In that case, it probably is a coin flip, although I'm tempted to argue that there's about a 60% chance of the stock declining. Again, all of these moves can be extended or reversed thanks to the Fed, but that's another argument.
So what do I recommend? Well, for long-term investors, you are in it for the long term. That means that one announcement and a one or two day move should not impact your decision. If you think that Apple is going to $1,000 or whatever, you want to be in the name. My stance there is that if Apple declines after the announcement, you can always buy more at a cheaper price.
As for traders, I would say buy under $640 into the announcement and sell/short above $700. But that being said, if you make a quick gain, you might not want to gamble with the Fed, so taking profits quickly would be the best way to go in my opinion.
The biggest corporate announcement of the year is finally here, after months and months of talk, discussion, and predictions. Apple is slated to release its new iPhone on Wednesday, a phone that could sell hundreds of millions of units. The next few quarters for Apple will be heavily dependent on this phone, but that's really not a surprise. Given the potential for about 8 million phones to be sold in a few days, Apple could sell 25 million to 30 million units in the quarter. While Apple could decline after the announcement, long-term investors should not worry over one or two days worth of movements. If Apple does decline after the announcement (and don't forget about the Fed), long-term investors should take advantage and buy more shares at a lower price. The iPhone continues to be a great reason to be invested in Apple.
Disclosure: I have no positions in any stocks mentioned, but may initiate a long position in AAPL over the next 72 hours. I wrote this article myself, and it expresses my own opinions. I am not receiving compensation for it (other than from Seeking Alpha). I have no business relationship with any company whose stock is mentioned in this article.