Individual investors have been conditioned by Wall Street big money to be extremely guarded going into Apple (NASDAQ:AAPL) earnings calls. They have no idea what to expect. If the pattern of the last earnings calls is any indicator of what this one may portend, then they are rightfully nervous and perhaps dismayed. They are fearful that the stock will plummet 10 points, or swing violently, shaking many off the stock with big losses.
It doesn't seem to matter to Wall Street that Apple, quarter after quarter, blows away its own conservative guidance and pumped up analysts estimates. Big money seemingly throws a blind eye to fundamental indicators like customers that crowd Apple Stores day and night, product launches that produce lines out the door, around the corner, extending several city blocks. These market mavens don't want to hear it. Instead, they will be deftly tuned to that seemingly innocuous statement by Tim Cook or Peter Oppenheimer, that they can twist into a storm cloud, to justify bludgeoning the Apple faithful investor.
Why will they do this? Because they can. And they make money on the way down, and then again on the way up. The greater the swing, the more money they'll make.
So, what's the market environment like going into this earnings call? At the very large it's not great. We're in a Bear market, there's no doubt there. But we're also on the precipice of a strong Bear rally. Oil for example has dropped four consecutive sessions losing two critical support levels, first the uptrend line at 136, then second the 50-day moving average at 133.40. This is huge, as we all know that Oil has been the principle contributor to inflation, and inflation has been the primary driver of this Bear market.
Click to enlarge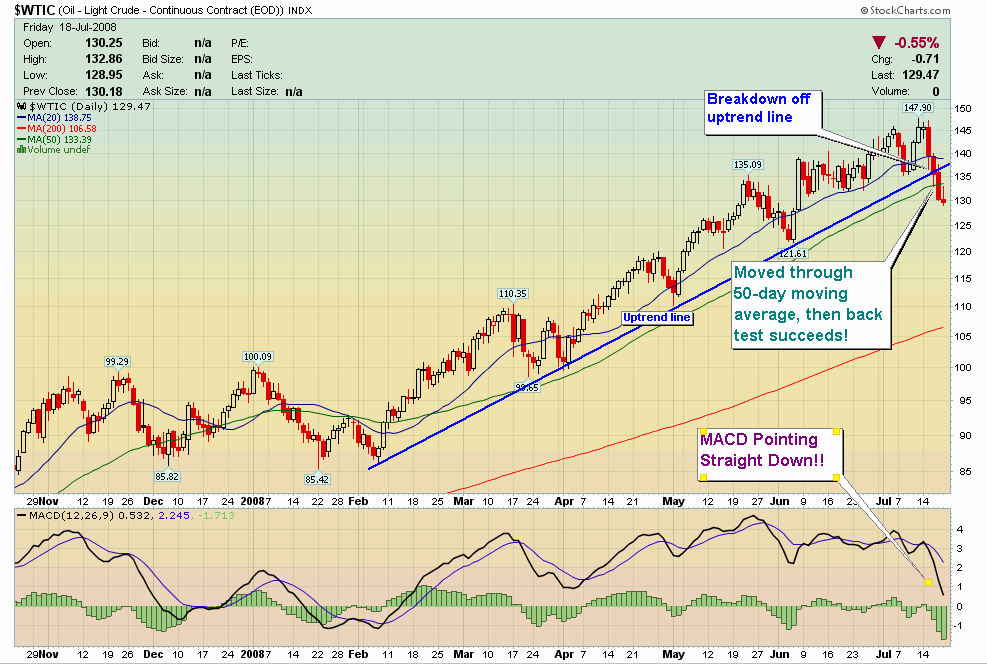 Ok, so how can we be sure from a technical perspective that this drop in Oil will stick? The best way we determine that big moves have staying power is with a backtest soon after the breach. And that's exactly what happened with Oil on Friday (July 18). After plunging through the 50-day support line, Oil made a move back up but was blanked, falling into the close and ending at 129.47 -0.71 (0.55%). That culminates a complete breakdown with a confirming backtest. Oil dropped a total of 18.47 points (12.5%) off the high of 147.90 in just a week! Wow!
Now, let's combine this great news with a rebound by financials that was equally, if not more impressive. This rebound was initiated by great earnings from key players like Wells Fargo (WFC), JP Morgan (JPC), and the big one, Citigroup (C)! Wells Fargo even raised its dividend by 10%! That's a slap in the face to the financial Bears. Sure, there are still going to be problem lenders out there with more write downs, but it's obvious now that things aren't nearly as bad as people thought, and more importantly it looks like the industry can absorb the write downs and continue to operate.
We've got lots of earnings news ahead of us, and key economic indicators coming up this week. So, this rally still has some hills to climb. But the momentum is clearly behind the rally. So now, Apple becomes the linch pin to propping up the Tech Sector. If Apple reports well, and the Wall Street big guys have any sense at all, then this rally will continue.
Disclosure: Long AAPL