The other day I clicked on my first cell phone ad, and I'm not alone in doing so. The mobile advertising market is seeing impressive growth rates as it replaces desktops as advertisers' chosen method to reach targeted consumers. One company that stands poised to gain by this trend is Velti Plc. (VELT), a leading player in the mobile advertising and mobile marketing sector.
Migration of mobile advertising and mobile marketing from desktop to mobile is here. The clearest example of this has been the performance of Facebook (NASDAQ:FB) shares since its IPO as most analysts contend that it is Facebook's lack of a formidable mobile strategy and its focus on desktop advertising that has hurt its growth outlook. I believe that as Facebook and other companies rush to implement a mobile strategy, Velti and its complete mobile package of mobile advertising, mobile marketing and customer management will prove to be an attractive choice.
Mobile advertising has the wind at its back as Velti's CEO, Alexandros Moukas, recently said on its Q2 2012 conference call: "Despite global macroeconomic weakness, the secular growth story of the mobile channel continues to trump the cyclical macro concerns." As a result, Velti saw revenues increase 71% to $58.7 million in Q2 2012 as compared to the $34.4 million recorded in Q2 2011. In addition to reporting good numbers it announced two new agreements with significant brands; Disney and Nestea, along with extensions of several existing contracts. Velti is currently trading at $7.69, but I think we could see it go to $10 in the short term and $17 by January.
Here are the reasons I am making a trading call on VELT
Velti expects revenues in the US to double this year.
Velti is seeing improving cash flows as it reduced the time it takes to collect revenues from 272 days in Q1 2012 to 66 days in Q2 2012.
I believe that mobile advertising will continue to grow at a rapid pace. Velti saw growth in the Americas of 126% last quarter and despite the lack of growth in European economies, Velti still saw its business grow there by 30% year over year in Q2 2012.
Analysts have a median price target of $16.50 (six analysts).
Velti is cutting costs. It successfully integrated the acquisitions of Air2Web and MIG and according to CEO Moukas, "we're actually reducing headcount and expenses by several millions on an annual basis".
In January, 2012 Velti acquired CASEE. CASEE is the largest mobile ad exchange and mobile ad network in China. As Velti announces its strategy for CASEE we could see multiples increased.
Compared to competitor Millennial Media Inc. (NYSE:MM), Velti is undervalued. MM has a forward P/E of 100, VELT has a forward P/E of 8.

CHART: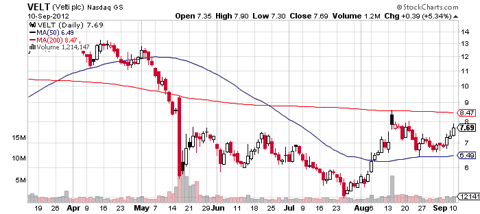 Looking at the daily chart of Velti, I believe that a major bottom was made on July 25th at $4.99. Shares then rallied up to the 200 day moving average [MA] where it met resistance and then pulled back to find support at the 50 day MA. Shares have been moving higher this past week as they broke through a short term resistance line and are again ready to challenge the 200 day MA. I believe that it will break through this on its way to $10. The likely catalyst will be news coming out of its upcoming three conferences. September 11th, it will be presenting at the Deutsche Bank dbAccess 2012 Technology Conference in Nevada. Up next will be the ThinkEquity 9th Annual Growth Conference on September 12th in New York. Finally, there is the Credit Suisse 3rd Annual Small & Mid Cap Conference on September 20th in New York.
Disclosure: I am long VELT. I wrote this article myself, and it expresses my own opinions. I am not receiving compensation for it. I have no business relationship with any company whose stock is mentioned in this article.