Originally recommended on Aug. 22/05 (IWB #2532) at $34.30. Closed Friday at $21.66 (prices in U.S. dollars).
Shares of SRA International (NYSE:SRX) went into free-fall after the company announced third-quarter 2008 earnings that fell well short of analysts' estimates and cut its guidance for the rest of the year.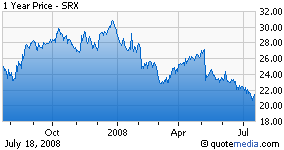 SRA showed a 20% year-over-year earnings gain, but the profit of 30c a share was a penny short of predictions. These days, even a one cent shortfall is an invitation for a market thrashing.
I'm throwing in the towel on this one. I recommended SRX as part of my Homeland Security package but this has not provided much security and is down 37% from where we recommended it at $34.30. There are better places for your money than this company and there is just not enough momentum behind this stock to get excited about.
Action now: Sell.
Disclosure: Long