Advanced Micro Devices (NASDAQ:AMD) may be trading well off of its 52-week highs, but it is not going out of business anytime soon. The leading manufacturer of semiconductors has experienced hardships along with the rest of the industry as consumer spending has declined, reducing sales and putting pressure on margins.
Investors Looking to Get in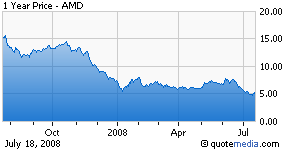 Conservative investors looking to establish a position in AMD have two options: (1) They can purchase a stake in AMD and hope the downside is over, or (2) they can purchase long-term LEAPS to take advantage of the upside at a fraction of the cost. Let's take a look at both options and see which one makes more sense…
Purchasing a 100 share block of the underlying stock would cost an investor $465 and involve taking on dollar-for-dollar risk until the stock is sold. However, a $5 Jan '10 LEAPS call options contract can be purchased for around $181 and enable the investor to realize gains whenever AMD rises above $6.81 anytime before January of 2010.
AMD is a very volatile stock with a beta of 2.69, which makes its options relatively expensive. However, consider that if the underlying drops another 60% - just a fraction of its drop this year - you could be down just as much as the LEAPS anyway ($181 in the red). With LEAPS, your loss is capped at just the $181 you paid for the options.
Conversely, if the stock returns to $16 per share, the LEAPS will make nearly 900% while the underlying shares will only make nearly 350% return. Investors that are bullish on the stock beyond a ~23% annual return should consider LEAPS as an alternative to purchase stock as it caps the risk and amplifies the returns.
Investors Sitting on Losses
Investors that are sitting on losses may just want to get out of AMD as quickly as possible. These investors also have two options: (1) They can double down and halve their breakeven point, or (2) they can use LEAPS to reduce their breakeven point for free. The downside with the LEAPS is that they give up any substantial upside.
The LEAPS repair strategy works by purchasing one $5 Jan '10 LEAPS option and writing two $7.50 Jan '10 options. The resulting position is one that will give you $56 to setup and potentially get you out of completely out of AMD at $7.50 if the stock rises that high. However, your breakeven point is now lower as well, depending on your initial cost.
Closing Remarks
It is important to keep in mind that both of these strategies require the belief that AMD shares will recover. After all, if you don't hold this belief, then you should have already sold!
Disclosure: None