Earnings momentum for Cooper Tire & Rubber Co. (NYSE:CTB) has been on the rise since this replacement tire maker reported upbeat second-quarter 2012 results, announced on August 9. The company reported a 64% surprise in the quarter. Furthermore, on September 7, 2012, CTB set a new 52-week high.
This Zacks #2 Rank (Buy) offers a decent dividend yield of 1.9% and is expected to deliver robust double-digit earnings growth in 2012, leveraging its favorable position in the industry, strength in its product portfolio and a strong demand environment.
Second Quarter
Helped by lower raw material costs, Cooper Tire & Rubber announced that profit grew more than four-fold year over year in the second quarter to roughly $52 million, representing the 12th straight quarter of profitability. Earnings of 82 cents per share trounced the Zacks Consensus Estimate by 32 cents. Other positive factors impacting bottom line growth included higher sales volumes, improved manufacturing efficiencies and lower product liability costs.
Revenues advanced 15% year over year to $1.06 billion, buoyed by higher sales volumes in the North American and International operations. Sales in its North American Tire division grew 16% while its International Tire unit advanced 6%. It also registered record operating profit for both divisions. Total light vehicle tire shipments jumped 16% in the U.S.
Cooper Tire & Rubber believes product innovations, cost reduction measures, declining raw material costs and profitable investments will help boost results moving ahead, despite the headwinds in the tire industry.
Earnings Estimates Climbing High
For 2012, five of 6 estimates have been revised higher in the last 30 days, which has raised the Zacks Consensus Estimate for 2012 by 10% to $2.48 per share. This outlook indicates an estimated annualized growth of roughly 107%.
For 2013, four of 6 estimates moved higher in the same timeframe, along with one downward revision. The Zacks Consensus Estimate for 2013 has climbed 6% to $2.81 per share, representing a projected year over year growth of around 13%.
Steady Dividend Stream
Cooper Tire & Rubber raised its quarterly dividend by a penny to 10.5 cents per share back in September 1998 and has been consistently paying the same amount ever since then. On August 8, the company declared its 162nd consecutive quarterly dividend, affirming a yield of 1.9%.
Reasonable Valuation
Cooper Tire & Rubber's valuation looks reasonable with shares trading at a forward P/E of 8.87x, essentially in line with the peer group average of 8.86x. The price-to-book of 1.74x is below the peer group average of 1.95x. Moreover, the price-to-sales of 0.33x is lower than the peer group average of 0.49x.
A Peek at the Chart
Shares of Cooper Tire & Rubber have soared roughly 52% year-to-date. The stock bounced back sharply from as low as $3 in March 2009 to $22 as of September 7, 2012. Strong second quarter results contributed to the stock's recent rally.
The gap between the estimate lines for 2011, 2012 and 2013, as reflected in the price and consensus chart below, should enthuse investors. As earnings estimates move higher, the stock is likely to follow suit.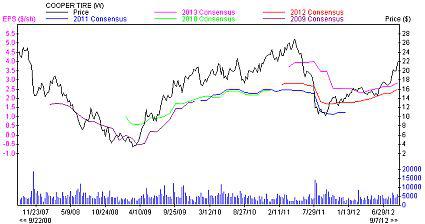 Cooper Tire & Rubber should be able to sustain its earnings momentum give its improved product and price mix, better product management, capacity enhancement and cost containment initiatives. The company is poised to leverage the growing demand for replacement tires in the high performance and ultra-high performance categories. With a healthy growth trajectory, rising earnings estimates, safe dividend yield and decent valuation, Cooper Tire & Rubber is a compelling pick for investors seeking growth and income.
Founded in 1913, Cooper Tire & Rubber Co. makes tires and related products for passenger vehicles and light trucks. The company, which has a market cap of $1.37 billion, has more than 60 manufacturing, sales, distribution, technical and design facilities located in 10 countries across the globe. It is the ninth largest tire company in the world (fourth largest in the U.S.) and is also one of the 350 large companies in America.