Moving beyond the single country focus of exchange-traded funds [ETFs] such as the iShares MSCI Sweden Index (NYSEARCA:EWD), I have developed a NordiCaps Region Stock Index which includes 120 companies based in Denmark, Finland, Iceland, Norway, and Sweden with market caps over $1 billion US Dollars. I have also developed a ratings formula to choose 40 active companies on a quarterly basis for a semi-active ETF proposal, factoring in each company's trailing 52-week stock price change, market cap weighting, and revenue weighting and then choosing the 40 active stocks based on the highest ratings for equally-weighted inclusion.
The Nordic region is expected to outperform the United States [US] and the EURO-zone [EU] economies with a forecast of real gross domestic product [GDP] growth of 2.3% on a market-cap weighted average basis for both 2008 and 2009. This real GDP growth compares favorably to predicted growth in the US (0.8%, 1.4%) and EU (1.6%, 1.9%) for 2008 and 2009. Norway and Finland are predicted to experience the strongest real GDP growth at an average of 2.7% through 2009 thanks to strong demand and high prices for exports such as shipping services and petroleum products.
Some top performers in the NordiCaps Region Index include agricultural chemical company Yara International [Oslo: YAR] (up over 100% in the last 52 weeks) and Vestas Wind Systems [Copenhagen: VWS] (OTCPK:VWDRY) (up over 50% in last 52 weeks).
Only six companies in this index maintain US listings for their stocks, including the following which are listed in descending order by their market caps: Nokia (NYSE:NOK), StatoilHydro (NYSE:STO), Novo Nordisk (NYSE:NVO), Ericsson (NASDAQ:ERIC), Autoliv (NYSE:ALV), and Torm (NASDAQ:TRMD). The NordiCaps Region Index could be developed into a semi-active ETF to provide investors with exposure to the entire Nordic region beyond just Sweden, resulting in better performance and more diversification. For example, the top three holdings in iShares Sweden (EWD) (Ericsson, Nordea Bank, and Hennes & Mauritz) account for over 30% of the fund's assets. The chart and spreadsheet above demonstrate underperformance for this single country approach as compared to the entire Nordic region and other US/EU benchmarks.
Please contact me for more information and details on the 120-stock NordiCaps Region Index.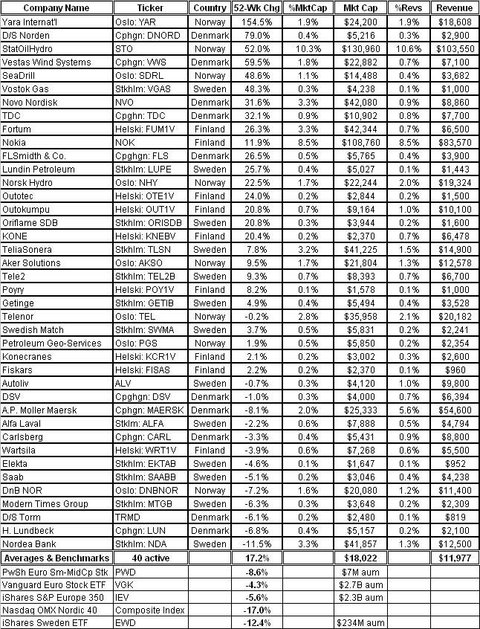 Disclosure: None