In my recent article, I explained the basic principles of hedging and its importance to any reasonable investor. After considering some negative signals in today's market, we chose an index fund and initiated a put spread to offset our long positions. This time around, let's take a more complex approach to hedging by targeting specific stocks we think may have challenged business models and poor technical patterns.
For exposure to the technology sector, I am already long Apple (NASDAQ:AAPL) and EMC Corp. (EMC). To possibly offset these 2 longs, let's investigate 2 potential short candidates: Pandora Media (NYSE:P), and Hewlett-Packard Co. (NYSE:HPQ), by evaluating the technical patterns and fundamental values of the companies.
Technicals:
EMC and AAPL are in significant uptrends with defined levels of support: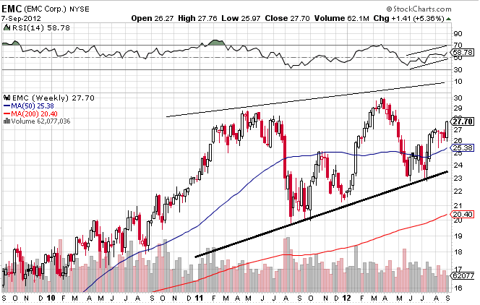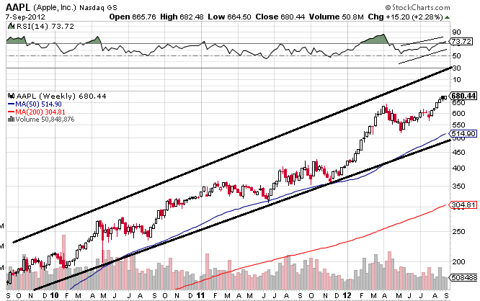 P and HPQ are in significant long-term downtrends: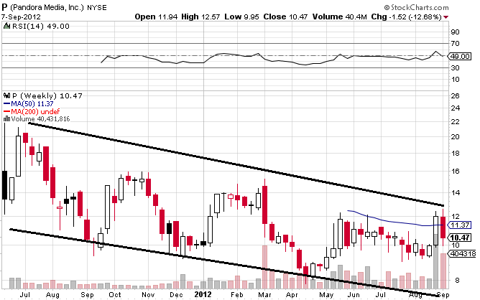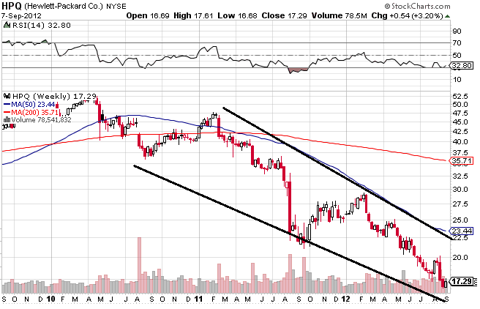 Technically speaking, P and HPQ are very weak compared to AAPL and EMC. But are these signs supported by fundamentals?
Fundamentals:
The HPQ Question: Value Trap?
HPQ is showing characteristics of a value trap. The dividend is artificially high due to the stock plummeting over recent years. Also, the Price/Sales metric seems cheap, but this is because HPQ's revenue has decreased Y/Y, and because its primary business, the personal computer, is in a slump.
In fact, poor PC sales are expected to continue. Citigroup recently noted: "we believe the severity of cannibalization of traditional notebook computers in 2H12 could be even worse than 1H12." source According to the International Data Corporation; 367 million PCs will ship into the market this year, up just a fraction of a percent from 2011 and marking the second consecutive year of growth below 2%.source
Microsoft Corp (NASDAQ:MSFT) is also accepting this trend. Back in June at "TechEd Europe" in Amsterdam, Microsoft's vice president for Windows Web Services, Antoine Leblond, acknowledged the strength in tablets. "Next year, tablets will outsell desktop PCs," said Leblond.source
The unfortunate reality for HPQ is tablets are killing the PC; this trend is undeniable. This situation will foster minimal growth - a vivid signal of a value trap.
Pandora's Box:
P has outstanding revenue growth. However turning a profit is still a challenge for this small company. It seems as revenue increases, so do royalties that must be paid to music companies. In fact, Pandora paid out 54% of its revenue in content acquisition costs last year.source
At a glance, P's price to sales seems high. No doubt the market is paying up for the company's mobile revenue growth of 86% Y/Y. This would be acceptable if Pandora were to continue growing at this same blazing place. However, as my recent article explains, Pandora could be facing stiff competition in the near future, pressuring future growth prospects. This very real threat to Pandora, combined with rising content costs, and its inability to turn a profit, are definite weaknesses in my view.
Summary:
After summarizing some basic technical trends and fundamental valuations in HPQ and P, I feel confident their chances of underperforming are skewed in our favor. We've made significant progress towards evaluating these two stocks, however more work needs to be completed before initiating a trade order.
Get Short Losers, Part 2, I will cover a risk-averse trade which will harness HPQ and P if they move to the downside in response to their deteriorating fundamentals and potent technical downtrends. Stay tuned.
Disclosure: I am long AAPL, EMC. I wrote this article myself, and it expresses my own opinions. I am not receiving compensation for it (other than from Seeking Alpha). I have no business relationship with any company whose stock is mentioned in this article.
Additional disclosure: I may initiate short positions via put spreads in HPQ, and/or P, in the next 72 hours.