It is quite hard to understand why the short ratio for Sturm, Ruger & Co. (NYSE:RGR) is so high; roughly 40% of the float is short in the stock. Last month, the company reported increases of 50% in revenues and 73% in earnings, YoY, in its second quarter earnings release. Recently, RGR also crossed a milestone by producing its one millionth firearm in a year. RGR is well on its way to breaking its own record of producing 1,114,700 firearms in a year.
Gun stocks have done an amazing job this year, with RGR having a YTD performance of 41%, while its competitor Smith & Wesson Holding (SWHC) was up 131%. The main reason for this electrifying performance has been the recent surge in the demand for guns. This is similar to the previous election year of 2009, when people rushed to stores to buy guns as they feared that Obama would tighten gun laws.
Similar feelings are in the air this time as well. In the first quarter this year, RGR could not keep up with demand, despite increased production facilities. This time around, if Obama gets elected, it is expected that he will rigidify the laws (see previous link), something that he could not manage to do in his first term. However, things are not much clearer in the case of GOP candidate Mitt Romney, who has shown confused behavior on this issue. Before 2004, Romney, as Governor of Massachusetts, openly criticized the use of guns and outlawed assault weapons. However, in 2006, all of a sudden, he became a member of the National Rifle Association - a platform where the ownership of guns is highly advocated. Libertarian nominee Gary Johnson said:
"If you outlaw guns, only outlaws will have guns."
However, many believe that fears of tightened gun laws forms only a part of the current demand. It has more to do with rising unemployment rates and more crimes associated with it, which leads people to buy weapons for personal security. According to a gun salesman, most of the buyers were 65-year olds who knew that they could not fight or run, so "they have to shoot".
More important is the discussion as to whether demand for guns will remain high after the election period or not. Most analysts think not. However, then there are others, like an analyst with CNBC, who said that society had witnessed an increased acceptance of gun usage, and target shootings had increased. In this context, it will be interesting to note the current backlog levels and the production capacity of arms manufacturers. The company that has a solid backlog, and a production capacity which it is able trim easily, will be a winner, as sales are expected to become moderate after the election season. As far as the backlogs are concerned, both RGR and SWHC enjoy a solid backlog. In May, RGR had a backlog of 1.1 million guns. Similarly, SWHC has a backlog of $392 million, up 163.7% YoY.
Conclusion
Many think it's too late to buy gun stocks now, as the stocks have realized their gains. However, at the same time most of the people think that Obama has a higher chance of ending up as the President after this election season. Many say that Obama's silence on gun laws up till now will erupt as soon as he is reelected, and therefore, there will be another temporary round of spike in demand, which has not yet been priced in the stock. Therefore, both SWCH and RGR are recommended as buys, until electoral chances tilt in favor of Mitt Romney.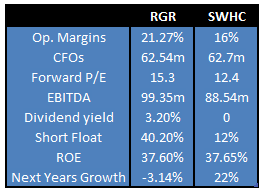 Disclosure: I have no positions in any stocks mentioned, and no plans to initiate any positions within the next 72 hours.
Business relationship disclosure: The article has been written by Qineqt's Industrials Analyst. Qineqt is not receiving compensation for it (other than from Seeking Alpha). Qineqt has no business relationship with any company whose stock is mentioned in this article.