Staples (NASDAQ:SPLS) has $6.79 billion in net assets and is expected to generate more than $1 billion in free cash flow this year. As the leading seller of office supplies in the US, Staples is financially healthy. Currently, its market cap is $7.68 billion. Investing in it seems like a no-brainer because one can break even in a year. Think again and take a closer look at the $3.86 billion worth of goodwill and other intangible assets on its balance sheet as of July 2012. Given that total intangible assets account for almost two thirds of its net assets, this stock no longer appears particularly attractive.
Intangible assets ratios much greater than peers
According to Table 1, Staples carries substantial goodwill and intangible assets, which are about one third of its total assets and two thirds of its equity. Its intangible assets ratios are much higher than those of other office supply competitors, OfficeMax (NYSE:OMX) and Office Depot (NYSE:ODP), whose intangibles are minuscule by comparison. In addition, Wal-Mart (NYSE:WMT), Target (NYSE:TGT), and Amazon (NASDAQ:AMZN) keep their intangible assets ratios noticeably lower than Staples, as seen in Table 2. Staples competes against them in adjacent categories, such as break-room supplies.
Table 1. Staples' Goodwill and Intangible Assets
| | | | | |
| --- | --- | --- | --- | --- |
| Item | 2010-01 | 2011-01 | 2012-01 | 2012-7 |
| Goodwill | $4,084 | $4,073 | $3,982 | $3,862 |
| Other intangible assets | $580 | $523 | $450 | $412 |
| Total intangible assets over total asset (%) | 34.00% | 33.04% | 33.00% | 32.89% |
| Total intangible assets over equity (%) | 68.87% | 66.19% | 63.18% | 62.95% |
Note: Fiscal year ends in January. USD in millions. Data is sourced from Morningstar.
Table 2. Intangible Assets Ratios Comparison
| | | | | | |
| --- | --- | --- | --- | --- | --- |
| Company | Latest quarter | Goodwill as of latest quarter | Intangible assets as of latest quarter | Total intangible assets over total asset | Total intangible assets over equity |
| Staples | 2012-7 | $3,862 | $412 | 32.89% | 62.95% |
| Wal-mat | 2012-7 | $20,081 | - | 10.26% | 28.57% |
| Target | 2012-7 | - | - | - | - |
| Amazon | 2012-6 | $2,521 | - | 11.99% | 33.59% |
Note: USD in millions. Data is sourced from Morningstar.
Potential near-term impairment loss
Granted, goodwill in itself is not a bad thing. By definition, it is the amount of money a company overpaid in past acquisitions. This account should not impact operating results significantly as long as the business segment the company acquired continues to generate good returns. However, this is not the case for Staples.
The majority of Staples' goodwill, $3.38 billion, was resulted from Staples' acquisition of Corporate Express in 2008 according to its annual report as of January 2009. In light of the weak European economy, the management warned of a possible impairment test in the latest quarterly report: "given the ongoing instability and uncertainty in the region, we think it is reasonably possible that an interim goodwill impairment test may be required in our third quarter." Additionally, the 2011 annual report specified the amount of goodwill that is barely above water:
For our European Retail reporting unit, which represented approximately 8% (approximately $315 million) of our goodwill balance at January 28, 2012, the fair value was less than 10% greater than the carrying value of the related reporting unit.
If an impairment loss is recognized on income statement, it will reduce net income by the same amount; such write-offs are generally not tax deductible. The share price just tanked 15% on August 15 because of earning disappointment. It would not be a surprise if the market reacts poorly to a writedown.
Not cheap in terms of tangible book value
The following chart shows the book value excluding intangible assets is only $3.71 per share, much lower than the close price on 9/10/2012, $11.25. The $10 book value is misleading; Staples is absolutely not a bargain in terms of tangible book value.
image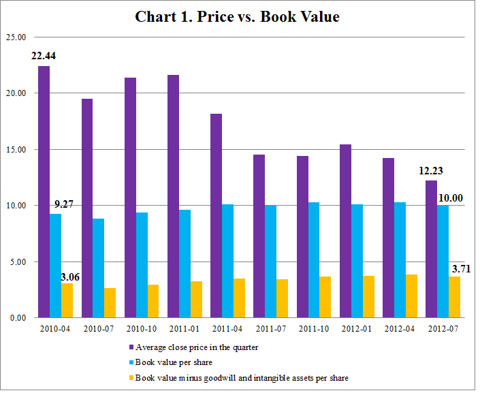 Note: The average close price in this chart is calculated by averaging close prices in the quarter when the earnings of the previous quarter were announced. For instance, $22.44 in 2010-4 means that the average of close prices between 4/1/2010 and 6/30/2010 is $22.44. Market prices are sourced from Google Finance. The rest is sourced from Morningstar.
Conclusion
As for whether Staples is a worthy investment, my DCF model estimates the fair value to range between $10.84 and $15.19. The model forecasts free cash flows for each of the next five years and calculates a terminal value in 2016. The model shows a worst-case scenario and a regular scenario to determine the lower and upper boundaries of the fair value range. Click here to see more details about model assumptions.
Therefore, my advice is not to invest in Staples until the third quarter earnings or even the full-year earnings are reported. Although the management team noted that they plan to take some serious actions to improve their business performance, they have not detailed a plan. It is prudent to see some top line improvements and be assured with a clear road map to recovery before one put money into this stock. Sitting on the sidelines might cause one to miss some gains but will definitely prevent him from buying into a value trap, if Staples turns out to be one.
Disclosure: I have no positions in any stocks mentioned, and no plans to initiate any positions within the next 72 hours. I wrote this article myself, and it expresses my own opinions. I am not receiving compensation for it. I have no business relationship with any company whose stock is mentioned in this article.