Yesterday I wrote about the Chowder Dividend Rule [CDR], how it works and how I've incorporated it into my copy of the My Mad Method [MyMM] spreadsheet. The CDR is a tool to use to help build a solid Dividend Growth Investing [DGI] portfolio in order to wind up generating a healthy, growing income stream from dividends without having the liquidate any of my positions in order to live comfortably in retirement.
Here is the definition of the Chowder Dividend Rule in chowder's own words:
I look for companies who provide a 12% total between the yield and the 5 year compounded annual growth rate [CAGR]. For example, if a company has a 3% yield, the 5 year CAGR must be 9%. If the yield is 4%, the 5 year CAGR must be 8%. When the total number gets below an 8% total, it's time to do some soul searching and determine if it's a keeper or if you're better off moving on.
Now it's time to literally put my money where my mouth is and take a look at my own portfolio to see if there are any positions that I need to consider selling per the CDR.
Here are the stocks currently in my IRA's portfolio, their unweighted MyMM Rank, their Combined Rank in terms of my portfolio, and their CDR inputs and number: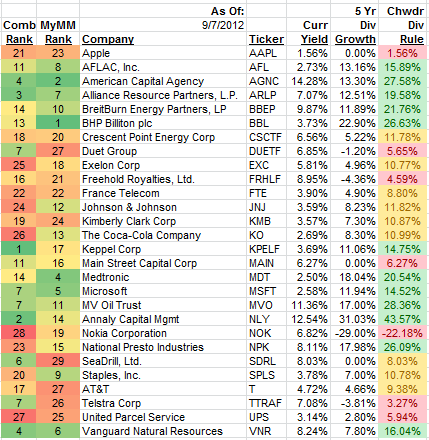 (The "Combined Rank" averages the "MyMM Rank", the "Gain/Loss Rank", and the "Projected Dividends Rank", which is the rank of the projected dividends that each stock should be producing in the current calendar year. To keep it from becoming too cluttered with numbers and colors, the "Gain/Loss Rank" and the "Projected Dividends Rank" are not displayed in the table above.)
Thanks to Microsoft (NASDAQ:MSFT) Excel's Conditional Formatting, it's easy to tell which positions are falling short of the 8% threshold for combined Yield and 5-Year Dividend CAGR, as these are the ones whose CDR numbers are displayed in a red highlight and font. Let's consider each of these on a case-by-case basis.
Apple, Inc. (NASDAQ:AAPL)
I've written about how I feel about Apple in the past, but to summarize it here, I lived through the days when Steve Jobs was with Apple, then wasn't with Apple, then came back to Apple and turned it around into the juggernaut of a company that it is today. However, this time, Jobs can't come back to Apple to turn it around again if the folks remaining in Cupertino fail to innovate on their own without their former ideas guru.
My cost basis for Apple is $385.40, and it closed last Friday at $680.44, which provides me with a paper gain of 76.55% for the shares I have remaining. I've been peeling off shares of AAPL as it's been rising above the $620 mark over the past several months, until I'd given it enough of a haircut that it now represents only 3% of my portfolio.
There is an announcement that is scheduled to be coming from Apple on September 12th, which could result in another big pop to the share price, although whatever will be announced then may already be baked into the price. In any event, I'm content to wait and see what is announced on the 12th, and have a mental price threshold of $750 that, if AAPL should reach it, I will definitely sell some, and possibly all of my remaining shares.
In any event, since Apple's CDR number is only 1.56%, I don't think I'll be holding on to my remaining shares for much longer. I may keep a few around for giggles just to see what happens to the price, or whether it splits in the not-too-distant future, but in the meantime my small investment in AAPL has paid off nicely, and has helped me fund the purchase of other, more dividend friendly stocks.
Duet Group (OTC:DUETF)
Duet Group is one of the leading utilities in Australia, and has been throwing off a nice dividend ever since my former broker added it my IRA back in July of 2010. Don't let the "Pink" ticker fool you, this is a solid company, but like most non-USA companies, this is the ticker I need to use in order for it to register on Seeking Alpha. Also, like a lot of foreign companies, Duet isn't as concerned about maintaining its dividend history as do its USA counterparts.
I hold Duet in an IRA at my old brokerage firm, as it and a few other stocks couldn't be transferred over to my new account at my new broker, Interactive Brokers. Duet has appreciated in value almost 30% since it got added to my portfolio originally, and has been holding steady for some time. At this point in time, I'm willing to leave it in my old account and let it throw off its nearly 7% yield (which is my net yield after taxes have been calculated out).
Freehold Royalties, Ltd. (OTCPK:FRHLF)
Freehold is a royalty trust based in Canada, hence the "Pink" ticker. This is another holdover from my former broker, but one that was able to be transferred into my Interactive Brokers account. At nearly 9%, I think I'd be hard pressed to find something else to generate as much in dividends as Freehold Royalties does without getting even deeper into mREITs and MLPs than I am already.
It's the negative 5 Year Dividend CAGR that's sending this trust's CDR number into the red, so for now I'm going to let this sleeping dog lie, keep an eye on it, and continue to collect its monthly distributions. If by this time next year Freehold's CAGR doesn't improve significantly, I may need to look harder for something to replace it and its juicy yield in my portfolio.
Main Street Capital Corp. (NYSE:MAIN)
MAIN is one of my more recent acquisitions, as I only picked up my first batch of it back in late June of this year. Looking at the numbers, its yield is fine, but being so young of a company it hasn't yet established a 5 year CAGR for its dividend.
MAIN is my first and only Business Development Company [BDC], and I decided to establish a position in this class of assets in order to help me diversify my portfolio from the heavy exposure I had to mREITs and the energy sector. Because of this, I'm going to give MAIN the benefit of the doubt and give it enough time to establish a 5 year CAGR for its dividend, and then see how it fares in terms of its Chowder Dividend Rule number.
Nokia Corporation (NYSE:NOK)
Nokia is the last of my forays into pure speculation, and I knew it was a troubled stock when I sold cash-secured puts back in May to acquire the paltry 400 shares that I hold. Being such a very small holding, and having such great possibilities for growth should the launch of Microsoft Windows 8 prove to be the turbo-boost that Nokia's Lumia smartphones need to gain traction in that market, I'm reluctant to give it the boot just yet. I'm waiting for the results of this year's Holiday Shopping Season to see whether NOK's fortunes improve, but either way, I think I'll be shedding this one after the end of year results have been tallied.
Telstra Corp (OTCPK:TTRAF)
Telstra is also an Australian company that I hold in my old account at my former broker's firm, this one being the leading telecom provider Down Under. Like Duet Group, I'm content for now to leave this one in my old account, where it throws off a juicy 7% yield in semi-annual distributions. Both of these companies, along with Keppel Corporation (KEPLF.PK), an oil and gas exploration outfit out of Singapore, provide me with exposure to some non-US dollar currencies, for a little extra diversification.
And since all of three of these positions in my old IRA are producing wonderful yields (3.7% in the case of Keppel, with a CDR number of 14.75%) and have appreciated nicely, I'm not in any rush to liquidate them, pay the outrageous commissions that my former broker charges, and move the resulting cash into my Interactive Brokers IRA. Instead, I'll just sweep the cash from the dividends these companies produce out of the old account and into the new account on a quarterly basis, and leave things as they are for the foreseeable future.
(Am I "chasing yield" when it comes to Duet Group, Telstra and even Freehold Royalties? In a way, yes, I am, and unapologetically so. I'm still in the Accumulation Phase of my investing life, but I'm also in Catch-Up Mode, too, having waited too long to get serious about saving and investing for retirement. So I like having positions that yield more than the usual DGI suspects to help boost my current income from their dividends and distributions so that I can use those funds to purchase the more typical DGI stocks that will eventually make up the bulk of my portfolio by the time I'm ready to replace my employer's paycheck with income from dividends from my portfolio in retirement.)
United Parcel Service (NYSE:UPS)
By this time you're probably thinking that, having rationalized all of the other below 8% CDR number stocks listed above, that I'll rationalize UPS and let it slide, too. Nope, not this time. UPS is one of the first stocks I picked up when I started managing my own portfolio last October, but looking at its numbers and prospects, I think the time has come to cut it loose and redeploy the cash that I'll get from selling it.
My original thesis was that with the growth in online retailers such as Amazon.com (NASDAQ:AMZN), UPS would benefit as being the premier shipper in the USA, and having a significant global presence as well. However, with the worldwide economy continuing to be depressed, and fuel costs where they have been this past year, UPS isn't coming through as I'd hoped. Looking at its CDR number, as well as it's MyMM Rank and Combined Rank, tells me it's time to let "Brown" go and replace it with something that's a bit healthier when it comes to providing me with dividend growth.
Conclusion
Like any other metric, the Chowder Dividend Rule is a tool to use to help you determine what next to buy, or what to sell out of your portfolio. It's a tool, but not a mandate. One still needs to do one's own due diligence and make a determination as to whether the business case for why you bought a stock in the first place still holds up, or whether a drop in its CDR below 8% really does indicate a fundamental problem that needs to be addressed with a sharp scalpel.
Also, it's a tool that I'm just starting to learn how to use, so if it seems like I've rationalized away the possibility of jettisoning some of the companies in my portfolio that have a CDR number below 8%, perhaps that is the case. But for now the only short-term action that I will definitely be taking is to sell my small position in UPS and purchase something (or some things) that will provide me as good or (preferably) better yield with a much healthier CDR number.
If you're a Dividend Growth investor, or think you'd like to be, take a look at your own portfolio and see how the stocks in it stack up in terms of their CDR number. If you'd like to have a "blank" copy of the My Mad Method spreadsheet to help you do this, simply send me a Private Message here on Seeking Alpha with your email address, and I'll send you a copy as soon as I can, free of charge.
Disclosure: I am long AAPL, OTC:DUETF, OTCPK:FRHLF, MAIN, MSFT, NOK, OTCPK:TTRAF. I wrote this article myself, and it expresses my own opinions. I am not receiving compensation for it (other than from Seeking Alpha). I have no business relationship with any company whose stock is mentioned in this article.
Additional disclosure: In addition, I will likely be selling my shares of (UPS) in the next 72 hours or so. Disclaimer: I am not a professional investment advisor or financial analyst; I'm just a guy who likes to crunch numbers and can make an Excel spreadsheet do pretty much whatever I want it to do, and I'm doing my best to manage my own portfolio. This article is in no way an endorsement of any of the stocks discussed in it, and as always, you need to do your own research and due diligence before you decide to trade any securities or other products.