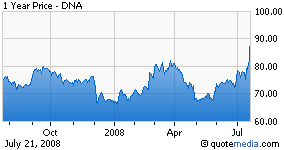 Roche (OTCQX:RHHBY) has offered to buy the 45% stake of Genentech (Private:DNA) it doesn't already own with a $89/share, $43.7B (8.8% premium) offer.
The initial Roche/Genentech deal brokered in the 90's has been key to Roche's success in the last few years. Upon first blush, this deal seems a natural fit and a no-brainer for Roche but there is at least one huge potential problem: company culture.
One of the things that makes Genentech (and some other biotechs for that matter) innovative is the core company culture. If I remember correctly, this is a major reason Roche didn't by them outright the first time around. In fact, they did the same when the inked the Chugai deal a few years back.
New CEO, new corporate M&A strategy.
It will be interesting to see Genentech's response. If I were a shareholder, I'd want a bit more than 8.8% on the week. I'd hold out of 95/share.