The economy is still far from gaining momentum despite some recent achievements, making it hard for companies to meet analysts' expectations. While September is already the cruelest time for the markets, this year's September ended with a decline on average, the first time since the Roaring Twenties. Therefore, picking the right stock becomes even harder for most of the investors.
There are, however, still a few companies that are able to return breathtaking profits- even more than what analysts estimated. Besides, you can roughly understand the profitability of a stock by looking at the institutional ownership of it in such times, as institutions do not walk on the rotten wood. You need to follow their steps if you seek shelter in such stormy times. I have found four stocks that have institutional ownerships higher than 90%, yet are still fairly-priced for their sizes. They also offer a yield of above 3.15%, and are estimated to report a positive EPS report in the next five years. I have examined these stocks in this article, and added my opinion along with O-Metrix grades. Here is a fundamental analysis of these four dividend stocks with heavy institutional interest.
Lorillard Inc. (NYSE:LO):
While there are considerable efforts to replace cigarettes with e-cigarettes, there is no possible way to leave cigarettes behind and smoke some electronic device. It simply doesn't give the same feel as a cigarette does. Moreover, electronic cigarettes are harmful, too. As long as mankind exists, there will be terrific gains in this business. Lorillard is one of the best stocks to collect sizable profits in this "sin" industry. Like Warren Buffett said decades ago:
"I will tell you why I like the cigarette business. It costs a penny to make. Sell it for a dollar. It's addictive. And there's fantastic brand loyalty."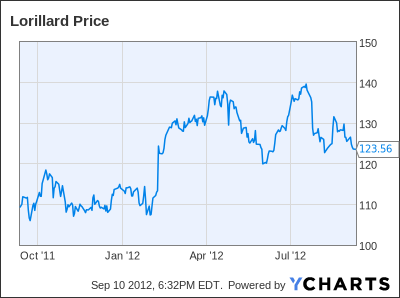 Lorillard has been doing quite well despite economic worries. While it offers a relatively lower dividend compared to its peers, the stock provided the best performance in the last ten years. Dividend background is quite adorable. Revenue and cash flow seems OK. Debt-to equity ratio is 2.0, which crushes the industry average of 14.8. With a Beta value of .43, this cigarette maker is the second least volatile in its industry. Lorillard authorized half a billion dollars in share buybacks, which signals a boost in shareholder value. There is definitely considerable value in Lorillard in both short and long term, and you don't want to miss it. Lorillard has an O-Metrix score of 5.68.
Northrop Grumman Corp. (NYSE:NOC):
Northrop Grumman is one of the finest names in its industry, even though it is facing a downside movement for a while. The stock is trading at a marvelous P/E ratio of 8.5, and a forward P/E ratio of 8.6. While Northrop was climbing up so fast, the stock is experiencing a pullback to stabilize its Relative Strength Index now. Northrop has declined by almost 3.5% since August 21.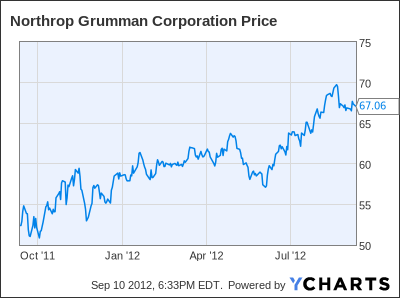 The stock offers a tremendous value by both its P/E and forward P/E ratio, which are extremely cheap compared to those of its peers. Along with heavy institutional interest (91.38%), Northrop also has a wide interest from insiders. Insider transactions have increased by 56.14% in the last six months, which clearly signals a bullish trend for the stock. Insiders never bet on the wrong card in their dump. Debt-to equity ratio is 0.4, easily outrunning the industry average of 2.4. Like Morningstar stated, I think the company has "executed admirably over the past several years, as segment operating margins improved from midsingle digits in 2004 to more than 11% in 2010." Northrop Grumman has a C Grade O-Metrix score of 4.71.
Mattel Inc. (NASDAQ:MAT):
Mattel is just what you're looking for - the stock has been pushing harder and harder to its limits as it outperformed its peers in most of the categories, making itself a recent consumer durables winner and having a price target raise from UBS, which can lead to higher-than expected dividend increases. The stock has returned nearly 15% since it declared its third-quarter cash dividend of $0.31.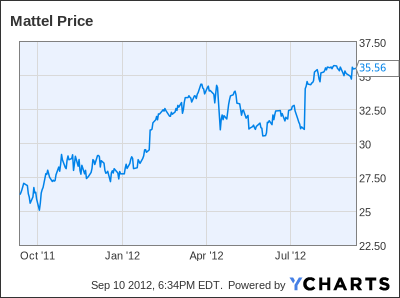 There's an everlasting demand in toys for Batman, Barbie, Disney Princess, and Toy Story. The company adds to its value as soon as Disney (NYSE:DIS) releases something. Mattel's market share in infant dolls has dramatically risen due to the reasons mentioned above. Revenue and assets are remarkably good. The company is quite income investor-friendly due to its stable free cash flow. Mattel offers attractive opportunities with solid growth. Wait for some time to let it drop a little. Based on its numbers, Mattel has an O-Metrix score of 4.06.
Republic Services Inc. (NYSE:RSG):
The second largest waste-dumper is shining again these days. Republic Services seems to have fended off the pressure to earnings for late-cycle sector, as the stock has already regained most of its losses in a quick bounce-back. The stock has returned 2.5% in just five days. The stock is trading at a compelling price-to-earnings ratio of 15.6, outrunning the industry average of 26.0.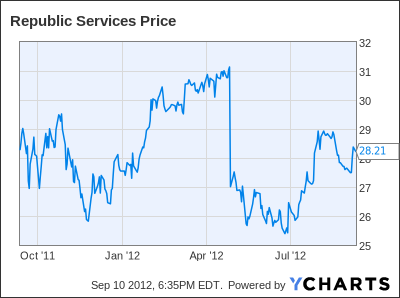 Already a profit generator for those seeking stable operating results background, the stock offers a reputable cash flow and strong assets. Technicals look quite attractive in general. There's no red flag in the stock's key stats, which is a major bullish sign for investors. Debt-to-equity ratio is 0.9, while the industry average is 3.1. When it comes to waste management, people tend to ask questions about the company's respectfulness to nature. To show its sensitivity to these matters, Republic Services has made an agreement to recover landfill gas in Tennessee, for various uses like producing vehicle fuel for its natural gas-powered fleet. There's certainly a bright future in this firm. The management knows how to manage, how to attract, and how to adapt. Having a small portion of shares would reward you with satisfactory profits in a long time. The waste management has an O-Metrix score of 4.58.
Disclosure: I have no positions in any stocks mentioned, and no plans to initiate any positions within the next 72 hours. I wrote this article myself, and it expresses my own opinions. I am not receiving compensation for it (other than from Seeking Alpha). I have no business relationship with any company whose stock is mentioned in this article.