We are disappointed to see Zynga (NASDAQ:ZNGA) struggle because we used to be huge fans of the company's games on Facebook. We used to be huge fans of the Mafia Wars game and because there were so many people who were playing that game as well as its other recognized games like Farmville and Texas Hold 'Em Poker (Zynga Poker), we made it a point to analyze and evaluate the company's IPO. We thought it was cute how in the S-1 Form, the front page was all the characters of Zynga's games. Let's play indeed! While the company had shown spectacular growth in its S-1 form for revenues and profits before the IPO, Zynga has seen significant losses due to stock compensation expenses and pedestrian free cash flow performance. Zynga's year-over-year revenue growth has also decelerated to 19% in Q2 2012 versus Q2 2011. We think that the reason why those Zynga game characters were smiling was because they were able to sell their shares at the top before all of Goldman Sachs's Muppets were aware that this IPO was an IPU.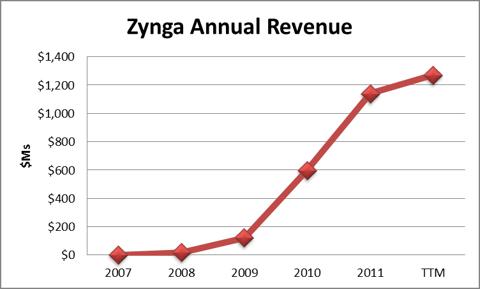 Sources: Morningstar Direct and Zynga's 2011 10-K
We were disappointed to see that Mark Pincus fostered an unhealthy company culture at Zynga. The most notable instance was when he was quoted by an ex-employee as saying "I don't bleeping want innovation," the ex-employee recalls Pincus saying. "You're not smarter than your competitor. Just copy what they do and do it until you get their numbers." We were also disappointed that there was poor employee morale at Zynga. In late November 2011, Don Reisinger of CNET wrote about how there were a number of Zynga employees who were holding on to their jobs long enough so that when Zynga's IPO was consummated, they would cash in their vested stock and leave the company.
Zynga's Corporate Highlights: Good News and Bad News
Zynga saw revenue growth of 19% on a year-over-year basis in Q2 2012. That might be good for regular companies, but it is kind of pedestrian for a highly-touted technology IPO. The good news is that it had linked quarter growth of 3.6% versus Q1 2012. The bad news is that it fell short of the 7.2% growth by consensus estimates. The good news is that daily active users grew by 10.7% on a linked quarter basis to 72M DAU. The bad news is that Average Daily Bookings per User declined by 16.4% to $.046. Because of the IPO, operating costs have increased by over 39.4% in Q2 2012 and 64.4% in YTD 2012 versus the comparable periods in 2011. At least the rapid increase of shares from the IPO has made it so the company only lost $.03 per share for Q2 2012, which was a decline from the $.0053 EPS in Q2 2012.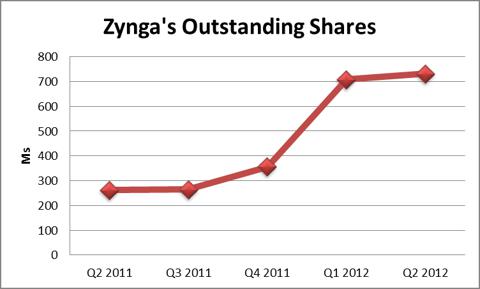 Sources: Zynga's SEC Financial Reports
Outlook
Mark Pincus showed his opinion of Zynga's outlook by selling $210M worth of his shares at prices ranging from $12-14 per share. While Pincus sold 18% of his shares, his voting stake only slipped by 60bp as his Class B shares (which carry 7 votes per share) converted to Class A shares upon Pincus's sale and Class A shares only have 1 vote per share). Zynga's executives showed their opinion of Zynga's outlook by leaving the company for AnywhereElse Inc. Zynga's developers have shown their opinion of Zynga's outlook by flooding their resumes at Zynga's competitors. Considering that Facebook (NASDAQ:FB) accounts for over 80% of its revenue and considering that Facebook gets 14% of its revenue from Zynga, both companies fates are intertwined with each other. Considering that Zynga's management announced that it was lowering its outlook due to delays in launching new games and reduced demand for existing games, we think that investors should delay their purchase of Zynga. We noticed that Zynga and Nokia (NYSE:NOK) have entered into a partnership to install Zynga Poker and Draw Something on Nokia's Asha feature phone. We think this will be as rewarding a partnership as Compaq and Digital Equipment, or Compaq and Hewlett-Packard.
Corporate Asset Management & Valuation
The good news for Zynga is that it has $1.67B in gross liquidity and only $100M in indentured debt on its balance sheet. Zynga only burned through $362M during the first six months of the year and of the $507.5M used in business enterprise investment activities, only $81M was for capital expenses and technology assets. We think it was a foolhardy use of $233.7M to buy the corporate headquarters. We think technology companies should be focused on using its cash resources for technology related expenditures rather than buying buildings (even if said build is where the company will be working). We're hoping that the company doesn't go about growing by acquisition; we believe that Zynga stakeholders were counting on organic growth. We normally expect stronger organic growth from tech companies that have recently gone public.
The one piece of comfort that Zynga stakeholders can take solace in is the fact that Zynga's shares are at a more reasonable level now. Because of the proceeds raised from its IPO in late 2011 as well as the rapid decline in its price, Zynga is trading at less than 1.7X revenue, 1.36X net cash and 1.14X book value. The good news is that Zynga generated nearly $65M in free cash flows in H1 2012 excluding the acquisition of its headquarters building and the acquisition of competitors. The bad news is that represents an adjusted annualized Cash Flow Return on Equity of 7.43% for the period. Normally, we expect higher performance from companies unless we are seeing a turnaround special situation.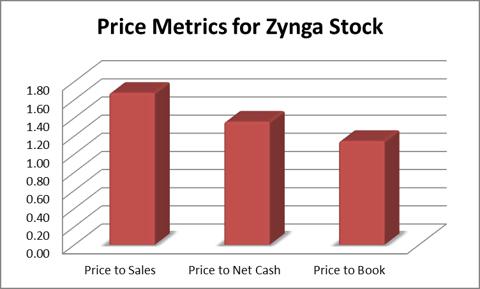 Source: Morningstar Direct
CONCLUSION
In conclusion, we are glad to see that Zynga's share price of $2.84 is at a more reasonable and rational valuation relative to the unsustainably high price of $15.91 reached in March 2012. We think that the company still has a way to go before it stabilizes. We can certainly see that Zynga and Facebook had too much hype when each company was in the process of filing its IPO. Zynga also had to deal with the impact of "Facebook hype" because it generates over 80% of its revenue from the Facebook platform. With the bursting of the Facebook bubble, Zynga was due to see its stock price take a tumble as well. The biggest concern we see is the unabated defection of its senior leadership. We expect senior executives to be the stabilizing force of a company rather than seeing one executive after another leave. In the past month, Zynga has lost its Chief Creative Officer, its Chief Operating Officer and assorted Vice Presidents and General Managers. Zynga was never the number one all-time disciplined guys when it came to employee morale and, unfortunately for Zynga, this is manifesting itself in the form of departures from senior leaders and talented staff members. Now Zynga is pinning its hopes on legalized online gambling in the US as well as online gaming in Europe. We can see that it's no longer fun and games for Zynga and that investors should steer clear until the company stabilizes itself. We believe that Zynga will underperform the major indexes and there are better tech companies out there.
Source: Morningstar Direct
Disclosure: I have no positions in any stocks mentioned, and no plans to initiate any positions within the next 72 hours. I wrote this article myself, and it expresses my own opinions. I am not receiving compensation for it (other than from Seeking Alpha). I have no business relationship with any company whose stock is mentioned in this article.
Additional disclosure: This article was written by an analyst at Saibus Research. Saibus Research has not received compensation directly or indirectly for expressing the recommendation in this article. We have no business relationship with any company whose stock is mentioned in this article. Under no circumstances must this report be considered an offer to buy, sell, subscribe for or trade securities or other instruments.