Standard Motor Products Inc. (NYSE:SMP) has delivered positive earnings surprises in eight of the last nine quarters with an average beat of 51.6%. This manufacturer of automotive replacement parts achieved a Zacks #1 Rank (Strong Buy) on August 15. With a price-to-book (P/B) ratio of just 1.49, this stock is a true value pick.
Second Quarter Results
On August 6, Standard Motor Products posted a 20.4% rise in earnings to 59 cents for the second quarter, compared to 49 cents a year ago. The result topped the Zacks Consensus Estimate by11.3%.
Total revenues grew 10.2% to $268.9 million, driven by strong sales in the Temperature Control segment and the recent acquisitions of Forecast Trading and Compressor Works. Revenues from the Engine Management segment increased 8% to $172.6 million while the Temperature Control segment improved 16.7% to $93.0 million.
Standard Motor Products expects to generate savings in both product cost and operating expenses with the integrations of the Forecast Trading and Compressor Works operations. The company expects to achieve majority savings in 2013.
Earnings Momentum on an Upswing
Over the last 60 days, the Zacks Consensus Estimate for 2012 moved up 5.1% to $1.65. Meanwhile, the Zacks Consensus Estimate for 2013 advanced 7.3% to $1.92. These outlooks reflect annualized growth of 5.1% for 2012 and 16.5% for 2013.
Attractive Valuation
Standard Motor Products has strong value characteristics. In addition to a low P/B, it is currently trading at a forward P/E multiple of just 11.2 and a P/S multiple as low as 0.47. (A P/B ratio under 3.0, a P/E ratio below 15.0, and a P/S ratio lower than 1.0 generally indicate value).
The chart below shows that Standard Motor Products has outperformed estimates in the past three years. The stock reached its 52-week high of $25.91 on February 21.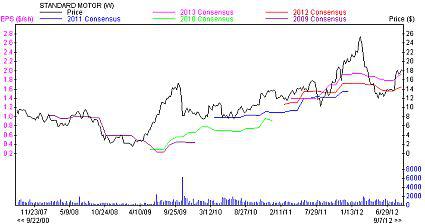 Standard Motor Products Inc. was founded in 1919. The $419.6 million company is one of the leading manufacturers, distributors and marketers of automotive replacement parts in the U.S. It supplies products to warehouse distributors, large retail chains, original equipment manufacturers and original equipment service part operations in the U.S., Canada and Latin America.