Yesterday morning Agrium Inc. (NYSE:AGU) announced the price range for a modified Dutch auction share purchase tender originally disclosed in an August 2 press release detailing an intent to buy back $900 million in common shares, or approximately 5.7% of the outstanding.
Usually, the details of a Dutch auction are unveiled the same day with a detailed circular submitted within a day.
My guess is the company rushed to announce this latest enticement to shareholders (the previous one being a big hike in the dividend in December) to appease Jana Partners LLC, a NYC-based hedge fund that has been highly critical of management.
I wrote about Jana Partners' aggressive assault on Agrium's board and management in this article.
I've argued for two years that Agrium has been lax in listening to shareholders and independent analysts such as myself, and that they should be increasing the dividend, buying shares back, and maximizing shareholder value, both short and long term.
So they raised the dividend in December and now they are buying back shares. What's my problem?
My problem is that it took a NYC-based hedge fund to get Agrium to do anything at all. The Board would never have bought shares if no one had complained. Also, where are the big Canadian shareholders?
Most of them are subsidiaries of Canadian banks, with investment banking arms afraid to ruffle Agrium's feathers or risk losing valuable underwriting business to the sharper minds down South.
So Agrium safely continues to try to pull the wool over shareholders' eyes with its motives. Except for a few independent analysts with no vested interest, and willing to speak their mind.
I see deep trouble coming for the U.S. nitrogen and global potash fertilizer businesses, yet Agrium's management continues to roll merrily on, and the board authorizes spending valuable shareholder capital on unneeded mine expansions and ill-advised new nitrogen plant construction. Just about everyone and his dog, including the North Dakota Growers Association, is planning a new nitrogen fertilizer plant in the U.S. A glut in U.S. ammonia production will surely follow.
Only 11 days after the splashy buyback announcement by Agrium did it become public that Jana had been after Agrium since May 31 to split the company into its two main divisions (retail and wholesale) and make cost cutting and other changes.
Hence, some of the details of the tender offer were not forthcoming until now, increasing investor uncertainty. Luckily, stock markets and prices for fertilizer producers such as Agrium were supportive over the period, although the stock has been volatile on a daily basis.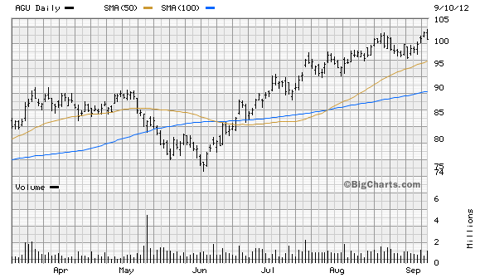 Today we learned Agrium will attempt to buy back as many as 9.473,684 shares (no minimum), within a price range of $95.00 US and $107.00 US, during a tender period starting in perhaps a week or so, to October 19, 2002. The company intends to file the formal offer to purchase (called a substantial issuer bid in Canada), issuer bid circular and other related documents, in a couple of days.
Previous to this effort, Agrium has not bought back its shares since it bought back 1.2 million for $29.03 US per share, in the Q4 of 2008.
Normally the price range of a Dutch auction are announced the same day the bid is announced, so investors are probably wondering what to make of the most recent announcement, at what price they should submit their shares, and what will the performance of the stock likely to be once the tender is over.
Dutch auction style share repurchases are one way of returning capital to shareholders, but differ in several significant ways from fixed price share tenders or open market normal course issuer bids.
I looked at three substantial Dutch auctions that were executed over the past 12 months, plus a few smaller ones, by companies both in Canada and in the U.S.
Rather than management having to determine a set price for the buyback (as in a fixed price tender), or the timing of going into the market (as in an NCIB), the Dutch auction process reduces the chance management will be criticized for either setting a price too low or high, or timing the buyback to suit their own desires.
The Dutch auction sets a target price range for what shareholders will probably accept for their shares in the desired amount, and it is usually open for about a month. The shareholder decides the exact price he/she will accept for their shares, as long as it is in the price range. Of course, they have the option of not tendering at all.
Once the tendering process is over, the company and its advisors start with the lowest priced shares and accumulate them as they move up in price in agreed increments. Once the company has accumulated the desired total dollars or number of shares agreed to be bought back, the highest clearing price becomes the buyback price for all the shares tendered.
If an investor is too greedy and his/her requested share price is over the clearing price, the investor's shares are returned without being purchased.
The low price of the range is usually set at or slightly above the previous closing price from the day of the announcement, with the high end of the price range approximately 10% above that.
So the trading day before Agrium announced the tender offer the shares had closed at $94.15 US. They strengthened for a few days on the news and hit a high of $101 and change, but then weakened over the second half of August, before rallying to new high of $102.78 US on September 10.
I had guessed the price range would be $95 US to $105 US based on the August 1 closing price of $94.15, and I was very close. But I think Agrium's advisor Morgan Stanley (NYSE:MS) suggested a slightly higher price on the high end of the range ($107), to increase the odds the tender would be a success, so that Agrium wouldn't be embarrassed
I would imagine most shareholders would shoot for the $107 tender price, and so you might expect to get near that for 5.7% of your shares if you decided to tender. What the rest will trade at after it expires is anyone's guess right now. I am neutral on the nitrogen fertilizer stocks until I see more clarity on how farmer buying behavior and the markets pan out. Since the stock traded down today, the market feels the price will be less than $100 after the tender is executed.
What is odd about this tender is that Agrium has been busy telling analysts its retail business isn't that valuable, a reversal from the pre-Jana period position that the retail chain had unrecognized value judging from the stock price, the rationale being the stock shouldn't be broken up but is fine as is.
As an aside, another "fertilizer plus other operations" company called Orascom Construction Industries (ORSCY,PK) is busy executing a demerger to spin off its fertilizer wholesale business, just as Jana, and some investment analysts (including this one) are suggesting would probably be value enhancing for Agrium to do, a claim it vociferously denies.
So how does the Dutch auction figure into this and why is it usually done? Reasons for a company announcing a Dutch auction (with examples), as opposed to a plain vanilla share buyback, include:
1) Gives liquidity for a large shareholder, and the process is chosen to be fair to both the large shareholder and smaller shareholders.
Witness the case of Weight Watchers Int'l (NYSE:WTW), which wanted to return capital to 52%-owner Artal Holdings. The $720 million buyback was matched with a $720 million Dutch Auction at $72 to $83 announced on February 14, 2012. Unfortunately, the shares declined afterwards, hastened by two guidance downgrades.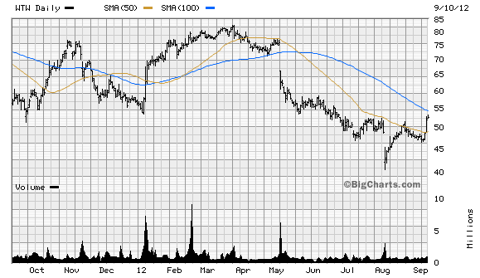 Clearly, this is not the case with Agrium, and Jana, which owned 4 or 5% of the shares when it was disclosed a month ago, is not being "taken out" preferentially by the buyback plan.
2) There is a big sale transaction of company assets or other windfall, and management wants to return the proceeds to shareholders in an expeditious way, without having to "time the market."
A good example was AOL Inc.'s (NYSE:AOL) sale of patents to Microsoft (NASDAQ:MSFT), which precipitated a $400 million Dutch Auction announced on June 28, 2012. The $27-$30 price range was set off the previous closing price. Unfortunately, shareholders didn't think the price was high enough, and less than $9 million shares were bought back, at the high end of the range.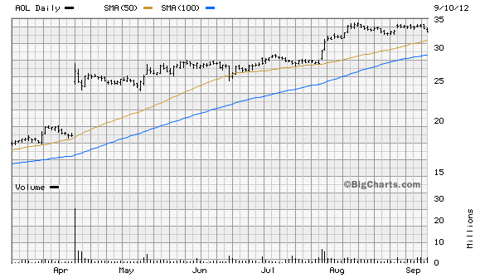 What is interesting is Agrium is trying to frame the share buyback as a "return of capital" and that the $900 million was somehow produced from the agreement they made with CF Industries (NYSE:CF) to sell them the 34% interest in the Medicine Hat fertilizer plant that Viterra (OTC:VTRAF), and if its sale is approved by the Canadian Competition Bureau, Glencore International (OTCPK:GLCNF) will eventually own.
But Agrium has never owned the 34% of this plant. Agrium is spending money to buy Viterra's retail stores (over $500 million). The $900 million is not in any way proceeds from any sale. It is just that Agrium will be spending less on Viterra's assets than originally thought.
Any way you cut it, it looks to me like an attempt by management and the board to show Agrium is doing what it would normally do, and to avoid any linkage between the initiation of the share buyback and three months' of criticism from Jana Partners.
3) Profits are so good, management wants to reward shareholders, but in a more customized and tax-efficient way, allowing some investors with amenable tax situations to choose a sale, whereas others may want to hold.
No doubt Amgen (NASDAQ:AMGN) announced a $5 billion Dutch auction last November, in a range of $54 to $60, because some investors preferred a capital gain from a buyback to a big (special) dividend.
Not only was the bid fully subscribed at the $60 high end of the price range, but slightly more than needed shares were tendered, so only 85% of the shares were taken up pro rata.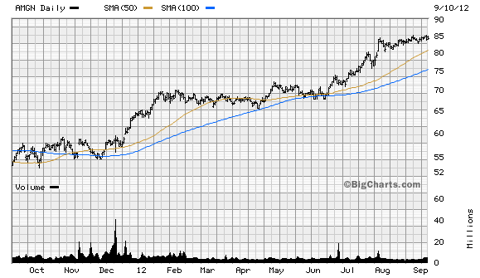 Given Agrium's Q3 2012 is expected to come in flat with last year at $1.82 EPS versus $1.85, it is hard to argue that there is exceptional profitability driving the share buyback.
Clearly, a risk Agrium is taking is that the buyback price range is not high enough to attract many offers. If the stock market continues to be hot, and enough shareholders believe the stock price is undervalued, even at $100 US, there may be few takers.
Offsetting this possibility is that the tender is for only 5.7% of the outstanding shares. Many Dutch auction share buybacks are for more than 10 or even 20% of the outstanding shares. (Note in Canada, an NCIB is limited to 5% of the outstanding shares and has daily limits on buyback activity, although private transactions are allowed in excess of this).
A fourth reason for a share buyback is often a desire by management and/or the board, to fend off criticism, or other potential threats to its security, such as a hostile takeover attempt. This is the real reason for Agrium's Dutch auction tender offer - job security. I am not saying there is a hostile takeover brewing, but they see there could be.
So is self-preservation a legitimate goal for a corporate management?
Apparently so.
The main reason a company should buy back its shares in my view is that it knows its shares are severely undervalued. And I think they should be able to execute such a buyback in the open market when the stock market tanks. CF Industries did this masterfully, in the Q4 of 2008, and in Q3 of 2011, by going into the market and buying shares.
And CF's stock price has handily beaten Agrium's by a factor of 3 over the past two years - 120% versus 40% gain.
We've seen the post-tender share performance in three Dutch auction cases described above - one down, one more or less even, and one higher.
Clearly, the fundamentals of the business and the performance of the sector in the stock market are going to partly dictate what happens next. But the reason for the Dutch auction is a good starting point for understanding where things are likely to shake out.
For a link to one analysis of what typically happens to the share price after a Dutch auction expires, please see this link.
Disclosure: I have no positions in any stocks mentioned, and no plans to initiate any positions within the next 72 hours. I wrote this article myself, and it expresses my own opinions. I am not receiving compensation for it (other than from Seeking Alpha). I have no business relationship with any company whose stock is mentioned in this article.