Privately-held businesses face the most demanding outlook in decades during the next 12 months, according to a new survey from Grant Thornton.
The firm's International Business Report 2008 says US privately held businesses will need to make decisions to become increasingly competitive, whether the economy continues on its downward slope or not.
"The weak dollar is helping many U.S. private companies through a difficult period of slack domestic demand," said Mike Hall, Grant Thornton LLP's managing partner of Midwest Region. "The second half of 2008 may prove even tougher as global demand weakens and domestic spending takes a further hit from soaring oil prices. However, we expect a turnaround in household spending to support business turnover in 2009 as export sales suffer from a reviving dollar."
While almost all key performance expectations surveyed in 2008 were down on levels seen in 2007 with the exception of selling prices; US businesses are slightly more optimistic about the nation's economy over the next 12 months than in last year's survey (22% for 2008 compared to 14% for 2007).
Globally, the majority of the key performance expectations surveyed had dropped from their 2007 numbers, with particularly marked falls in expectations for employment, profitability and investment.
The next 12 months are likely to be the most demanding that PHBs have faced in decades.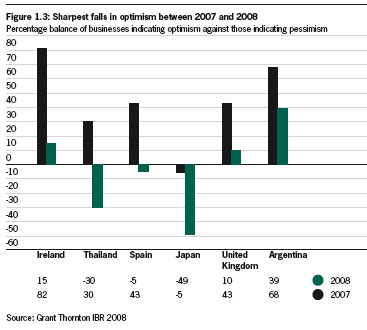 In addition to a sharp drop in optimism for Thailand and Japan there were some very pronounced declines in several other countries. These declines reflect serious concern in Ireland, Spain and the United Kingdom at the potential impact of the credit crunch and financial turbulence. The housing boom of recent years has been particularly strong in these countries, and the associated rise in credit has left consumers extremely vulnerable to a housing market collapse.
There is a real danger that a record 16 years of uninterrupted growth in the UK will end in the next few quarters.
UK optimism fell by 33 percentage points to its lowest level since 2006 when business sentiment was severely affected in the wake of terrorist activity in London.