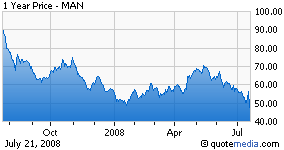 Last quarter we stumbled upon Manpower (NYSE:MAN), which previous to now I had thought was simply a US centric temporary staffing agency. [Apr 21: Manpower as a Weak Dollar Play? Who Knew] Since we know the US Bureau of Labor Statistics provides ridiculously faulty labor data (along with other forms of data) we are always on the lookout for data from important companies to tell us what is really going on. Not only does Manpower give us an inkling on how things are going domestically but they have a lot of data points from Europe as well. In fact most of their business (surprised me last quarter) is in Europe. Verdict? Not so good.
Employment services company Manpower Inc said on Friday that

business was slowing in large Western European markets, including France

, its biggest operation, sending its shares down 11 percent.
Manpower also reported lower quarterly earnings, but still topped expectations, and gave a disappointing forecast for the current period.
Chief Executive Jeff Joerres said on a conference call that its business in Germany, Italy and Spain was soft. "We do believe we will see further softening in Europe in the third quarter," he said.
He said the company did not see the U.S. market gaining any strength in the near future. Milwaukee-based Manpower generates the bulk of its business in Europe.
Helped by the weak dollar, revenue rose 17 percent to $5.90 billion from $5.03 billion in the same period a year ago. But without the effect of the favorable currency comparison, revenue increased just 5 percent, the company said. (and once again the US Peso is helping to create an illusion of "some strength")
Goldman Sachs analyst David Feinberg reiterated his "Conviction Sell" rating on the stock, noting that June labor statistics saw a decline in temporary payrolls of 7 percent and 7.5 percent respectively from the U.S. and France.
Disclosure: No position