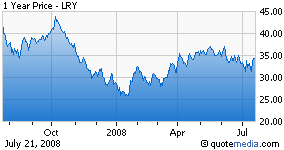 Liberty Property Trust (LRY), a REIT, is expected to report Q2 earnings Tuesday before market open, with a conference call scheduled for 1:00 pm ET.
Guidance
Analysts are looking for EPS of 79c on revenue of $192.1M. The consensus range for EPS is 77c to 81c, while the consensus range for revenue is $181.86M to $201.98M, according to First Call.
Analyst Views
Stifel Nicalaus & Co. last month upgraded Liberty Property to Buy from Hold. The firm noted that the company was trading at a significant discount to its peers, and they believe its 7.4% dividend yield is secure. In addition, the firm forecasts that Liberty Property's regional assets could grow up to 5% over the long term. The REIT last month announced a dividend of 62.5c per share.