In addition to the catchy BRIC acronym, a new one is being coined by Goldman Sachs' Jim O'Neill in order to promote a list of four nations in line to be the next high-growth countries. The 'MIST' includes Mexico, Indonesia, South Korea and Turkey. The MIST economies have the right mix of stimuli in terms of favorable demographics and rising productivity, which are needed for high growth. Factors generally considered in the selection of these "growth economies" picked by Goldman include sound fiscal policies, sustainable balance of payments and a contributing financial sector. Indonesia, for example, has favorable demographics with its large population and a record of trade surpluses.
The MIST represents the largest markets in Goldman's N-11 Equity Fund, which seeks long-term capital appreciation. Other nations comprising the fund include Bangladesh, Pakistan, Nigeria, Vietnam, Egypt and Philippines. This year alone the fund has outperformed the BRIC fund. Investors have started moving their money ($15B last year) out of the BRIC countries, since growth in the member nations failed to meet expectations.
What's wrong with BRIC?
China, seen by many as a stalwart, has begun showing structural weaknesses as it struggles to maintain its phenomenal growth rates. Part of the problem with China has been its dependence on exports and investment as drivers of growth. Chinese growth came down in tandem with world demand due to the financial crisis. There exists an imbalance in the composition of China's growth, and therefore a shift towards a growth story that incorporates domestic consumption demand should be on the minds of Chinese policy makers. The country essentially needs to revise its policies that spur growth of private enterprise (which are sources of innovation and productivity) and gradually decrease state-owned businesses' market share. Latest figures reveal that weakening domestic demand (coupled with falling commodity prices) led to a fall in imports. Also included in the figures is the worst industrial output growth in three years. Risks are being cited that would lead to the lowest full year growth rate for the economy in two decades.
Russia and Brazil, the two commodity exporters, are no different in their woes. Russia is the world's second largest oil producer, and recently suffered from declining oil exports and capital flight. With the threat of the euro contagion continuing to spread, Russia could see a slowdown in its growth rate to 3.5% in the next year as compared to 4.3% last year. Russia's relatively authoritative regime has prompted investors to look elsewhere. Capital flight in the second quarter of 2012 reached $22B.
Brazil was another success story until recently, as it helplessly watched its GDP growth falter to 2.7% last year as compared to a resilient 7.5% in 2010. Authorities are quick to point fingers at Europe's deplorable problem-solving skills. In reality, however, other things are at play. There has been underinvestment in infrastructure (spends only 18% of GDP), high inflation has been driving up costs of energy and wages, and high interest rates, which are all drags on the economy.
Meet the MIST
The MIST nations are a bloc blessed with favorable demographics, are high paced economies, and each represents at least 1% of the global GDP. Similar to BRIC, MIST countries show manageable debt levels, but have managed to grow with lower inflation rates on average. Mexico has a GDP of $1.15 trillion (2011) and has seen its benchmark IPC Index (MEXBOL) appreciate by 18% over a year (Chart 1). Manufacturing is an area where Mexico can make huge leaps with its low costs; the country is in fact competing with China in manufacturing. Furthermore, with its large neighbor in the north, Mexico has a potential partner for its exports. Economists expect Mexico to grow at 3.5% this year, ahead of Brazil's 1.9%. To further boost growth, President-elect Enrique Pena-Nieto is expected to alter the current laws, which would allow the private sector to take part in the oil and gas sector.
Chart 1: MEXBOL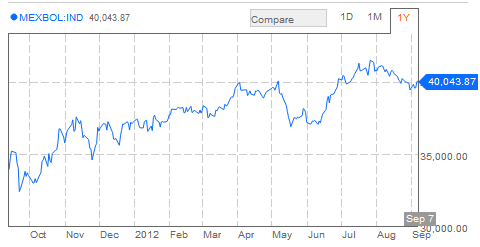 One of the ETFs traded in the U.S., which seeks to follow the Mexican market, is iShares MSCI Mexico Investable Market Index Fund (EWW). The fund has experienced a return of 19.03% YTD (Chart 2).
Chart 2: EWW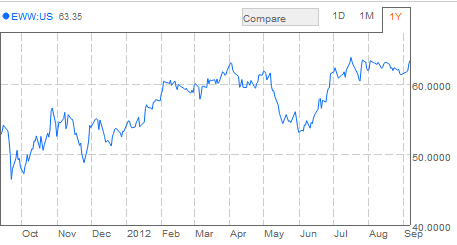 Indonesia is another promising nation in the bloc. It experienced a 6.5% rise in GDP last year, in comparison to 6.2% the year before. It has high literacy rates, a high population (and young), and has had successive current account surpluses. These facts mean that a potent consumer market exists within the country. Portfolio equity, which is a measure of net inflows from equity securities for a country provided by World Bank, stood at $2.13B in 2011 as compared to $787 million the year before. Moody's has maintained its investment grade rating for Indonesia's sovereign debt at Baa3, while Fitch has upgraded it to BBB- from BB+. Indonesia's Jakarta Stock Exchange Composite Index is up by more than 8% YTD. Market Vectors Indonesia Index ETF (IDX) is an ETF with the objective of closely matching the price and yield performance of the Market Vectors Indonesia Index. Although the ETF is down by 0.53% YTD, in the last three months it is up by 8.76% (Chart 3).
Chart 3: IDX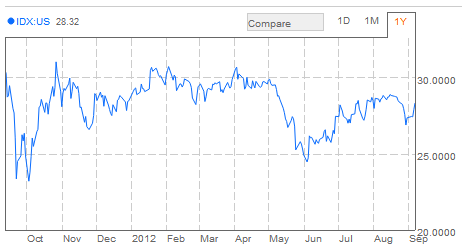 Turkey, another one of O'Neill's favorites, has a population of 80 million and a median age of 26 years. With a strong entrepreneurial talent in the country, which has been driving the economic progress in the country, and a diversified economy, estimates are that it will be the second largest economy in Europe, excluding Russia, by 2050. One of Turkey's strengths is its large service sector in contrast to other emerging economies, which rely very much on the production and exports of commodities. Turkey exhibited a strong GDP growth rate for 2011 at 8.5%, down slightly from 9.2% in 2010. The iShares MSCI Turkey Index Fund (TUR) seeks to replicate the performance of the MSCI Turkey Investable Market Index. The fund is up 47% YTD (Chart 4).
Chart 4: TUR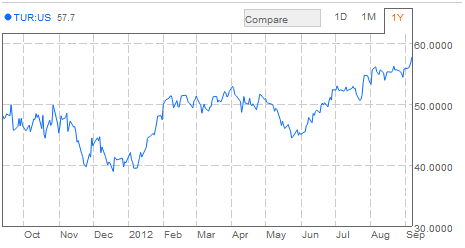 South Korea, with its $1.116 trillion economy (2011), managed to grow its GDP by 3.6% last year. It looks poised to benefit from increased exports once consumer spending within China picks up. Additionally, the country is backed by strong governmental support for foreign direct investment, which makes it a favorite for international business operations. It boasts low unemployment rates and the highest purchasing power in Asia. The iShares MSCI South Korea Index Fund (EWY) is an ETF aimed at tracking the performance of the MSCI Korea Index. The fund is up 10.39% YTD (Chart 5).
Chart 5: EWY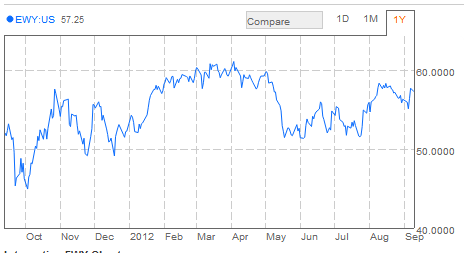 Conclusion
The engine of BRIC economies is now sputtering, and initial hopes that the economies could withstand the pressure of an economic slowdown are fading away. Due to structural problems, and the countries' inability (as of now) to kick start domestic consumption to make up for lost growth, investors have already called back their money. The new block, MIST, offers a diverse economic platform and the right catalysts for rapid growth amongst the emerging economies. Investors should particularly follow Mexico due to its low cost advantage, and Turkey for its large young population with a proven record of entrepreneurship. The ETFs presented in the article provide investors with the opportunity to take part in the changing high-growth story of emerging states.
Disclosure: I have no positions in any stocks mentioned, and no plans to initiate any positions within the next 72 hours.
Business relationship disclosure: The article has been written by Qineqt's Analyst. Qineqt is not receiving compensation for it (other than from Seeking Alpha). Qineqt has no business relationship with any company whose stock is mentioned in this article.