America's #1 drugstore chain, Walgreen (WAG), has been getting no love from analysts lately. The botched but ultimately re-instated deal with Express Scripts (NASDAQ:ESRX) cost management credibility and drove some customers to competitors. Then an announced equity stake and possible full takeover in Europe's Alliance-Boots chain was widely criticized as both too expensive and an ill-timed foray into a weak economic environment.
Those factors sent traders scurrying out of WAG from late April right through most of June. The stock bottomed at under $29 as all the 'bad news' became clear.
As things turned out, those silly investors who bought in June, rather than selling into weakness, have done quite well. Total return has been about 24% in less than three months.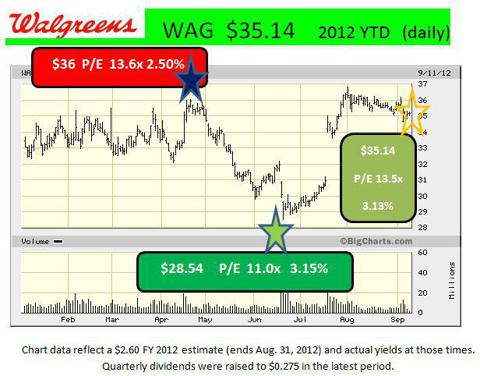 The new contract with Express Scripts kicks in again this month which should allow WAG to recapture at least a decent slug of its old (lost) Rx customers. The majority of the cash needed to close on the Alliance-Boots deal was raised through $4 billion in bond issuance at extremely favorable rates. The blended average yield on the $1.7 billion (in 10 and 30 year bonds) was just 3.4824%.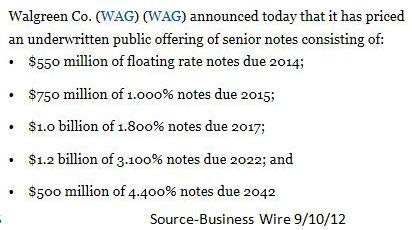 The short-term portion was exceptionally low-priced making Walgreen's cost of capital very, very low. Barring a total economic collapse in Europe, this venture should be highly accretive to future years' EPS. WAG management had indicated at least 20-cents in additional net per share may come as early as the current FY (ends August 31, 2013).
Here are the consensus views for the fiscal year that wrapped up last month and the year just begun.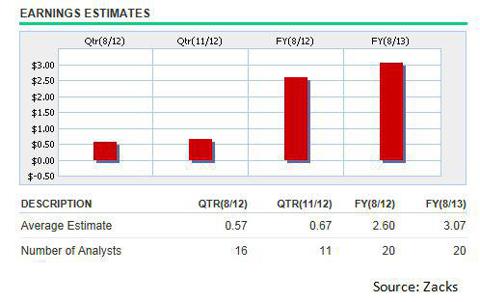 Does Walgreen deserve a low multiple because it hasn't done well historically? You make the call. Here are its per-share numbers (excluding non-recurring items) from the decade just completed.

WAG has a 10-year median P/E of 23x. In the post-recession years 2008 - 2011 they averaged a 15.43 multiple. Applying that recent-year, somewhat depressed P/E, to year-ahead estimates leads to a $47.35 price target.
That's not a crazy goal. Walgreen shares peaked at $49 or higher during calendar 2005-2006 and 2007 when FY EPS came in at $1.52, $1.72 and $2.03 respectively. WAG touched a high of $47.10 during 2011 on FY earnings of $2.64.
FY 2012's weaker than typical results should make for easy year-over-year comparisons going forward. Once that starts getting noticed the shares could surge. Standard and Poors, like most other research firms, is still sitting with a 'hold rating'. That conflicts with their own 'fair value' calculation of $44.80 (shown below).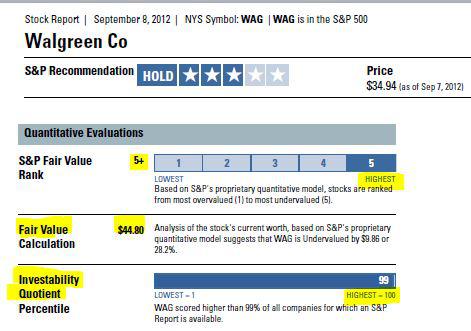 Value Line also weighs in with a neutral 'timeliness' rank while assuming WAG rebounds to a 16 P/E again over the next 3 - 5 years. Value Line sees WAG with $3.90 in EPS no later than 2017. Their 2015 - 2017 projected price range (from their June 22nd edition) ran from a low of $55 to a high of $70. That was before WAG re-inked its ESRX agreement.

More than three decades of investing experience has taught me that the best bargains can be had when most other people are not very enthusiastic. Walgreen is a high-quality, good-yielding stock now offered at just a bit less than 11.5 times current fiscal year earnings estimates. That's a 50% discount to its long-term normalized P/E and a still-decent 26% haircut from where it's traded valuation-wise during the Great Recession.
Expectations are still low. Analyst actions are likely to turn more positive as the new fiscal year progresses.
Walgreen looks like 'just what the doctor ordered'.
Disclosure: I am long WAG, ESRX. I wrote this article myself, and it expresses my own opinions. I am not receiving compensation for it (other than from Seeking Alpha). I have no business relationship with any company whose stock is mentioned in this article.