Deere & Co. (NYSE:DE), the world's largest seller of tractors and harvest machinery, relies heavily on crop levels of agri commodities like corn, soybean and wheat. However, the company has been severely hit by the unexpected drought in the U.S. The company reduced its outlook for revenue growth in 2012 to 13%, lower than May's forecast of 15%. It also missed its second quarter earnings estimate by 16.7% due to higher than expected expenses.
However, an upside from the drought can be seen in the form of a rise in farmers' cash receipts. This rise would come as a result of high prices of the commodities mentioned above. These receipts will eventually be used to buy machinery. In this regard, the correlation between tractor sales and farmers' cash receipts will be of important concern.
Also, premature harvesting of corn this September will lead to a surprise demand for DE, as farmers will have to buy the machinery before time. This has already led to missed sales, as dealer confidence is falling since they were forced to cancel certain deliveries.
As crop levels normalize after weather conditions become favorable, receipts by farmers this season will be used to buy agricultural machinery, and DE being the largest player in the market is expected to be one of the main beneficiaries.
Overview
The 175-year old company operates in mainly two divisions; Agricultural and Turf Machinery, and Construction and Forestry Machinery. Agricultural machinery comprises equipment like sugarcane harvesters, corn pickers and soil preparation machinery. Turf machinery includes lawn mowers and irrigation equipment. Construction and Forestry Machinery is all about earth movers, timber harvesters and bulldozers.
It also has a financial services segment, which provides loans to equipment buyers. This segment also provides crop insurance, which has been hit by the drought.
The following chart shows the share of revenues between the company's segments: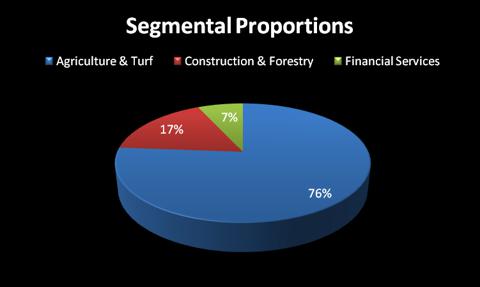 Agriculture and Turf's 76% shows why DE is so concerned about the drought and the production levels of the aforementioned commodities.
2012 Outlook
Below is a summary of the YoY rise in revenues and earnings: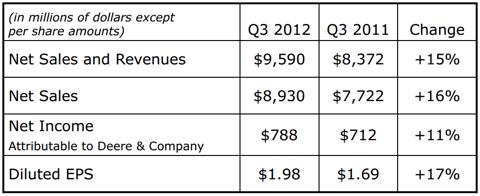 A large part of the slashing in the revenue outlook came from soft demand being experienced outside the U.S.; in China, India and Europe, which is expected to remain stagnant till at least the year end. Sales in Argentina were affected by the slower-than-expected process of issuance of import licenses. Brazilian sales were hit due to a weak Real.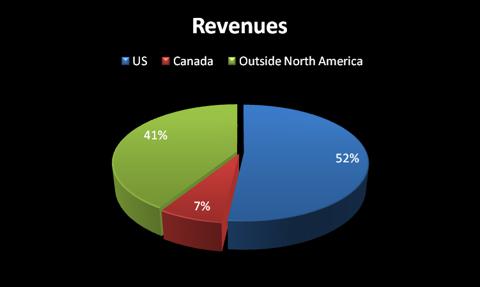 The miss on earnings also came from the fact that the company's production was less than demand, as DE did not perceive an early harvest season, which could lead to a sudden sharp increase in the demand of machinery. However, in its earnings call, the management assured that production had been ramped up in the third quarter to manage the demand, which will reduce the average delay in production to 14 calendar days.
However, the production shortfall was witnessed for only a narrow category of products. For the rest, huge stocks have been piled up, which will take more than a year to be cleared off.
Agriculture and Turf Equipment
Sales were up by 14%, while operating margins were up by 18%. These increases were in line with the 16% rise in global sales of equipment.
The following table shows the future outlook of this division: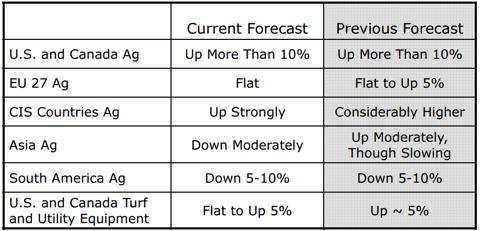 Sales in the U.S. and Canada are expected to be higher given the high forecasted levels of receipts for farmers. Corn prices are expected to rise given the all-time high levels at which corn futures are trading. Also, there has been a recent surge in demand for equipment that has a higher horsepower. The company expects that farmers will not be hurt by the drought, as the USDA recently revealed that 85% of current crops were protected under crop insurance schemes. However, according to the sell-side, farmer sentiment has considerably deteriorated, as the drought has made them believe that they will have little or no crop to sell. The sell-side believes that insurance claims will not make farmers more confident in the short and medium run. DE believes that total industry sales for agricultural machinery are expected to rise by 10% in North America in 2012.
The outlook for EU-27 was brought down due to a weak European economy and the rising debt crisis. Also, weak demand from China and India brought down the revenue forecast from Asia. India's revenues were brought down because of poor Monsoon rains, which are going to adversely impact the production of grains.
The drought in South America earlier this year, combined with the delay in processing of licenses in Argentina, are in accordance with expectations, and therefore, the outlook remained the same.
CIS countries are witnessing a strong farming sector, despite some countries facing financial constraints.
DE expects overall agricultural machinery's net sales to rise by 13% YoY.
Construction and Forestry
Sales were up 23% and operating profits were up 3%. The growth forecast for 2012 was reduced from 20% to 17%.
This division is working hard to install two manufacturing plants - one in Brazil and the other one in China. Sales from the Chinese plant are expected to start by late 2013. However, the production from the Brazil plant is not expected till 2014. The start of full-scale operations of both plants will serve as an important catalyst for the company, as China holds a bright future for construction and forestry in the long-term, and Brazil is one of the world's most rapid growing markets in this industry.
The energy and material handling sectors are also picking up, which will provide a big market to Deere's rental and used equipment.
This division moves along with the recovery of the economy. In this lieu, the GDP growth of 2%, the slight housing recovery, and non-residential spending growth of 2.8%, all indicate optimism for this division.
Crop Levels and Farmers' Financial Conditions
Some months ago, no one had any idea that the crop season would be hit by the most severe drought since 1956. However, the prevalent drought has brought down production levels and total harvested acres. Most of DE's machinery is targeted towards corn, soybean and wheat crops. The following table gives an idea of the overall affect of the drought in the last month.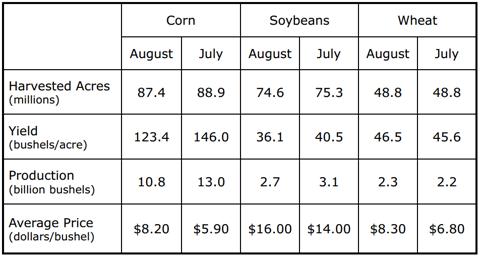 Corn crop levels are the lowest since 2006. The USDA has forecasted that corn prices will reach $8.9/bushel in the future. Similarly, soybean supplies for 2012 are expected to hit their nine-year lows, with a 12% decline from last month's estimates. The prices are expected to reach $17/bushel by the year end.
However, farmers entered the year with strong financial conditions after having several consecutive years of farm income. Also, crop insurance coverage has improved this year. The U.S. Congress is also expected to give a financial package to dampen the impact of the loss this season.
Valuations
DE offers a dividend yield of 2.3%. The company is trading at a forward multiple of 9x. Cash flows are positive, and earnings are destined to grow by 13% for the next five years on an annual basis. This year's drought means strong sales the next year, as crop levels return to the same levels as before. Also, rising prices of commodities this year will lead to more cash receipts for farmers, which will ultimately decide the future sales of the company.
The current trend shows that corn and Deere's share price have often moved in the same direction. The stock is expected to move up in case of a catalyst like the fixing of manufacturing inefficiencies, improving farmer sentiment, and increased crop plantations for the next year.
Disclosure: I have no positions in any stocks mentioned, and no plans to initiate any positions within the next 72 hours.
Business relationship disclosure: The article has been written by Qineqt's Industrials Analyst. Qineqt is not receiving compensation for it (other than from Seeking Alpha). Qineqt has no business relationship with any company whose stock is mentioned in this article.