YRC Worldwide (NASDAQ:YRCW), founded in 1924, provides a variety of transportation services across the globe, including delivery services, consolidation / distribution services, hazardous materials handling, and a variety of other services. They currently own the YRC Freight, YRC Reimer, Holland, Reddaway, and New Penn brands. They are one of the largest less than truckload or LTL carriers in North America and generate about $5 Billion in annual revenue. They own roughly 23% of the public carrier market, enabling them to provide seamless end to end coverage for shipments in the US.
Some quick facts:
Annual Rev: $5 Billion
Number of Trucks: 15,000
Number of Trailers: 51,000
Annual Shipments: 21.9 Million
YRCW has been through hell over the past 5 years in large part because of mismanagement and some bad luck. Between 2003 and 2005, the company took a lot of risk acquiring new brands (Roadway, Reimer and New Penn were acquired in 2003, USF (includes Holland and Reddaway) was acquired in 2005) and launching joint ventures overseas (with Jin Jiang to form JHJ International in 2005), which increased their debt load and left them susceptible to a downturn in the economy, which is exactly what happened in 2007 to 2009.
YRCW was saddled with a large debt load and declining revenues and a bloated cost structure as a result of the above M&A. Several times the company was on the brink of bankruptcy and was forced to negotiate debt terms with their lenders and split their stock to stay alive. They disposed their YRC Logistics arm in 2010 and then in what might likely be the best reason for shareholder hope, they reshuffled their management team and convinced long time head of YRC Transportation James Welch to come back and be the new CEO.
Welch has been in the transportation industry for 33 years, the majority of which were with YRC. He was promoted to run the YRC Transportation division in 2000 and generated record profits until he left in 2007. Welch left the company in 2007 because he didn't agree with the direction prior management was taking the company with regards to their acquisitions. Forbes covered Welch and the turnaround story. Per the Forbes article, Welch stated "I disagreed with the new acquisitive strategy of the company, and I felt the acquisitions it was pursuing were ill-timed and were bad moves." Welch went on to retire in 2007 at the age of 52.
In July of 2011, YRC brought on a new management team and new board. Welch was part of the new management team. Additional liquidity in the form of a $100 Million convertible note was provided. All major credit facilities were extended to late 2014 / early 2015.
Knowing the history of YRCW and understanding the transportation industry, the learning curve was non-existent for Welch, who immediately went to work focusing YRCW on its core business and a new business plan.
Welch focused exclusively on the North American LTL operations, divesting non-core assets like Jiayu, Glen Moore and excess real estate. Previously the company was operating in two headquarters and he closed the legacy Roadway headquarters to create a company with one vision and mission.
The first thing Welch recognized when he came back to YRCW was the need to right size the company by reducing costs associated with the integration of Yellow and Roadway and to improve the service quality which had been badly damaged. Under his guidance, the customer experience has been greatly improved through more on time pickups and deliveries and lower damages. On Standard service, which is the percentage of on time deliveries, has increased from 63% to over 80% in the short amount of time Welch has been CEO. This has a direct impact on customer retention and ultimately higher volumes as customers want to ship with them more.
In q2 2012, YRCW announced its first positive operating income in 4 years. During the quarter YRC Freight experienced slightly lower shipments per day and tonnage per day; however, this was largely attributed to the company's decision to increase prices on lower margin accounts. YRC Regional Tonnage and shipments improved about 4.4% and 2.5% to 30,420 and 41,250, respectively, in q2. It appears that the improved on time deliveries may have resulted in increased customer confidence and therefore customer retention and usage.
In q2 2012, revenues dipped about 0.5%; however, EBITDA jumped almost 10% as a result of a focus on higher margin business at YRC Freight and a reduction in overall costs.
Pro forma adjusted EBITDA has exploded over the past 6 quarters:
Q1 2011: $-22.3 Million
Q2 2011: $50.5 Million
Q3 2011: $54.6 Million
Q4 2011: $41.3 Million
Q1 2012: $15.3 Million
Q2 2012: $70.1 Million
Trailing twelve months EBITDA is now an impressive $181.4 Million.
Quarterly Adjusted FCF declined by $3.0M to ($12.6M) in 2Q12 from ($9.6M) in 2Q11 largely due to resuming cash payment of interest and LC fees that exceeded the increase in adjusted EBITDA and decline in changes in Working Capital. However, on a pro forma basis after taking into account the Union Pension Cessation and Cash Interest / LC Fees benefit in 2011, adjusted FCF improved by $46.4M.
For a company generating $5 Billion in annual revenues and $181 Million in trailing twelve months EBITDA, the current market cap of $50 Million clearly reflects negative sentiment surrounding prior mishaps under their old management team. The biggest issue that YRCW currently faces is its high debt load. However, with a very competent CEO in place and a company that now generates nearly $200 Million in annual EBITDA, it appears that lenders are willing to be lenient on the company and investors can assume that this risk is much lower than it was two years ago. Confidence appears to be coming back to the market as well, as S&P gave their $400 Million ABL Facility a Recovery "1" Rating, the 2nd best possible recovery rating.
Technicals:
YRCW made a major low in April 2012. After a furious 100% rally over the next month, the stock came back and tested the $5 area twice, which appears to be a significant area of support. On Balance Volume has continued to trend up since the April lows and it appears that buyers are stepping in. Over the past week volume has begun to pick up as the stock has lifted.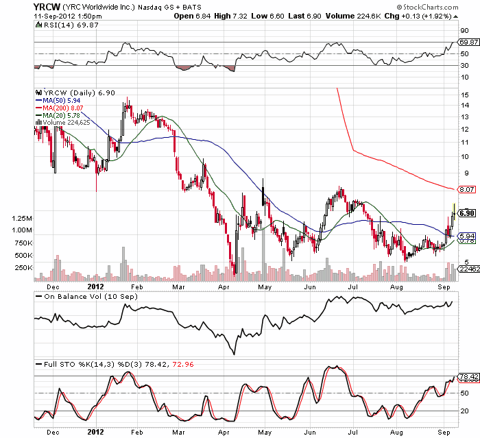 Insider Buying:
Over the past month there have been several insider buys which is a positive.
Conclusion:
With a new management team in place it appears that YRCW could potentially be one of the best turnaround stories of the past 10 years. On a valuation perspective, YRCW trades at 0.01 Price to Sales ratio. Industry peers like Con-Way (NYSE:CNW) and Saia (NASDAQ:SAIA) trade at 0.30 and 0.32 price to sales, respectively. At a valuation of $50 Million and with a new management team in place and a turnaround in operating profit, YRCW could has all of the signs of a successful turnaround story. Over the next 5 years it is reasonable to expect YRCW to trade up toward their peers' valuation on a price to sales ratio. At 0.10 times price to sales the company could be worth 10 times its current valuation and still be one-third the price of its competitors.
Disclosure: I am long YRCW. I wrote this article myself, and it expresses my own opinions. I am not receiving compensation for it (other than from Seeking Alpha). I have no business relationship with any company whose stock is mentioned in this article.