The advent of smart-phones has perhaps been the biggest revolution in the consumer electronics industry since the PC. At the moment, there are two dominant global manufacturers of mobile phones, namely Apple Inc. (NASDAQ:AAPL) and Samsung Electronics Corporation (OTC:SSNLF). Samsung is the world's largest technology manufacturer by revenue, producing a range of appliances such as televisions, laptops, refrigerators, ovens and printers. While Apple has been the darling of the market in recent years and is now clocking new highs, Samsung remains for some reason unloved. Therefore, I think the market is undervaluing Samsung at the moment which may create an interesting buying opportunity.
At the time of writing, Samsung Electronics has a P/E of 11x and a forward P/E of only 8.7x. The industry average P/E at the moment is 20.1x earnings. The stock trades at about 1.5 to book and has a price to sales ratio of 0.9. The firm has a return on equity of about 15% and a TTM EPS of KRW 113,775.00, or just over $100. 2011 Q4 revenue was up 14.6% QoQ and profit was up 24.5% QoQ. The company has a low beta of 0.62 and is up over 50% in the last year. Based on these fundamentals, the firm looks very, very solid to me at the moment.
While smartphones are the products with which Samsung has garnered the most attention recently, there are a number of other markets in which the company operates. The production of DRAM modules remains an important source of revenue for the company, and this is still one of its most successful divisions, although it has been by now easily overtaken by the smartphone division in which Samsung continues to expand its market share, now up to around 20%. Smartphones are currently estimated to account for about a third of revenue. Increased investment in AMOLED systems should aide this division in staying ahead of the competition. The sustainability of the firm's high profit margins, the diversification of its product range, and its strong financial position all bode well for this electronics giant. However, there is of course a reason why the stock is so cheap at the moment.
Apple has taken Samsung to court over copyright infringement in the United States and seems to be on the winning side. This development has knocked the price of the stock down a fair bit, at one point down over 12% from 3-month highs set earlier last month. The precise consequences of this legal battle are not entirely clear, as Samsung has won some legal battles outside of the US, but according to Bloomberg it may lead to a ban of smartphone sales in some areas. Also, Samsung may be required to pay Apple over $1 billion.
This news sent Apple shares plunging in Seoul two weeks ago, down over 7% by the mid-afternoon. Some analysts are more optimistic about Samsung's future, arguing that the case will not have major implications for the company's sales. Even in a very negative scenario, Bernstein estimates a hit in 2013 EPS of only 3.8%. Nomura sees an impact of about 3% on annual operating profit. Samsung has gone to appeal and it remains to be seen in the coming weeks how the courts will judge the penalties. Other short and medium term risks for the company include slowing global growth and negative Forex translation. Samsung also faces lower sales in the home appliances market due to lower replacement rates.
Consumer technology patent litigation has become a hot issue recently, and Samsung is not the only competitor Apple will be seeing in court. The legal battle between tech sector heavy-weights Apple and Google Inc (NASDAQ:GOOG) is heating up, as both Apple and Google's Motorola division have requested more time to file two separate court cases regarding copyright infringement. Google, who makes the popular Android smartphone operating system, would be affected by lower sales in Samsung and Motorola phones.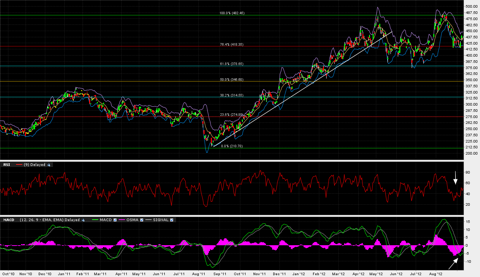 Things may look pretty bleak for Samsung at the moment due to their ongoing court case against Apple, but the fact remains that Samsung is a hugely profitable company with a strong outlook. The plunge in Samsung's share price puts the company's valuation at an attractive level, especially considering their high market share and diverse range of products. Cautious investors should probably wait and see how the legal battle between the two smartphone giants will play out in the near future, but the company seems like a good bet overall to me.
Disclosure: I have no positions in any stocks mentioned, and no plans to initiate any positions within the next 72 hours. I wrote this article myself, and it expresses my own opinions. I am not receiving compensation for it (other than from Seeking Alpha). I have no business relationship with any company whose stock is mentioned in this article.