LSAP ASAP?
Regardless of Moody's says about the fiscal cliff and despite the proximity of the Presidential election, the Fed could announce a new asset purchase program (Large-Scale Asset Purchase or LSAP) if they see fit. August's NFP data was disappointing, but not gloomy enough to clear the way for another QE. A new LSAP remains highly likely though.
Below, I discuss what a new LSAP could look like. Policy makers are willing to provide stimulus without:
1. committing themselves with future decisions;
2. skewing the allocation of credit within the private sector.
Constraint 1: The problem with previous LSAP programs is that their broad characteristics were set in upfront. By stating a specific amount and a timetable for LSAPs upfront, the FOMC appeared to commit itself to a future course of action. One way of reducing constraints for future action is to be less specific on the duration of the program and amount involved. The Fed would have to be very responsive to the economic/financial environment rather than committed to the full implementation of a pre-announced program. According to John Williams, President of the Fed of San Francisco:
I think we should be moving towards what I call an open - what we call an open ended approach. Basically saying instead of here's a certain amount over a certain period of time-- that we will be-- purchasing assets at a certain rate. We expect to continue to do that for some time. But then allow us to adjust both the rate at which we purchase and of the amount which we purchase based on the economic conditions. I mean a basic principle good monetary policy is you adjust policy based on what's happening in the economy and the outlook. (See here for the full transcript).
Constraint 2: The Fed may have gradually slowed the pace and abandoned the MBS purchase program of its QE1 because of the credit implications. According to the recent Minutes, "some participants expressed concerns about the effects of additional asset purchases on trading conditions in markets related to Treasury securities and agency MBS." Yet, it is well documented that QE1 was much more efficient than QE2 in lowering MBS risk premia. MBS yields are much more sensitive to direct buying than to an expected impact from lower UST. There was talk of more Fed MBS buying earlier this summer.
It looks like the Fed is much more concerned by the first constraint. This increases the odds for a LSAPs based on an open ended approach.
Through which channels will the economy be impacted?
The signaling channel (low rates for a long period of time - even though it implies doubt about the ability of the economy to fully recover). But do we really need bond purchases for that?
The "preferred habitat channel" through which lower supply of Treasuries combined with a stable demand of constrained investors increases bond prices. Empirical evidence is not clear cut on this.
A duration channel that brings investors to buy equivalent duration assets once their treasuries have been sold.
What will happen?
If the Fed goes for an open-ended program, the balance sheet of the Fed will sharply increase. The odds for a lower USD are high.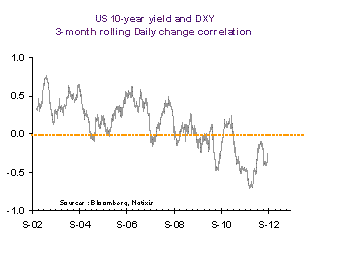 As USD and Long term rates are negatively correlated (see chart above), this could lead to lower bond prices especially since ongoing improvement in the news flow will drive bond yields upward (chart below).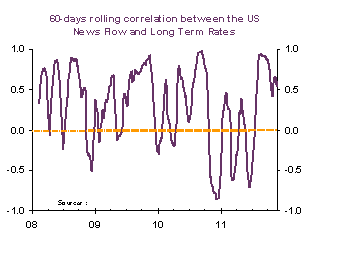 The Fed move may also drive portfolio arbitrage in favor of stocks.
The outperformance of US stocks may come to an end … at last.
Oil and commodity prices will increase, which will raise gasoline prices. This will be most difficult for consumers whose wages grew 0.0% month-over-month in August.
Regardless of whether the Lame-Duck/Bipartisan Congress will be able to cooperate to avoid a fiscal cliff, fiscal policy will become contractionary next year, which is bad news all around.
Disclosure: I have no positions in any stocks mentioned, and no plans to initiate any positions within the next 72 hours. I wrote this article myself, and it expresses my own opinions. I am not receiving compensation for it (other than from Seeking Alpha). I have no business relationship with any company whose stock is mentioned in this article.