BlackRock's (NYSE:BLK) iShares performance has been a good news/bad news story in 2012. The good news is that it grew its iShares AUM by 8.75% YTD ($50 billion), including $23.5 billion in net client fund funds. However, the bad news is that BlackRock's iShares Q2 AUM declined by over $24 billion vs. Q1 2012 levels and that net fund flows were only $6.2 billion in the quarter. The worse news is that although iShares still has 41% ETF market share, its market share declined by 1.4% and Vanguard's gained 1.7% in the first half of 2012. At least BlackRock's iShares's 41% market share is still more than double Vanguard's 18% market share. BlackRock's recent iShares fee reduction announcement will help it arrest its market share decline.
Click to enlarge images.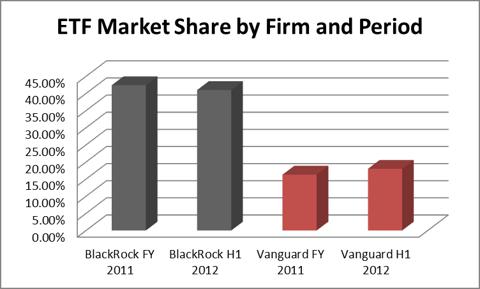 Source: PIOnline.com.
Despite the fact that BlackRock has performed better than its competition during the first half of 2012, we are disappointed that it has not been able to replicate the spectacular record of growth it achieved from its 1999 IPO to 2009, when it closed its $13.5 billion acquisition of Barclays Global Investors from Barclays PLC (NYSE:BCS).
We were disappointed in BlackRock's tepid growth in AUM from net fund flows because BGI's only product was index strategies, available in institutional separate accounts and through its industry-leading iShares exchange-traded fund platform. We were aware of the fact that passive-investment strategies were gaining market share on active investment strategies, and now represent 20% of all invested assets and 40% of institutional assets. Despite market volatility from 2004 to 2009, BGI's AUMs increased from $1.36 billion in 2004 to $1.85 billion in December 2009, right before its merger with BlackRock.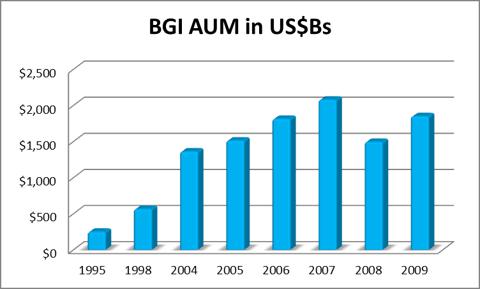 Source: Barclays press releases and annual reports.
On Sept. 10, BlackRock announced that it would be cutting fees in its largest, most-liquid ETF products. Considering that the iShares S&P 500 Index's (NYSEARCA:IVV) annual expense ratio of 9 basis points is nearly twice as much as the 5 basis points by Vanguard S&P 500 ETF (NYSEARCA:VOO), we think that at least it is better late than never that BlackRock has decided to address this disparity. Because we have a long position in the company, we would like to remind our fellow BlackRock stakeholders that Vanguard is a mutual company that is owned by its policyholders and doesn't care about profits.
BlackRock needs to realize that it may have to take a lower margin on its largest, most-liquid ETF products in order to protect the $31 billion in AUMs in its S&P 500 ETF. This also applies to the iShares Barclays Aggregate Bond ETF (NYSEARCA:AGG), which has over $15 billion in AUMs. The Barclays Aggregate ETF charges 20 basis points annually for expenses vs. 10 basis points for the Vanguard Total Bond Market ETF (NYSEARCA:BND). We were especially shocked to see that the iShares MSCI Emerging Markets Index ETF (NYSEARCA:EEM) charged 67 basis points annually for expenses vs. 20 basis points for Vanguard's Emerging Markets Stock ETF (NYSEARCA:VWO).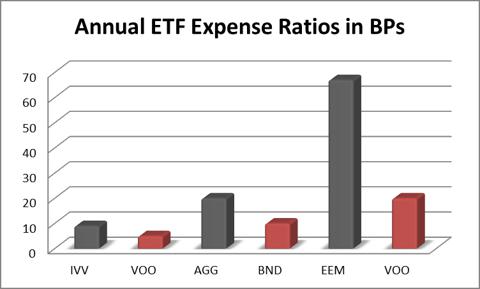 Source: Bloomberg.com.
In addition to announcing expense reductions on large liquid ETFs, BlackRock CEO Larry Fink also pointed out that BlackRock's size and scale will enable it to provide institutional investors the opportunity to structure ETFs on behalf of its clients. For example, the illiquidity in the bond market will enable institutional clients (particularly small and mid-market institutions) to swap out individual bonds held in favor of fixed-income ETF products. BlackRock also announced a recent management restructuring that saw Mark Wiedman named global head of the iShares unit. He replaced Mike Latham, who was made chairman of the iShares unit. Wiedman will report to Robert Fairbairn, who was placed in charge of sales of BlackRock's iShares products and its retail mutual funds.
In conclusion, we still believe that there is value to be unlocked in BlackRock. Based on the worst-case scenario of the ETF fee cut, BlackRock is projected to see an annual EPS decline of only 3%-7%. We believe that will be mitigated by these fee cuts serving to preserve AUMs, as well as regain market share from Vanguard. We also see that BlackRock is still the industry leader in asset management and its forward P/E of 12.2 times based on 2013's consensus estimates is simply too cheap. This represents an earnings yield of 8.2% based on the Sept. 10 closing price of $177.83. The company also has a dividend yield of 3.3%. We always like high-quality asset managers for our portfolio and we can see that BlackRock was built for these times, whether you are investing in its ETFs or in its common stock.
Disclosure: I am long BLK. I wrote this article myself, and it expresses my own opinions. I am not receiving compensation for it (other than from Seeking Alpha). I have no business relationship with any company whose stock is mentioned in this article.
Additional Disclosure: This article was written by an analyst at Saibus Research. Saibus Research has not received compensation directly or indirectly for expressing the recommendation in this article. We have no business relationship with any company whose stock is mentioned in this article. Under no circumstances must this report be considered an offer to buy, sell, subscribe for or trade securities or other instruments.