No automobile, grain, computer, or food is worth a thing if it cannot reach the end consumer. Covering 43% of the intercity freight transport in the U.S., railroads are an important part of the overall economic activity witnessed in the U.S.; the same is true for any other part of the world. Railroads have been going through a tough time ever since natural gas prices fell sharply in response to the shale gas boom. Most power stations, which earlier accounted for almost 90% of total coal consumption, have switched to natural gas as a source of fuel, and more than two thirds of the nation's coal was transported by rail. Rails also transport chemicals and petroleum products, grains, and cars in bulk quantities, which help us understand how a slowdown in the economy eventually reflected in a slowing railroad industry.
Economic Indicators
Carload traffic correlates highly with the pace of economic activity. Therefore, it is important to discuss some macro indicators that can actually tell us where the railroad industry is headed.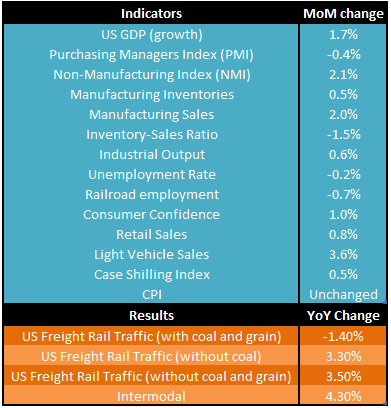 The table above gives a confused outlook for the overall economy. However, a majority of indicators show that the economy is moving up the growth curve. Another important point is that U.S. freight has declined with coal and grain, but has climbed, if we exclude coal from our calculations. This shows the severe circumstances through which coal is going.
However, many think the U.S. coal market has reached its bottom, as was reinforced by Joy Global (NYSE:JOY) CEO Mike Sutherlin in the second quarter earnings release last month. Also, not surprisingly, freight from grain has been on the decline given the worst drought that has hit the U.S. since 1956.
The S&P 500 Railroads Index, which mirrors the performance of railroad stocks, has trailed the S&P 500 Index in 2012, showing the weak performance of the stocks this year.
(click images to enlarge)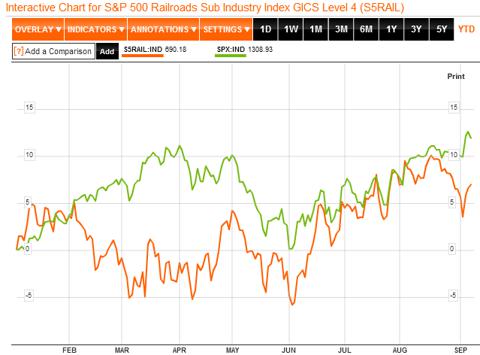 Intermodal rail services are increasingly becoming a significant part of railroad company operations. Intermodal transport uses standardized containers that can be transferred from ship-to-rail-to-truck without loading and unloading.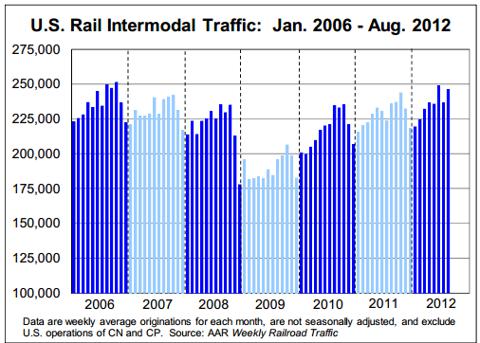 Intermodal mode of transportation was popular with railroads before it dipped in the 2008-09 crisis. It is gaining popularity again, given the great level of convenience attached to it. Not only railroads, but many other industries are benefiting from intermodal. JB Hunt Transportation (NASDAQ:JBHT), among truckers, and Hub Group (NASDAQ:HUBG) among freight services industry players, are classical examples of beneficiaries from intermodal services. Intermodal is currently responsible for 22% of the current railroad revenues, up by almost 0.5% YOY.
The following chart shows the sources of rail carloads: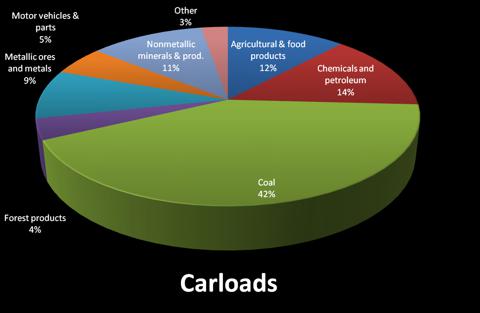 Coal
Coal transportation currently accounts for 23% of the revenue coming from the railroad industry. This figure is -4% YoY, which shows the weak coal market within the U.S. Also, carloads of coal were down 7.3% YOY. However, U.S. coal exports are abnormally high. U.S. coal exports for the year are on their way to breaking the 31-year old record of 112.5 million tons of coal exports. The sixth months' exports totaled 66.2 million tons. However, imports have been severely hit due to the lack of coal demand within the U.S., and are expected to remain the same for this year. One of the main drivers of coal demand will be a rise in natural gas prices. Natural gas prices will only rise if the U.S. starts to export natural gas in the LNG form. However, this is not possible before five years, as there is no proper infrastructure to support such actions.
Chemical & Petroleum
Chemical carload performance this month was better than previous months. The performance was flat YOY, but better than YOY declines for the previous three months. The carload for petroleum and petroleum products was up 49% YOY. This is the highest gain in terms of carload percentage for a commodity this year. The strong performance of this commodity over the years indicates that it will continue in the future.
Grains
Grain carloads were positive YOY for August. However, this is not surprising, as grain carloads in August 2011 were abnormally low. The positive grain carloads came after 14 months of YOY declines. This shows weak demand from the global market, along with the current drought in the U.S. The U.S. Department of Agriculture (USDA) has cut the estimate of grain exports by 2.7%, and predicts that it will keep on falling for 2012-13.
Lumber
The carloads for lumber and wood were up 21.3% YOY, which signifies that a U.S. housing recovery is around the corner. The same was depicted by the 0.5% rise in the Case Shilling Index. However, bears say that this may not be the case since the rally stretches back to January 2010, and these gains should be considered keeping in mind the huge dips in 2008-09.
Automobiles
The U.S. Auto industry has surely shown a revival. After remaining stagnant for some months, the SAAR finally broke the resistance level of 14 million and displayed sales above expectations in August, and reached five-year highs. This is evident from the fact that the Detroit Three achieved double digit growth figures YOY. The carload for motor vehicles was up by 13% YOY. This accounts for 6% of the total revenue of the U.S. railroad industry. The SAAR is expected to reach 15 million in 2013 and 16 million in 2014.
Industry Drivers & Conclusion
The rail industry is giving a very confused picture. Carloads for some items are rising, whereas they are falling for major products like coal and grains. This is also evident from the points of view of different railroad stocks. Pre-holiday shipments are expected to be below the normal levels this year, according to many railroads, ranging from Buffet's Burlington Northern Santa Fe to CSX Corp (NYSE:CSX) and Canadian Pacific Railway (NYSE:CNP). United Pacific Corp (UPC) and Norfolk Southern (NYSE:NSC) also expect the peak season to be "muted." However, there are the likes of Canadian National Railways (NYSEMKT:CNR) as well, which said in its earnings release on July 25 that it expects somewhat higher seasonal shipments, but did not give any evidence to support this claim.
Therefore, it is not advisable to invest in these stocks solely on the basis of YOY rising carload levels. There are certain other important metrics that should be considered before going long in a stock, including revenue growth and margins, operating ratio, top line growth, pattern of CAPEX and free cash flows. Also important to see will be how a railroad company handles major challenges like fuel costs (that on average account for 20% of total costs), labor costs (one third of total costs) and cyclicality in the economy. We will discuss the major railroad stocks with respect to these drivers in our next article.
Disclosure: I have no positions in any stocks mentioned, and no plans to initiate any positions within the next 72 hours.
Business relationship disclosure: The article has been written by Qineqt's Industrials Analyst. Qineqt is not receiving compensation for it (other than from Seeking Alpha). Qineqt has no business relationship with any company whose stock is mentioned in this article.