Shares of Las Vegas Sands Corp. (NYSE:LVS) have dropped almost 30% from their 52-week high of $62.09 achieved in April. Despite a recovery starting in August, which has helped recoup some of the losses, I believe the current stock valuation remains very compelling, and should warrant a quick look. My bullish view on LVS is based on the following five reasons:
1. The LVS stock is priced attractively relative to the firm's growth potential (see table below). Analysts in average predict LVS' revenue, EBITDA, and EPS to rise by 2-year CAGRs of 16.0%, 15.0%, and 31.0% over the current and next fiscal years. The growth rates are much higher than the average rates from a comparable group consisting of LVS' competitors, including Wynn Resorts (NASDAQ:WYNN), MGM Resorts International (NYSE:MGM), and Melco Crown Entertainment (MPEL). Accounting for LVS' earnings potential, the stock is trading at just 0.6x PEG, which is below the competitors' average of 0.7x.
Click to enlarge

2. The LVS stock also appears cheap relative to the company's other fundamentals (see table above). Asides from the higher growth, the company also has a superior profitability. Almost all of LVS' margin and capital return measures are substantially above the peer averages. The company also assumes relatively low leverage level as reflected by its lower debt to capitalization and debt to EBITDA ratios.
In terms of liquidity, despite having a lower LTM FCF margin, LVS is able to maintain a healthy interest coverage rate and a very liquid balance sheet as both the firm's current and quick ratios are much higher than the competitors'. Moreover, among the US-based casino operators, LVS has the largest exposure to the Asian casino market with approximately 80% of the LTM revenue as of June 2012 generated from Macau and Singapore, where the casino industry is currently experiencing a much higher growth.
As such, one would expect LVS' aforementioned strengths to justify a solid valuation premium for the stock. Nonetheless, the current price of $43.76 only implies a 4.2% valuation discount to the peer-average NTM EV/EBITDA and NTM P/E multiples, suggesting a large upside potential for the stock (see table above).
3. Compared to the valuations of WYNN, which is a very close comparable peer as the firm is also based in the US and with similar revenue exposure to Asia (73.1% of the LTM revenue as of June 2012), the LVS stock is trading at 6.3% discount to both WYNN's forward EV/EBITDA and P/E ratios (see table below). But I am of the view that LVS stock valuation should warrant a premium over WYNN's given LVS' faster growth potential, higher profitability, and significantly less debt.

4. The LVS stock is also attractively positioned on a technical perspective. According to the chart shown below, there has been a technical price support at around $37 since March 2011, and the stock has recently just surpassed its 50-day simple moving average.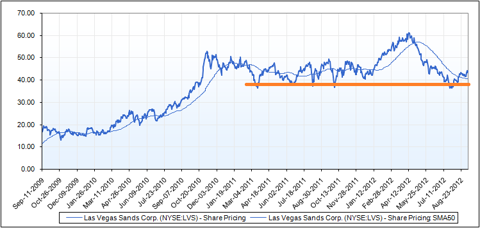 5. One of the major near-term catalysts would be the opening of the company's resort in Cotai Central on September 20.
Bottom line, with the compelling valuation, the investment offers a decent margin of safety. As the near-term catalyst is in place, I strongly recommend acquiring the shares at the current price. If you are more comfortable with a lower valuation, selling out-of-money puts would also be a wise option.
Comparable analysis and relative valuation tables are created by author, technical price chart is sourced from Capital IQ, and all financial data is sourced from Morningstar and Capital IQ.
Disclosure: I am long LVS. I wrote this article myself, and it expresses my own opinions. I am not receiving compensation for it (other than from Seeking Alpha). I have no business relationship with any company whose stock is mentioned in this article.