In the second quarter, Google (NASDAQ:GOOG) completed its acquisition of Motorola Mobility, and the acquisition was reflected in the second quarter's results and balance sheet. Google made an aggressive purchase to remain an industry leader, which the company believes will allow it to "build great devices for users." Google also launched its Nexus tablet during the quarter, which sets up the potential for a huge battle with Apple (NASDAQ:AAPL) and Amazon (NASDAQ:AMZN) during the holiday season. Amazon just released a new version of its Kindle Fire tablet, and Apple is expected to release a mini version of the iPad sometime in October. The Motorola acquisition certainly changes Google, and investors are going to need to adjust their view of Google going forward. Additionally, shares have rallied more than $100 in the past few months, breaking $700 for the first time in a couple years. Today, I'll examine how Google has changed, and figure out whether investors should continue to buy into the recent rally.
The first thing I have to mention is the impact of the Motorola acquisition. Now that the purchase is complete, you will see Google's financial results including Motorola's operations going forward. That would explain why if you go to Google's analyst estimates page, you see that quarterly revenues for the third quarter are expected to rise by more than 59%. Now remember, the estimates on Yahoo's page subtract out Traffic Acquisition Costs, which Google includes in its GAAP results. Obviously, Google's revenues would not be growing at a nearly 60% clip, so those results factor in the Motorola results.
To prove how that worked in the second quarter, Google announced total GAAP revenues of $12.214 billion, up from $9.026 billion in the previous year period. However, of that, $1.25 billion were from Motorola. Google's overall revenue growth was 35.3%, but the actual growth from the existing business was just 21.47%. About 40% of the "growth" in the quarter was from the acquisition.
The second key to look at is margins. Remember that I said Motorola accounted for $1.25 billion in Q2 revenues for Google? Well, the cost of those revenues was $1.029 billion. That leaves a gross profit of just $221 million, or just 17.68%. Google's gross margin for the quarter, other than the Motorola purchase, was 63.66%. Including the Motorola segment, the total Q2 gross margin number was 58.96%, and that's down from last year's period of 64.86%.
To illustrate how the gross margins have fared since the beginning of 2009, take a look at the following charts. The first one uses Google's 2012 Q2 gross margins, before adding in the Motorola purchase.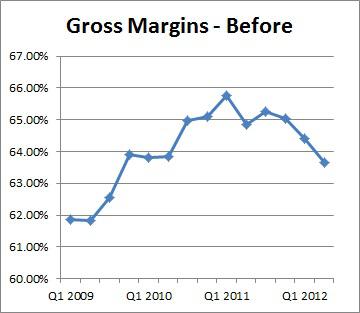 The second one includes financial results from Motorola.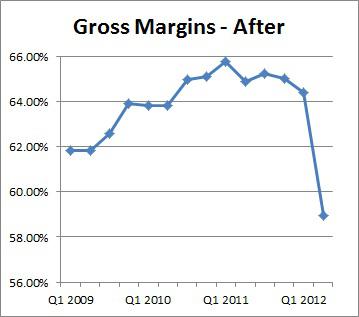 As you can see, Google's gross margins were starting to decline, even before you add in the Motorola acquisition. As you can imagine, there was a similar result on both operating and net profit margin.
Now, investors need to realize that this gross margin decline is likely to continue, in terms of year over year numbers. Just look at the Nexus tablet for a minute. Apple stated months ago that their gross margins on the iPad were between 23% and 32%. Most analysts believe that Amazon, on it's original $199 Kindle Fire, and the new non-HD $179 version, is losing money on the tablet. By the way, that $179 new one undercuts Google's Nexus priced at $199. So you have to figure that Google is not making much, if anything, on the Nexus, in terms of gross margin. Current estimates call for Google to do just under $12 billion in revenues this quarter. So for every million Nexus tablets Google sells at $199, it will equal roughly 1.67% of revenues. If Google doesn't sell too many, gross margins won't be impacted that much. If they sell a lot, there could be a sizable impact on gross margins. Since Google's overall gross margins have been over 63% in recent quarters (excluding Motorola), you know that the Nexus will not have a gross margin that high. Even as a small percentage of revenues, the Nexus will bring down gross margins.
Some investors may say, so what, margins are coming down. That's no big deal. Well, it changes the way we view Google as an investment. With Google revenues up more than 35% in Q2, net income was only up 11.2%, and earnings per share were up just 9.6% (because Google's share count is rising as well). That means that despite analysts projecting huge growth in revenues over this year (47%) and next year (28%), earnings per share growth will lag those rates.
When earnings per share growth lags, that changes the valuation argument. As of Tuesday's close, Google was trading at 16.3 times this year's expected non-GAAP earnings (and even higher on GAAP earnings). Likewise, Apple is trading at 14.5 times this year's expected GAAP earnings (on a calendar 2012 basis). Most investors will tell you that Apple is undervalued when it comes to Google, but if Apple is undervalued to Google, couldn't that also mean Google is overvalued compared to Apple? Think about it that way.
The last point I want to make is about Google's balance sheet. Since Google swallowed Motorola Mobility, that means the addition of some assets and liabilities to Google's balance sheet. I don't want investors to feel spooked when they see that Google's current ratio dropped from 4.84 at the end of Q1 to 2.84 at the end of Q2. Google took on some liabilities, and the liabilities to assets ratio went from 20% to 24.8% over that same time period. While these numbers don't look good on the surface, don't worry about them. Now, if a year from now these numbers are getting worse, then you might want to worry.
So my overall point is that bigger doesn't always mean better. Google shares, as you can see from the chart below, are at levels we haven't seen since before the financial crisis. Yes, that means 2007 and 2008. Google has underperformed. Do you know what Google's revenues were in 2007? They were about $16.6 billion. Do you know what they were in 2011? The answer is $37.9 billion. Imagine what they will be this year after the purchase of Motorola Mobility.
Google shareholders are going to go through a transitional period. That could mean lower margins, a balance sheet that looks worse, and explosive revenue growth that on the face of it is misleading. Now as you can see from the chart, Google has had several of these rallies before and the stock gets knocked back down at some point. Google already is about $20 off the recent high. For those wanting to go long, you might want to wait for a pullback. For now, I'm not recommending to be long Google, but I'm not also saying run out and short it either, given how the overall market is running lately. Google still fits as a decent long term investment, but investors need to realize how this company has changed post-acquisition. I think that shares will go below $650 at some point again this year, and that might be the time to get on board.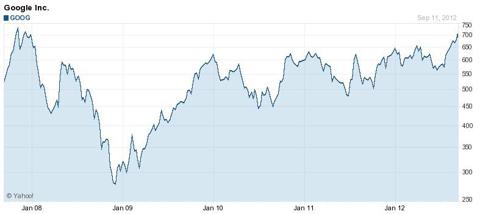 (Source: Yahoo! Finance)
Disclosure: I have no positions in any stocks mentioned, but may initiate a long position in AAPL over the next 72 hours. I wrote this article myself, and it expresses my own opinions. I am not receiving compensation for it (other than from Seeking Alpha). I have no business relationship with any company whose stock is mentioned in this article.