Prospect Capital Corporation (NASDAQ:PSEC) offers a 10.5% annual dividend yield. The company announced a 98% increase in their 2012 net investment income. Prospect Capital's year end is June 30th. In 2012, Prospect Capital's net investment income was $187 million.
This article will highlight why income investors should expect a fiscal year 2013 10.5% dividend yield or potentially higher yield. I believe the dividend will increase and there is a possibility for a special one time dividend.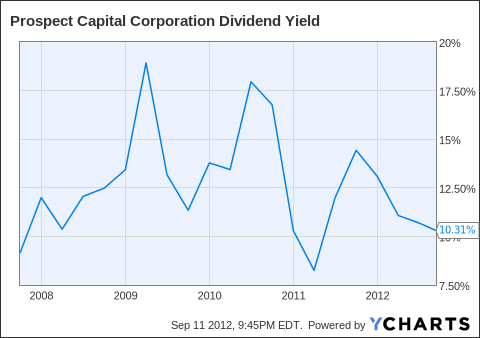 PSEC Dividend Yield data by YCharts
Background
Prospect Capital is a business development company under the Investment Company Act of 1940, as amended. Prospect Capital provides private debt and equity capital to middle market companies. Debt offerings may include first lien, second lien senior loans, and mezzanine debt.
Prospect Capital Monthly Dividends
The company pays monthly dividends. These have increased each quarter over the recent years. The analyst 10 year stock and dividend projects are identified in the below chart: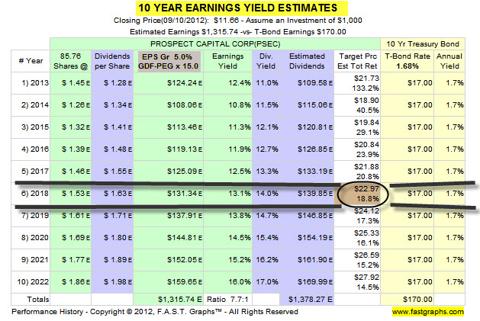 Analysts project Prospect Capital to trade at $22.97 in 5 years. The dividends are estimated at $1.63 per share.
Insider Purchases
Brian H. Oswald, Chief Financial Officer (NASDAQ:CFO) at Prospect Capital, purchased 23,500 shares in the past week for a total cost of $274,721. I do like to observe the CFO purchasing shares. This is typically not a window dressing action. The CFO clearly knows the company's financials.
Energy Solution and First Tower
The conference call was heated about a special dividend. Prospect Capital gained a significant gain with its investment in Energy Solution. The conference call contained numerous private investors looking for a special dividend. Prospect Capital management emphasized the purchase of First Tower and Prospect Capital's organic growth prospects. I personally did not have a warm and fuzzy feeling.
Management did state their concerns about Prospect Capital dividend hike in light of a 2013 fiscal cliff scenario. If the Bush tax dividend rolls back to the higher rates, then high dividends lose their value. This would be part of the Bush tax dividend roll back. Management was unclear how Congress would treat the tax code upon Prospect Capital shareholders.
Prospect Capital Foreclosure Forces H&M Oil & Gas' Hand
H&M Oil & Gas owed over $80 million to Prospect Capital. Mr. Greenblatt's H&M Oil & Gas company operated oil wells in West Texas. Chip Greenblatt is H&M's manager. He filed for bankruptcy protection. Prospect Capital owned secured loans to H&M Oil & Gas. H&M Oil & Gas filed for bankruptcy, apparently based upon Mr. Greenblatt's bankruptcy expertise. Prospect Capital foreclosed on the assets. Mr. Greenblatt started to write million dollar checks. The conference call was not positive on Mr. Greenblatt's actions to avoid responsibility from paying agreed upon debts.
Prospect Capital has recently received millions from Chip Greenblatt. H&M Oil & Gas was not paying funds owed to Prospect. Mr. Greenblatt realized he had to make good on his Prospect Capital obligations. If he did not, then he would lose the entire company. Mr. Greenblatt's attempt to avoid payments, via bankruptcy, would not work. This has been beneficial to Prospect Capital.
Peer Group: American Capital
I prefer to buy additional shares in American Capital (NASDAQ:ACAS). American Capital receives quarterly fees upon shareholder equity in American Capital Agency Corp. (NASDAQ:AGNC) and American Capital Mortgage (NASDAQ:MTGE). Both are in the mortgage real estate investment trust (mREIT) sector. Each name yields above 12% in annual dividends.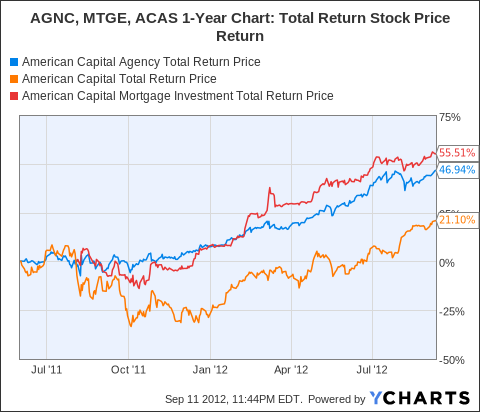 AGNC Total Return Price data by YCharts
American Capital was once the largest BDC in market cap. The company is not currently paying dividends. American Capital has a June 30th book value per share of $16.62 per share. The September 11th stock price is $11.51. American Capital is trading at a 30% discount to book value per share. This ensures American Capital is buying back shares to reduce this variance between share price and book value.
Action
I like to own monthly dividend paying stocks. Prospect Capital has continued to focus upon increasing dividends and business growth. Although a significant amount of current BDC activity is in the collateralized loan obligations (CLO) space, Prospect Capital has remained active in the equity space. I continue to own the name and watch what actions are provided to current shareholders.
Disclosure: I am long PSEC, ACAS, AGNC, MTGE. I wrote this article myself, and it expresses my own opinions. I am not receiving compensation for it (other than from Seeking Alpha). I have no business relationship with any company whose stock is mentioned in this article.