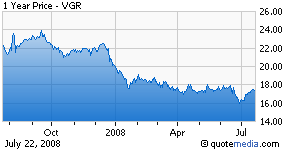 Vector Group (NYSE:VGR) is structured as a holding company, with two distinct businesses. The first, and by far the majority of revenue is the sale of discount cigarette brands such as Liggett Select, Grand Prix, Pyramid, Eve, and USA. Also, Vector has designed and marketed a nicotine free cigarette called Qwest. The second business is a residential real estate company, Douglas Elliman Realty LLC, which operates in the New York metropolitan area and is the biggest concern of it's type there. Vector Group owns a 50% stake in Douglas Elliman.
From the grades it's obvious that Vector Group is not a favorite of MagicDiligence. There are a few positives to note. Discount cigarettes have been about the only sector of this market to experience volume growth in the last decade, as premium brands are being priced out of the range of lower income smokers. Also, the 1998 litigation settlements with 46 states requires only the 3 largest cigarette makers to pay the costs. Vector's Liggett Group is 5th, and as a byproduct has gained a valuable cost advantage against bigger makers like Philip Morris (NYSE:PM) and RJ Reynolds. The "big boys" are handcuffed by these costs if they decide to compete in the deep discount cigarette market. Vector Group pays a huge dividend over 9% currently, another positive.
However, the negatives clearly outweigh the positives. Cigarette sales in the U.S. have been on a steady decline since the last decade, and with more and more states enacting indoor smoking bans and hiking "sin" taxes, it's likely this trend will continue for the foreseeable future. Cigarette volume growth is exclusively overseas, and Vector only operates in the U.S. The discount segment of any market is a difficult one, with price the only factor in sales: Vector Group has no brand loyalty to fall back on and hence no moat. There are fundamental issues as well. The dividend yield is propped up with debt. Free cash flow only covers about 80% of it. Speaking of debt, Vector Group makes extensive use of it, and coverage ratios have hovered around 3 times operating earnings, a very tight window (debt-to-equity is a horrifying 3.5!). Lastly, the company has a history of restructuring, side businesses, and a confusing set of financial statements. If you cannot understand a business, it's probably not a good investment for you.
With so many other quality companies on the Magic Formula screen, MagicDiligence recommends steering clear of Vector Group.