By all indications, Apple (NASDAQ:AAPL) is launching its iPhone 5 and the buzz surrounding the launch is incredible.
Will the product drive Apple share higher? Will shares sell-off? Do you buy Apple today? Sell? Hold?
Let's see how Apple's done following previous major product announcements. The analysis may give us an indication of how the market will react to the iPhone launch.
I've selected the last 6 iPad/iPhone new product announcements, using the S&P 500 to evaluate Apple's relative performance. The tables show the percent higher or lower that Apple closed 1 week and 2 weeks after these product announcements.

Below: Apple's relative performance to the S&P 500 at 1 week and 2 weeks post-launch, again in percentage terms.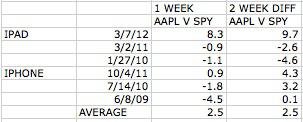 Apple had a mixed performance following its last 6 major product launches. Over all, shares rose 3.1% and 3.2% at 1 week and 2 weeks following the presentation, outperforming the S&P 500.
Of note, Apple's last 2 product announcements, the new iPad and iPhone 4S, were each followed by powerful share appreciation of over 13% at two weeks.
Bottom Line
On average, Apple launches are followed by a moderate share increase at 1 and 2 weeks out. The 3.2% increase is below the 4.3% average 2-week share performance experienced since June 2009. That said, the last 2 major product announcements were followed by very strong share appreciation.
In the past, shares modestly outperformed the general market at 2 weeks. If you ignore the dramatic move following the iPhone 4S, Apple shares do not outperform at 2 weeks following major product launches. As always, past performance doesn't guarantee the future.
As with all things Apple, the market likes to digest the public's reception to the iProduct. With Apple, you make your money leading up to the announcement, not the week or two after. As they say, "buy the rumor, not the news".
One Last Comment
This product cycle we are going to get a wrinkle that few have talked about. Apple is probably making back-to-back product announcements. Its expected minipad will likely be launched in October. As we get closer to October, we should once again see renewed buying interest propelling the stock higher.
Disclosure: I am long AAPL. I wrote this article myself, and it expresses my own opinions. I am not receiving compensation for it (other than from Seeking Alpha). I have no business relationship with any company whose stock is mentioned in this article.
Disclaimer: The opinions in this document are for informational and educational purposes only and should not be construed as a recommendation to buy or sell the stocks mentioned. Past performance of the companies discussed may not continue and the companies may not achieve the earnings growth as predicted. The information in this document is believed to be accurate, but under no circumstances should a person act upon the information contained within. We do not recommend that anyone act upon any investment information without first consulting an investment advisor as to the suitability of such investments for his specific situation.