Today's (Wednesday) morning fix was USD 1,742.75, EUR 1,352.23 and GBP 1,081.71 per ounce of gold. Yesterday's AM fix was USD 1,731.00, EUR 1,352.77 and GBP 1,081.33 per ounce.
Silver is trading at $33.94/oz, €26.39/oz and £21.17/oz. Platinum is trading at $1,649.00/oz, palladium at $674.70/oz and rhodium at $1,025/oz.
Gold rallied to a 6 month high in dollars after Germany's top court ruled that Germany can ratify the €500 billion ESM bailout fund, but with strict conditions.
Gold ticked slightly higher after the German decision - rising from just under €1,350/oz to €1,354/oz prior to gradually giving up those gains. Equities have seen tentative gains but silver is the largest beneficiary so far - having briefly risen above $34/oz or 1.5%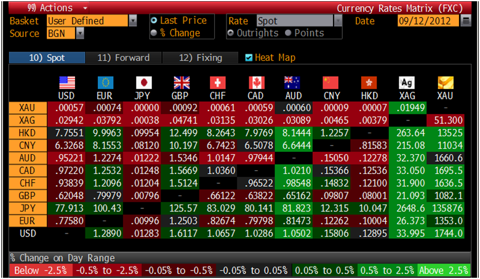 Cross Currency Table - (Bloomberg)
The FCC court stipulated that a cap of 190 billion euros be set on German liabilities before ESM ratification, unless parliament decides to back extra funds. German liabilities are to be capped, which is important and means this is not the bazooka that many market participants were hoping for.
German bunds and U.K. gilts (10 year) sold off quite a bit, with yields rising sharply to 1.64% and 1.83%, respectively. ESM concerns are weighing on bunds and U.K. downgrade concerns on gilts.
The announcement came on the heels of ECB President Jose Manuel Barroso's announcement that the ECB should take a core role in supervising all banks within the eurozone. "The Commission is presenting legislative proposals for a single European supervisory mechanism. This is a quantum leap - the stepping stone to a banking union," he said. "The single supervisory mechanism proposed today will create a reinforced architecture, with a core role for the European Central Bank.
Barrios has continually talked a good game but action has not matched the words and many market participants are likely to remain skeptical of his grand announcements.


XAU/EUR Currency - (Bloomberg)
The U.S. Federal Reserve has its policy meeting set for today and Ben Bernanke's speech will be on Thursday. Diversification into gold continues, as seen in the gradual rise in ETF gold holdings.
This can be seen in exchange-traded products, which have risen to a record for the sixth straight session. The amount increased 6.9 metric tons, or 0.3%, to 2,487.36 tons.


Total Known ETF Holdings of Gold
Mining unrest in South Africa is deepening with militant senior trade unionists even talking about expropriation of assets and nationalization.
Labor unrest sweeping across South Africa's mining sector hit top world platinum producer Anglo American Platinum (OTCPK:AAUKY) on Wednesday, with striking miners blockading roads leading to shafts belonging to the mining giant, police said. Workers were unable to clock in yesterday for the night shift due to fear of intimidation and threats.
Shares in South African gold and platinum mining companies remain under pressure. Many miners remain on strike and non striking miners are being intimidated.


XAG/EUR Currency - (Bloomberg)
Gold climbed $6.50 or 0.38% in New York yesterday and closed at $1,732.10. Silver hit a high of $33.819 then edged down, but finished with a gain of 0.33%.
Disclosure: I have no positions in any stocks mentioned, and no plans to initiate any positions within the next 72 hours. I wrote this article myself, and it expresses my own opinions. I am not receiving compensation for it. I have no business relationship with any company whose stock is mentioned in this article.