Apart from tax and transaction cost advantages, ETFs can be a useful security for those who have little time for analysis and wish to have some diversification.
But as I have shown in my previous article ETFs, Efficiency & the Market Portfolio the use of a risk-free asset and a market portfolio proxy that is often an ETF is often easier theorized than performed.
In this article, we will compare the performance of the PowerShares QQQ Trust ETF (NASDAQ:QQQ) against the performance of its top 10 holdings optimized using a mean-variance algorithm.
The top 10 holdings in this ETF as at Aug 3, 2012 were Amazon.com (NASDAQ:AMZN), Amgen (NASDAQ:AMGN), Apple (NASDAQ:AAPL), Cisco Systems (NASDAQ:CSCO), Comcast Corp (NASDAQ:CMCSA), Google (NASDAQ:GOOG), Intel Corp (NASDAQ:INTC), Microsoft Corp (NASDAQ:MSFT), Oracle Corp (NYSE:ORCL), Qualcomm (NASDAQ:QCOM).
Going back in time, optimizing, and then deploying a simple Buy & Hold strategy would have resulted in the following performance over the years. In this figure, the blue bars are the portfolio values (starting with 100) for an optimized mix calculated on Feb 26, 2008 while the red bars denote the corresponding portfolio values for an equal-weights mix: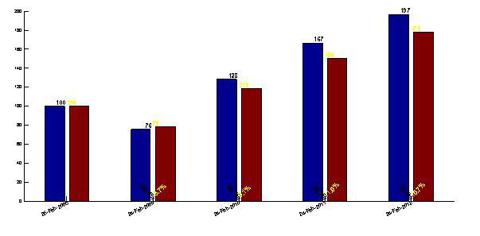 In my previous articles, I laid the ground rules for performing an optimization that works. Chief among them was the concept of normality. But while we want normality because that is what mean-variance optimization is based on, we do not assume normality.
Let's look at the next figure. The yellow graph denotes the price values of the equal-weights portfolio while the black graph denotes the corresponding daily-moving annualized returns of the equal-weights portfolio. Against this graph of returns are lines that have different colors i.e. purple, blue, and green.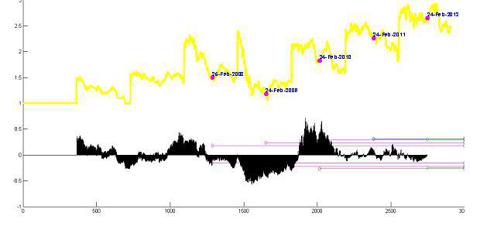 What these lines with different colors denote are shifts in the market that affect the assumption of normality. These shifts may be due to non-stationarity --- something I alluded to in my article Looking For White Noise In Berkshire Hathaway's Portfolio.
Capitalizing on these shifts for rebalancing purposes can result in portfolio gain. Consider for example, the performance of the optimal mix that capitalizes on these shifts.
Now let's compare the performance of an optimal mix that matches the volatility of the PowerShares QQQ Trust ETF. The position of the ETF on the volatility-return spectrum as of Aug 2, 2012 is denoted by the white star in the figure below: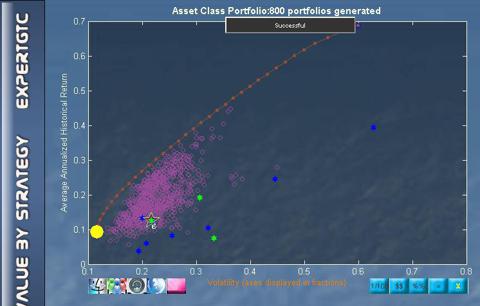 The performance of the new optimized mix using the hybrid rebalancing strategy for a portfolio beginning on Feb 26, 2008 and analyzed every 365 days thereafter is shown below:
The portfolio allocations for the hybrid rebalancing strategy can be seen in the next figure where either Buy & Hold or Rebalancing was used. The Rebal Points in the figure correspond to the portfolio values above e.g. allocations at Rebal Point0 would result in the portfolio value (blue bars) at Feb 25, 2009 above.
In terms of growth in portfolio value, how did the PowerShares QQQ Trust ETF compare with the new optimized mix using the hybrid rebalancing strategy?
| | | | | |
| --- | --- | --- | --- | --- |
| Portfolio started on Feb 26, 2008 | 2009 | 2010 | 2011 | 2012 |
| PowerShares QQQ Trust ETF | -34.9% | 56.9% | 30.2% | 12.0% |
| Optimized Hybrid Rebalanced | -23.0% | 64.9% | 30.7% | 35.5% |
Note: See my previous article Bridging the gap between theory and practice if you want to know how to easily include the risk free proxy in the mean-variance calculations. Also, taxes and commissions have not been included to simplify the calculations.
Conclusion
So while mean-variance optimization is based on normality, detecting symptoms of non-normality can provide opportunities for increased efficiency (where efficiency means less volatility for a given return and/or increased return for a given volatility).
To appreciate more readily the advantage of using a hybrid rebalancing strategy, we will review a portfolio that is extremely non-normal in my next article.
So while the debate rages on between those who uphold "Buy & Hold" and those who swear by formulaic rebalancing, perhaps the correct answer lies in always checking for normality.
Disclosure: I have no positions in any stocks mentioned, and no plans to initiate any positions within the next 72 hours. I wrote this article myself, and it expresses my own opinions. I am not receiving compensation for it (other than from Seeking Alpha). I have no business relationship with any company whose stock is mentioned in this article.