As we learned last week with the announced acquisition of American Realty Capital Trust Inc. (NASDAQ:ARCT) by Realty Income Corporation (NYSE:O), the triple-net sector is all about a "flight to quality". (See the article I wrote last week: Attention Dividend Shoppers: O What A Great Bargain For This Triple-Net REIT). The proposed acquisition marks the fifth M&A since 2011 in which a publicly traded U.S. REIT has been involved, and the first deal involving a public U.S. retail REIT since the M&A boom came to a halt in 2007.
We also learned, the triple-net REIT sector is a small slice of the public U.S. equity REIT space, with its $12.2 billion of implied market cap making up only 2.2 percent of the total size of equity REITs. The highly fragmented sector is currently paying out a median dividend yield of 5.98 percent, compared to only 3.88 percent for all equity REITs.
So with the proposed combining of assets by the largest and third largest triple-net REITs, what does that mean for the number two player?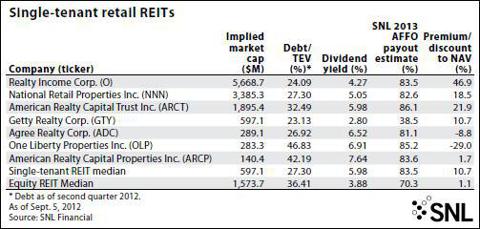 National Retail Properties: A Textbook REIT Characterized by Repeatability
National Retail Properties (NYSE:NNN) has an extraordinary track record of consistency as the company is one of only four publicly-traded REITs and 104 publicly traded companies in America to have increased dividends for 23 or more consecutive years. The company has a market cap of around $3.367 billion making the Orlando-based REIT the second largest single tenant REIT in the U.S. The company's stock price is $31.16 per share and the dividend yield is 5.07 percent. The year-over-year total return is 25.48 percent.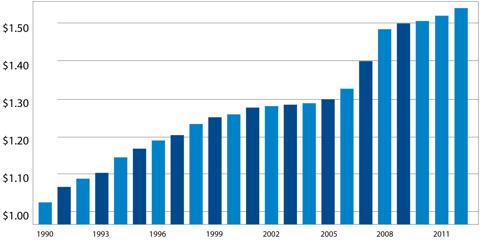 National Retail has been a steady REIT performer and the consistency in performance makes the number two single tenant REIT a champion in its own right. Recently I caught up with the company's CFO, Treasurer, and EVP, Kevin Habicht, and in this Forbes interview I was able to discover some of the secrets of the "dividend champions" perfect swing.
Thomas: National Retail recently declared a quarterly dividend of 39.5 cents per share (payable August 15, 2012) and that dividend (annualized at $1.58 per share) marks the twenty-third consecutive year that the company has paid increased annual dividends per share. Also, National Retail is one of only four publicly-traded REITs and 104 publicly traded companies in America to have increased dividends for 23 or more consecutive years. How do you do it?
Habicht: NNN does it primarily through managing risk at the property level through careful underwriting, at the portfolio level through diversification and at the balance sheet level using modest levels of unsecured debt while maintaining balance sheet flexibility. All of this, coupled with the inherent benefits of long term net lease real estate assets leased to creditworthy tenants, produces consistent results that allow dividends to grow for 23 years which in turn provides the foundation for total shareholder returns that beat industry and general equity averages for two decades. Lastly, we take a long term view - we are in a marathon, not a sprint.
Thomas: I am certain that one of the key ingredients to your success is your company's balance sheet. With around 99 percent of assets unencumbered ($23 million in secured debt), National Retail has one of the healthiest balance sheet's around (S&P rating is BBB). How do you manage the balance sheet?
Habicht: Balance sheet management consists of a number of factors that will mitigate risk while providing some enhanced return to shareholders. First, NNN uses moderate levels of debt (currently approximately 35% debt-to-total assets) and stagger debt maturities so that we are positioned to deal with inevitable sub-par capital market environments. We do not want to assume capital will always be plentiful nor well-priced. So having "dry powder" is important. Likewise, longer duration capital - 10 year debt and preferred or common equity - will help us stay out of trouble. Lastly, the use of unsecured debt instead of secured mortgage debt provides us with great flexibility in managing the company and our property portfolio. We can easily modify properties or leases in response to tenant needs or even sell properties, all without the consent of a lender. Additionally, we can provide those who are selling us properties with certainty of execution since we are not acquiring properties subject to us obtaining mortgage financing - that is an important advantage on the acquisition front.
Thomas: I was glad to see that National Retail recently strengthened its balance sheet by issuing $287.5 million in perpetual preferred stock at 6.625 percent. The company also redeemed $92 million of 7.375 percent preferred stock (saving $690,000 of annual dividends). What was your strategy behind the new preferred issue?
Habicht: Interestingly, we entered 2012 not planning to issue any preferred equity. While our balance sheet "had room for it" in terms of our fixed charge leverage coverages, we have not felt it was well priced for some time. So for six years we did not raise any preferred equity. But then pricing quickly changed in January and February of this year and we promptly moved to raise $287.5 million of this perpetual capital at a 6.625% rate. Given the returns we earn on our assets, this is very accretive to our per share results. This is a good example of maintaining balance sheet flexibility so that when a particular type of capital becomes well priced, we are in a position to take advantage of that pricing.
Thomas: National Retail is continuing to grow assets ($3.613 billion as of Q1-12). How active have you been so far this year and what is your year-end guidance?
Habicht: Growing assets is a part of the formula in growing per share results since we enjoy very good returns on our investments that are well above our cost of capital. This year our latest guidance suggests acquisition volume of approximately $400 million which is a good year for NNN. But acquisition volume is only part of the equation for growing bottom-line results. The return (or yield or cap rate) on those assets, the quality of the locations and tenants and the terms of the lease agreement are also important considerations. And over the past several years, NNN has sold over $1 billion of assets which made us a more profitable company. So it is not all about acquisition volume - despite the headlines that seems to garner.
Thomas: Your company occupancy is around 97.5 percent (Q1-12) and the company has never dropped below 93.5 percent. What is the secret to the string occupancy fundamentals?
Habicht: Good creditworthy tenants - whose source of revenue resides within our properties - has supported not only high occupancy, but stable occupancy over the years. While tenant credit quality is an important factor, we recognize tenant credit can be fleeting. Strong credit can become much weaker, sometimes fairly quickly, through market changes, bad management, a leveraged buyout or a combination of the above. The examples are legion. This underlines the paramount importance of real estate quality which is the ultimate source of maintaining high occupancy. If and when a property becomes vacant (before the end of the lease term or at the end of the lease term), it needs to possess the qualitative attributes that allows us to re-lease the property to alternative users on reasonable terms. Credit quality provides some short term security, but long term, multi-cycle success is driven more by real estate quality.
Thomas: National Retail tends to focus on smaller ($2 - $4 million) deals. Is that going to be your continued strategy?
Habicht: The vast majority of NNN's properties are relatively small in size - frequently $2-$4 million investments. The universe of these single tenant freestanding retail properties is enormous and their historical return profile has been above average in terms of amount and consistency. Yet the sector lacks the depth of institutional investors that can be found in large quantities in most other commercial real estate sectors, such as shopping centers, apartments or office buildings. We believe this lack of deep institutional competition in our sector is primarily a result of the small asset size which many institutional investors do not want to or are unable to effectively deal with. So it provides a ripe arena for NNN to capture above average return assets and above average return consistency by virtue of the long term net lease properties leased to creditworthy tenants. Additionally, the more granular, small asset size provides increased diversification benefits which mitigate risk.
Thomas: As you know, I have a passion for the triple-net sector and I would like for you to describe the benefits of triple-net investing?
Habicht: Well I hope much of what I have said already strongly supports your well-placed passion. We too think sufficiently highly of the triple net lease sector that we chose our NYSE ticker symbol to be "NNN" which is the industry moniker for a triple net lease. The triple net lease structure provides an important and unique building block for producing consistent returns. But the other elements I also noted regarding real estate quality, tenant quality and balance sheet management are very important. The ultimate benefit shows up in the level and consistency of returns to NNN's shareholders for many years including NNN's 23 consecutive years of increased annual dividends. With NNN's dividend yield at 5% today, that goes a long way to perpetuating a solid total return.
Thomas: Thank you for your time and I look forward to seeing you at the NAREIT conference in November.
Disclosure: I have no positions in any stocks mentioned, and no plans to initiate any positions within the next 72 hours. I wrote this article myself, and it expresses my own opinions. I am not receiving compensation for it. I have no business relationship with any company whose stock is mentioned in this article.