click to enlarge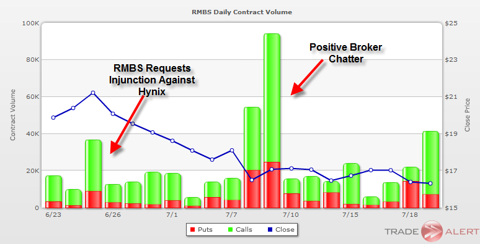 Rambus (NASDAQ:RMBS) calls saw action Monday ahead of two possible catalysts for its share price. 1) A July 24 earnings report and 2) an injunction decision against Hynix. Earnings are due out Thursday after the close of trading and the bar is set pretty low. After losing 12 cents per share in the previous quarter, the analyst community expects another 12-cent loss for the most recent period.
Meanwhile, investors are also awaiting a decision from San Jose Federal Judge Whyte about an injuction against Hynix Semiconductor. According to a July 9 research note, Captsone Investments believes "the decision could come as soon as the next few weeks." In addition, "an injuction against Hynix is all but certain," according to the analyst. A ruling in Rambus' favor would prevent Hynix from selling chips in the United States. It could also be viewed as a positive indicator for a summary judgement related to a January 2009 patent trial, which Judge Whyte is also due to rule on. The summary judgement has important implications for other patent infringement suits against Micron, Samsung, and Nanya.
In the options market, sentiment has been relatively upbeat despite lackluster action in the stock price. RMBS is down from $26.41 on March 27 to $16.00 a share Tuesday morning. However, there have been a few noticable spikes in call volume. On June 25, for example, call volume rose when Rambus requested the courts consider the injunction against Hynix. On June 9 another spike in call volume coincided with the Capstone research note.
Monday, a total of 34,000 RMBS calls traded, compared to 7,200 put options. The September 19 calls were the most actives, with more than 13,000 contracts traded. Not all of that volume was bullish call buying, however. In fact, some of the volume in the September 19 calls Monday was due to butterfly spread trading on the Philadelphia Stock Exchange [PHLX] just before 13:00 Eastern time. Sources at the exchange tell WhatsTrading.com that a player sold 2,600 of the September 19 calls for $1.55, bought 1,300 of the September 18s for $1.90 and bought September 20s for $1.30. The strategist paid a dime (or $13,000) to enter this butterfly.

If so, this spread is a directional play and an aggressive bet that RMBS will rally up towards $19.00 a share by the third week in September. The profit range is between $18.10 and $19.90 with a max potential payoff of 90 cents ($117,000) if RMBS settles at exactly $19.00 a share at options expiration.
Disclosure: None