Commodity Chart Of The Day
Daily Cotton
(click image to enlarge)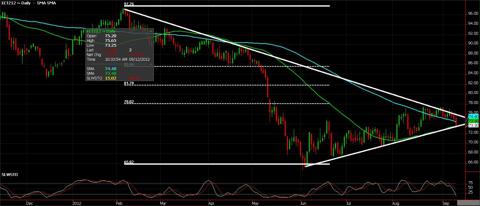 This is a picture perfect representation of a descending triangle pattern. As I voiced in a post a few days ago, we should see a break down in the coming days before we reach the apex. Low and behold, prices failed to break above resistance, and are breaking the support line as of this post. On a settlement below the 50 day MA, we should get confirmation. In December that level is 74.40.
I would suggest layering on bearish trades, either via futures or options, with a downside target of 70 cents followed by 66. As for option plays, the most open interest lies at the December 70 and 65 puts, but there is plenty of volume on all strikes. Food for thought -- weakness in the AG sector in the coming weeks has the potential to spill over into cotton, in my opinion.
Risk Disclaimer: The opinions contained herein are for general information only and not tailored to any specific investor's needs or investment goals. Any opinions expressed in this article are as of the date indicated. Trading futures, options, and Forex involves substantial risk of loss and is not suitable for all investors. Past performance is not necessarily indicative of future results.
Disclosure: I have no positions in any stocks mentioned, and no plans to initiate any positions within the next 72 hours. I wrote this article myself, and it expresses my own opinions. I am not receiving compensation for it. I have no business relationship with any company whose stock is mentioned in this article.