You don't always need a particular direction in the market for a good investment opportunity. Sometimes trades can work whether the market is up or down simply because misinformation or mistakes have caused an asset to be mispriced. Over the years we have seen many examples of market pricing errors despite the oft-repeated claims that the market is right if not always efficient.
One recent case in point is the ongoing price divergence between the two market leaders in online social networking, LinkedIn (LNKD) and Facebook (NASDAQ:FB). Regardless of what you think about the prospects of these two companies, they both face the ultimate challenge of the Internet age: monetizing "eyeballs." It was, after all, the inability of the first wave of dotcom darlings in the late 1990s to generate profits from web traffic that eventually saw the Nasdaq bubble collapse.
It seems hard to fathom the prospects of wild success at LinkedIn, which is currently enjoying a second honeymoon with the share price back near its IPO-hyped peak, given that its business model basically consists of providing recruiters access to a talent pool of professionals. This is undoubtedly valuable but with a limit ... somewhere between a mailing list and a personal lead. LinkedIn also plans to generate traditional online revenues from advertisers but the company's active user traffic is hardly impressive while the content is barely engaging. Who wants to join a "LinkedIn Group" and talk about work or whatever other exciting things these groups discuss? Yet the recent share price performance suggests that the market expects a big positive surprise to appear on the horizon. Maybe some investors have been looking into the sun for too long but we don't see any bright spots.
At the same time, it is difficult to see how a social media behemoth like Facebook could be facing its imminent demise as the struggling share price seems to be foretelling in the wake of a botched IPO. Despite the recent missteps, Facebook has achieved ubiquitous Internet presence on a scale few if any companies have been able to attain in their own market segment (comparable to eBay in online auctions). Zuckerberg's company has a dominant position because social connections are easy to make and content is simple to generate using his platform. Moreover, the platform is being integrated across the Internet such as with Facebook-powered login and comments. A Facebook account no longer represents merely a website destination like MySpace.com or LinkedIn but has evolved into a portable online identity.
The challenge of monetizing the huge Facebook user base and traffic still looms large but the sky is the limit thanks to Facebook's market dominance. The majority of revenue growth in the near term will certainly come from advertising but silly simple things like online games should continue to provide opportunities for Facebook that LinkedIn simply will not have. Then there is also the possibility of Facebook eventually competing directly with LinkedIn by building its own job recruiting tools and separating professional from personal profiles.
To wit, the idea here is to go long Facebook and short LinkedIn on the premise that at worst the future prospects of the two social networking companies are tied together and at best Facebook has business and revenue opportunities that are far superior to LinkedIn. If both companies do poorly going forward then LinkedIn with its relatively overvalued share price should suffer more, whereas if both do well Facebook should clearly do better of the two. The market in its eternal wisdom could of course continue to favor LinkedIn while despising Facebook, but the price divergence already appears to be at an extreme and is unlikely to expand much further unless prompted by unexpected developments at either Facebook or LinkedIn.
A possible alternative way to play this is to just go short LinkedIn -- which is clearly overvalued on just about every possible financial or operating metric that one can imagine -- while going long Facebook via nearby out-of-the-money call options. The call options on Facebook are surprisingly cheap and thus would require minimal outlay to "cover" a LinkedIn short position. Such a trade has the benefit of favoring a negative market bias consistent with seasonal trends in the short term. Given a sufficient market pullback, presumptive profits from the LinkedIn short could then bankroll the Facebook call options thus generating a net zero cost for this trade with significant upside should the market subsequently recover and Facebook shares climb.
We discussed a similar idea on Seeking Alpha last November when we introduced a precious metals royalty company model that attempted to derive a fair value for each royalty company using a bottoms up approach to assign net present values to the respective royalty portfolios. Although at that time our model indicated that the royalty companies did not present a great deal of fundamental value as a whole, we did notice a disconnect between Silver Wheaton (SLW) and Royal Gold (NASDAQ:RGLD) and suggested a "pairs trade" of going long the silver streamer and short the perennial gold royalty company. Here is how that would have worked out: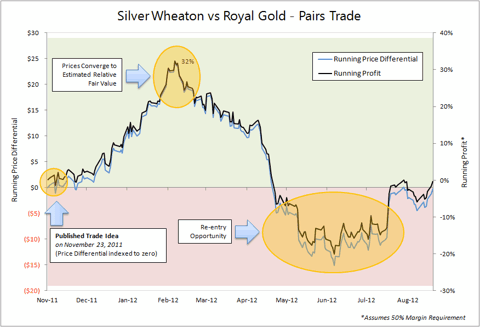 (Click to enlarge)
As the above chart shows, Silver Wheaton and Royal Gold share prices converged toward relative fair value (a net movement of $25 based on a ratio of 2.4 shares of Silver Wheaton to 1 share of Royal Gold) as determined by our proprietary precious metals royalty model. The peak convergence was reached in late February of this year, about three months after we first discussed the idea, and we alerted readers of Metal Augmentor to the opportunity to cash in on what turned out to be a very low risk trade. Since that time the relative valuations have swung back toward divergence and one could have again initiated the trade during the summer as the price difference appears to have bottomed and is currently converging once more.
That said, we're not in the Silver Wheaton-Royal Gold pairs trade at just this moment because we expect the price divergence could still widen back toward the summer extreme before substantially shrinking again by next year. In addition, the pairs correlation between Silver Wheaton and Royal Gold have weakened since last November because the main drivers of future growth at the two companies are no longer just the Penasquito and Pascua Lama projects. Instead, much of Royal Gold's future success now relies on production from Thomson Creek's (TC) Mt. Milligan copper-gold mine in British Columbia while Silver Wheaton expects to see significant production growth from the newly acquired silver (and gold) streams at Hudbay's (NYSE:HBM) operating 777 Mine in Manitoba and Constancia development project in Peru.
We'll continue to closely monitor the price differential between Silver Wheaton and Royal Gold in order to identify another good entry point but now is arguably not the right moment. Instead, the time appears ripe for a LinkedIn-Facebook pairs trade. We understand social media and precious metals are about as far apart as one can get but market inefficiencies don't play favorites and neither should we.
Disclosure: I have no positions in any stocks mentioned, and no plans to initiate any positions within the next 72 hours. I wrote this article myself, and it expresses my own opinions. I am not receiving compensation for it (other than from Seeking Alpha). I have no business relationship with any company whose stock is mentioned in this article.