Greentech is expected to lead the way in a turnaround of IPO activity, but not until 2010, according to a survey by KPMG.
Venture capitalists don't expect to see a consistent flow of IPOs again until 2010 and report that their firms, as a result of the slumping US economy and unstable markets, have extended exit timelines by 12 months or more.
In polling 297 venture capitalists, corporate buyers, bankers and entrepreneurs, KPMG found that 79 percent of respondents expect a strong stream of IPO activity to begin in 2010. Forty percent expect a turnaround in 2010, 24 percent in 2011 and 15 percent in 2012. Interestingly, only nine percent think activity will pick up in 2009. And 12 percent don't think future IPO activity will ever reach historic annual average levels again.
When asked which industry will be on the front end of the IPO turnaround, greentech was the runaway favorite with 44 percent of the responses, while mobile and the digital entertainment sectors garnered 16 percent and 13 percent of the responses, respectively. KPMG conducted the survey in collaboration with AlwaysOn, the venture capital new media organization.
When asked to identify the industries that would receive the most venture funding in 2009, 27 percent indicated greentech, which was followed by digital entertainment at 23 percent, mobile at 20 percent, and life sciences at 16 percent.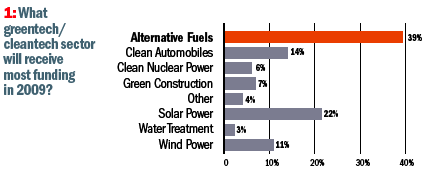 The digital entertainment industry will also remain an attractive investment opportunity for venture capitalists in 2009, and 43 percent of respondents expect the bulk of the funding to go toward the mobile applications sector, followed by social media at 25 percent and content development at 20 percent.
Venture capitalists also indicated that they expect to see an increase in sector and geography-specific venture funds next year, similar to those recently launched by numerous VC firms that focus on greentech, mobile and China. In fact, 55 percent of respondents indicated that they expect the number of niche funds to increase by 15 percent or more in 2009
In addition to China and India, the KPMG study also found that investors expect other emerging markets to become attractive venture capital investment opportunities over the coming years. In fact, 41 percent of respondents indicated that beyond China and India, Brazil will be the most attractive market five years from now. Russia (19 percent), Israel (14 percent) and Qatar (9 percent) are also expected to be attractive investment geographies for venture capitalists five years from now.