Charles Schwab & Co (NYSE:SCHW) made a name for itself starting in the early 1980s when Mr. Schwab struck out on his own and started his own discount brokerage, undercutting the primary Wall Street commission-only brokerage houses and adding value to consumers and investors by offering investors a lower-cost option to Wall Street.
Today, with the addition of the custody business or registered investment advisor (RIA) as well as the no-load, no fee mutual fund business, Charles Schwab & Co. has become a financial juggernaut well positioned for the next global bull market.
To be clear, and in terms of full disclosure, I am a registered investment advisor and have my own RIA practice, where all the client assets are custodied at Charles Schwab. When I struck out on my own in 1995, Ameritrade, Scottrade or a number of other discount brokers could have been utilized (we briefly tried Fidelity) but settled on Schwab given its readily-available branch network (available to clients, that is) not to mention the power of the Schwab brand.
Charles Schwab has had a volatile history, as the company was a bubble-baby in the late 1990s (pretty extreme valuation on the stock) as the discount broker capitalized early on the trend towards individuals managing their own trading and investing. However the tech bear market in 2001 and 2002, and then the mortgage crisis in 2008, really took its toll not only on individual investor confidence and investor's willingness and ability to day trade, but also the zero interest rate policy (ZIRP) instituted by the Fed cut deeply into Schwab's earnings power.
Schwab has almost $2 trillion of assets under management today, and a big chunk of that is in the Schwab money market funds. Not readily known by a lot of folks is that money market mutual funds are nice management fee generators for mutual fund families. Since money market rates are single basis point yields today, mutual fund companies are having to waive management fees until interest rates rise and "normal" money market yields return.
Here is the money market management fee waived by Schwab the last 6 quarters, and what this amount represents in terms of earnings per share:
June'12: $146 million or $0.11 per share
Mar '12: $163 million or $0.13 per share
Dec '11: $168 million or $0.13 per share
Sept'11: $160 million or $0.13 per share
June '11: $128 million or $0.11 per share
As the reader can quickly see, a total of $0.61 in earnings per share has been waived by Schwab in just the last year and a half alone, so ZIRP is masking (roughly) an additional $0.50 in earnings power for Schwab per year, until Fed monetary policy changes.
The other positives for Schwab besides a hidden earnings boost from interest rates is that management has worked hard to maintain margins and leverage expenses during these difficult markets. When we get "risk-on" markets like 2009, and then late 2010, early 2011, Schwab's operating margin tends to drift up into the low 40% range, from its current 35% level, thanks to higher DART's (daily average revenue trades) and in general more interest and activity by investors. This means Schwab's operating model possesses operating leverage, and will be a nice plus when capital markets normalize.
The final positive to Schwab has been its asset gathering prowess: despite what has been a flat equity market for the last 12 years, Schwab has averaged 5% - 10% "net new asset" growth every year, aided by the trend towards fee-based asset management from commissions, and Schwab's very low cost trading and custody platform. Schwab now dwarfs Ameritrade when measured by assets under management, which unfortunately in this interest rate environment has become a liability.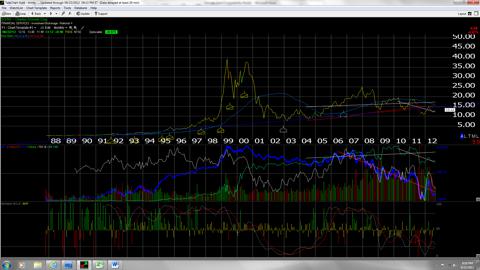 Technically, Schwab's monthly chart has read like the Dead Sea Scrolls, doing nothing since 2003. The capital markets and interest rate headwinds are formidable for Schwab, but if we see the stock trade over $15 on volume, we'd add to current positions.
Schwab is doing everything right in a very difficult market. Once the capital market headwinds turn to tailwinds, the stock should get a nice lift. We think at least $20 is fair value for the stock, with a at least $1.50 in "normalized earnings" (at minimum) and some p.e expansion in a nice bull market.
Morningstar has a $23 "intrinsic value" on the company.
No question, the key "economic event" for Schwab will be the Fed beginning to raise rates, and you could see the financial impact even a 100 basis point move will have on Schwab's earnings per share when that begins to unfold. However until then, the unexpectedly strong equity market and a return of the individual investor to the stock market will also help drive earnings per share growth.
No question, Schwab has been hit with some tsunami-like headwinds over the last 12 years. We might be in the earliest stages of seeing these headwinds turn to tailwinds.
Disclosure: I am long SCHW, GS.
Business relationship disclosure: We do have a business relationship with Schwab. as disclosed in the article.