There is a tremendous interest here on Seeking Alpha in high-yield stocks. Much of that interest focuses on the mortgage REIT sector. Another source of high dividend yields is the small group of business development companies (BDCs) many of which pay dividends near or above the 10% level. Prospect Capital Corp. (NASDAQ:PSEC) is one of the largest BDC stocks with an attractive track record.
Business develop companies provide capital to smaller businesses in the form of loans or equity participation. A BDC is usually organized as a regulated investment company, which allows the company to pass through earnings in the form of dividends to investors. The dividends from a BDC are reported on a form 1099 and may be categorized as regular income, qualified dividends, capital gains or return of capital.
Prospect Capital funds its operations through a variety of sources. The company raises capital through the issue of new shares, the sales of retail notes and convertible bonds. During the most recent earnings conference call, management noted that debt to equity stood at 36%. I think this is a very modest level of leverage for a company with a better than 10% dividend yield. The returns earned by Prospect Capital are generated from the company's high yield lending and equity exposures.
A Quick Moving Business Operation
I was struck by what I label the velocity of cash flow through the Prospect Capital Business. The company closed out its 2012 fiscal year at the end of June with a $2.1 billion portfolio of investments in 82 different companies. Over the course of the fiscal year, Prospect Capital completed $1.1 billion of new investments and experienced repayments of $501 million. This means that one-third of the approximately $1.5 billion of investments at the end of FY 2011 was repaid during the year. At this pace of repayments plus growth, the new business team at Prospect Capital must replace more than half of its portfolio each year. The level of business turnover makes it difficult if not impossible to project past results into the future. Investors in Prospect Capital are dependent on the management team to consistently find a growing stream of new investment deals.
Investors can take some comfort from the fact that Prospect Capital has been in business since 2004, consistently paying attractive dividends. Additionally, the 2009 acquisition of Patriot Capital in the midst of a recession shows the forward thinking and effective results from the Prospect Capital management.
Monthly Dividends
In June 2011, Prospect Capital switched from quarterly dividend payments to monthly payouts. Many investors like the idea of monthly dividends, but I find the implementation of the policy a bit strange. The first monthly dividend paid in June 2010 was for 10 cents per share. Through October 2012, the dividend was increased on a regular basis, typically every four months. Yet the most recent dividend rate is 10.17 cents per share, an increase of just 1.7% in about two and a half years. I do not see the point of increasing the dividend in increments of 1/100th of a penny. Just pay a dime every month and a catch-up dividend once a year.
The issue with the dividend payments is just a quibble. Prospect Capital is a viable investment for those investors who like a 10% yield and would like to steer clear of the lend long/borrow short business models of the mortgage REITS.
(click image to enlarge)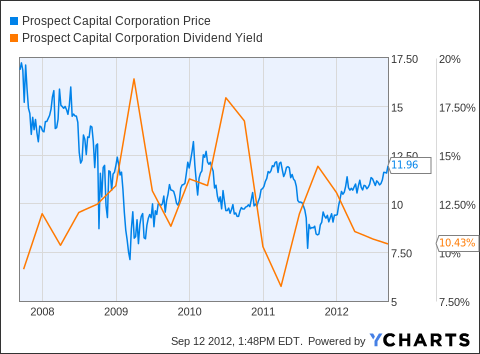 Disclosure: I have no positions in any stocks mentioned, and no plans to initiate any positions within the next 72 hours. I wrote this article myself, and it expresses my own opinions. I am not receiving compensation for it (other than from Seeking Alpha). I have no business relationship with any company whose stock is mentioned in this article.